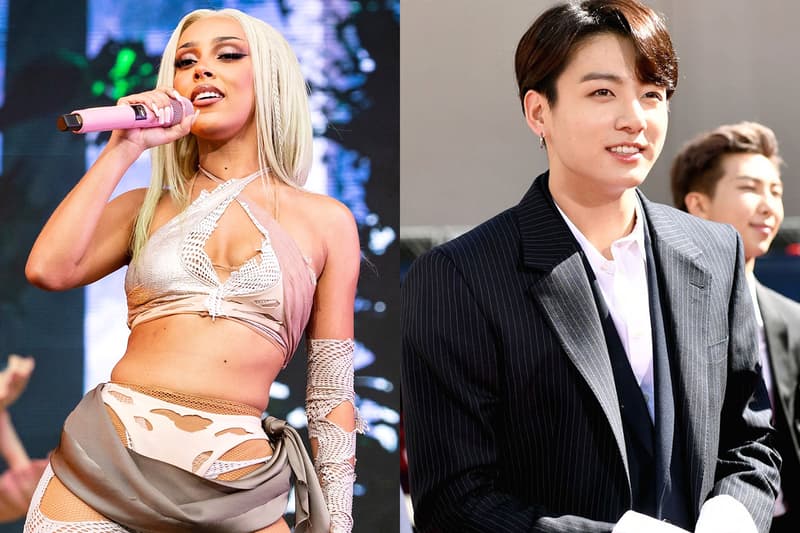 Entertainment
Doja Cat Fangirls Over BTS' Jungkook in Resurfaced Gaming Clip
While playing 'Hotel Hideaway' with fans.
Doja Cat Fangirls Over BTS' Jungkook in Resurfaced Gaming Clip
While playing 'Hotel Hideaway' with fans.
It seems that numerous celebrities are fangirling over BTS member Jungkook, and Doja Cat is no exception.
A recent video of Doja Cat playing Hotel Hideaway with her fans recently made its rounds on the internet. As fans are able to chat and interact with the "Woman" vocalist in-game, they can gift her items and make requests. In one instance, a fan asked the singer to accept something, to which she replied: "Ur not Jungkook."
ARMYs could not contain their excitement online, as many are asking for a collaboration between the two. Some took to Twitter to convey their thoughts: "Imagine Jungkook posting a video of [him] dancing [to] 'Woman' by Doja Cat." Another tweeted: "Doja Cat, Ariana Grande, Beyoncé, Jessie and before even queen Madonna. Jungkook got some of the most powerful women of the music industry loving him and recognizing him as the talented artist he is."
Watch the aforementioned video here.
Share this article