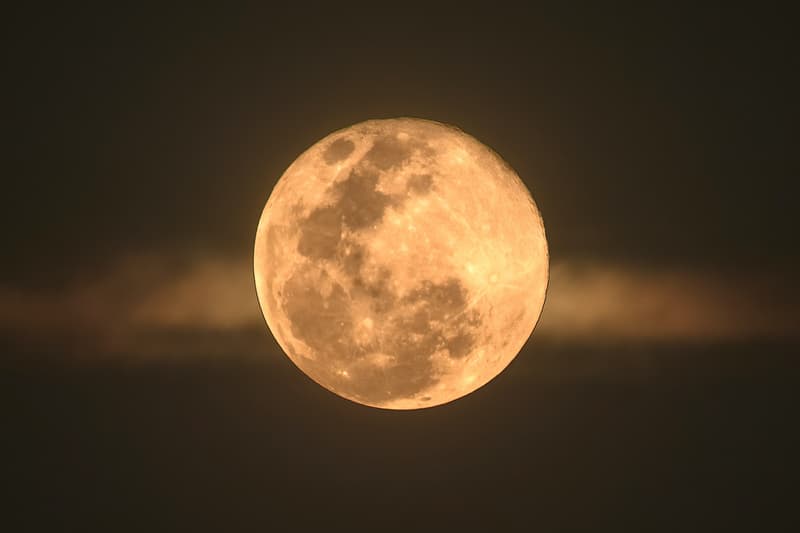 Culture
How the March Full Worm Moon Will Affect Your Zodiac Sign
Also known as the Lenten moon, which marks the beginning of spring.
How the March Full Worm Moon Will Affect Your Zodiac Sign
Also known as the Lenten moon, which marks the beginning of spring.
The March Worm moon, also dubbed Lenten, marks the last full moon of the winter season. This specific moon is also in Virgo, which is the time when "one will seek clarity and order," Ivana Naskova, a Western astrologer of Nebula, explains.
As per the Old Farmer's Almanac, the full moon's "Worm" name stems from its larger appearance this month due to the "moon illusion," which is "when it looks bigger when near comparative objects than it does when it's high in the sky without any references." The Worm moon is also known as the Lenten moon. "We call it a Lenten moon because the Anglo-Saxons used lent as the English word shortened form of the Old English word 'lencten,' meaning 'spring season,'" Naskova says. "It also applies when the moon occurs during Lent, more known as the Christian preparation time for Easter."
In terms of its energy, the Worm moon will bring more awareness to the zodiac signs. During this cosmic event, consider becoming more receptive to your surroundings. According to Naskova, its energy is excellent to seek closures and make amends. "People often find it easier to give up harmful and destructive habits during the full moon and prepare to start a new cycle in life. This is the ideal time for changing your lifestyle, creating healthier living habits, and breaking patterns that no longer serve a higher purpose," she adds.
Here, Naskova further discusses how the zodiac signs will be affected by this event, as well as the influence of the full moon in Virgo.
View this post on Instagram
What does it mean when the full moon is in Virgo?
No matter the sun sign, when the full moon is in Virgo, we all will feel its strong influence. This is a moon where one will seek clarity and order. Since the moon is tightly related to our emotions, it will be very important to sort out feelings and figure out how we feel deep inside.
Some might feel the need to get rid of the clutter in their life, including their emotional life. The ones who can't deal with their emotions will find a calming effect in cleaning and sorting their home, workspace, wardrobe, yard, etc.
Virgo is very much about perfection and following rules. However, during this moon, it is important to accept that there is no such thing as perfection in life. In order to feel happier and more peaceful during this transit, we must be more tolerant and accepting of life's imperfection. Although it might seem complicated, sometimes it is best to let go and go with the flow. This is a moon where everything might not be according to our plans and expectations, and that is okay.
Effects of the full moon on each zodiac sign
Aries
The full moon in Virgo is in your sixth house of daily work. As a result, you will work with increased discipline and great focus. It is an excellent time to focus on tasks requiring attention to detail.
Taurus
The full moon in Virgo transits in your fifth house of leisure. Under its influence, you will have an increased desire to be noticed and heard. You would want to express your ideas and show off your talents.
Gemini
The full moon in Virgo is placed in your fourth house of family. Your home is where you would feel most secure and comforting. You will want to spend as much time as you can with your parents and relatives, and you'll have excellent relations with your mother or another motherly figure.
Cancer
The full moon in Virgo in your third house will keep you busy, but you won't complain as you lack the mental stimulation. This will be a great day to run errands, send emails and complete meetings. However, you might catch yourself thinking a lot about the past.
Leo
The full moon in Virgo is circulating your second house of money and possessions. Today you might feel more emotional and sensitive about money matters. You will also feel vulnerable and exposed to people commenting about how much you earn.
Virgo
The full moon in your sign is in your first house. This is a good time to close the door of your past and focus full-steam ahead on new beginnings and fresh starts. You are more sensitive to other people's energy today so avoid being in the company of negative and cynical characters.
Libra
The full moon in Virgo is in your 12th house of hidden desires. You would want to withdraw from the world and take a break. It will be nice if you are able to take a personal day, as you won't be very much in the mood to focus on work.
Scorpio
The full moon in Virgo is in your 11th house of friendships. This is an excellent day to be surrounded by close friends and help you overcome the moodiness you might feel under the moon's influence. It might be a perfect time to cut off toxic people from your life.
Sagittarius
The full moon in Virgo is in your 10th house of career. So, naturally, you would love to obtain control over your professional life and strive to receive admiration and respect. Unfortunately, you tend to be oversensitive to your social status now and how people perceive you.
Capricorn
With the full moon in Virgo in your ninth house of travel. You will seek freedom and opportunities to grow and expand. If you can't plan a trip, you will make sure to spend the time outdoors enjoying nature and fresh air.
Aquarius
The full moon in Virgo is in your eighth house of shared resources. Be careful because this moon can make you feel more possessive over your material possessions and money. If your partner or family spends money from your joint accounts, you will react quite strongly.
Pisces
The full moon in Virgo is in your seventh house of love. You will feel an increased desire for affection and love from your partner. If you are single, it is an excellent time for closure and leaving your emotional baggage in the past so that you can move on.
Share this article