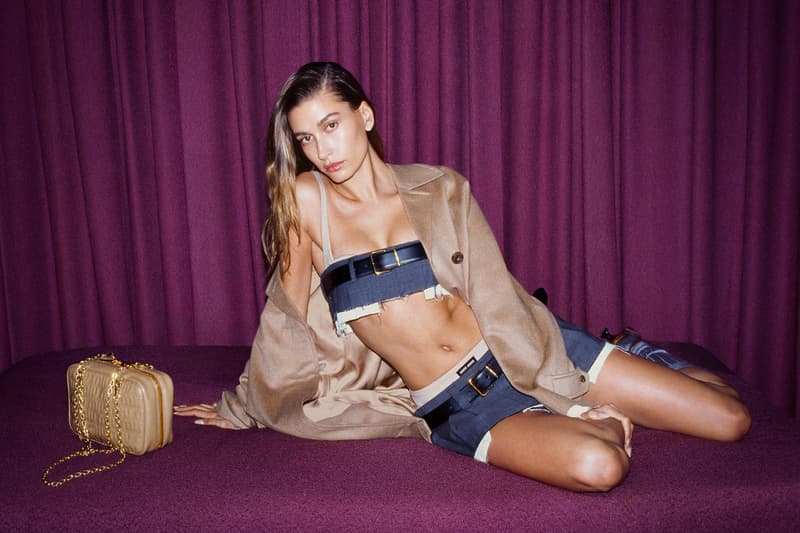 Fashion
The Miu Miu Girl Has Always Got the It Factor
Long before the brand's mini skirt set broke the internet.
The Miu Miu Girl Has Always Got the It Factor
Long before the brand's mini skirt set broke the internet.
By now, in the wake of a zeitgeist-defining Spring/Summer 2022 collection, the world is well-acquainted with the Miu Miu muse. In her cropped cable knit and chino miniskirt — the "Miu Miu set" that took over the fashion world — she's girlish and garçonne, she's devilish and demure, she's effervescent and erudite. More than merely multitudinous, the Miu Miu muse is a tangle of contradictions, all wrapped up in a sweet satin bow.
Designer Miuccia Prada has always been one for a contradiction. In the 1980s, she brought military-grade nylon to the world of high-fashion with Prada's now-iconic logo backpack. A decade later, her singular designs coined the term "ugly chic." And in 1993, the designer advanced another dichotomy, launching a second line, Miu Miu. Named after Miuccia's childhood nickname, the new label was conceived as a little sister to Prada, a playful counterpart to the main line's more mature, elegant élan.
Like its older sibling, Miu Miu revels — perhaps even more mischievously so — in the clash. That's because, for Miuccia, the label serves as a curious, continuous exploration of modern femininity. The Miu Miu muse — in all her fascinating nuance and contrariness — embodies the expansiveness of what it is to be a woman today. And juxtaposition is her modus operandi.
For SS22, the Miu Miu muse was Paris Hilton-meets-Brooks Brothers, Miuccia's off-kilter take on the current Y2K obsession which melded and transmuted McBling and country club signifiers into something wholly novel. The season prior, she trekked through the Dolomites in lace-trimmed slips, quilted housecoat-like puffers and faux fur boots. Vogue coined the look "alpine lingerie," a frisson-inducing oxymoron, which spoke to Miu Miu's penchant for contrariness, and for indulging in whims, moods and predilections. For Fall/Winter 2022, Miuccia flipped the script on the label's viral micro chino-skirt. Now in a teensy tennis skirt, argyle sweater and rugged biker jacket, the Miu Miu muse is a collegiate sports star who moonlights on motorcycle.
Looking back on almost three decades of Miu Miu, even more paradoxical, incongruous and near-nonsensical looks emerge. On the Fall/Winter 2020 runway, a matronly frock dissolved into a crystal-embellished naked dress. Spring/Summer 2008's quirky-sexy outing mixed and matched the uniforms of Playboy bunnies and court jesters. (Miu Miu is always subverting the trappings of archetypal femininity; the label's signatures are crystals, bows and cartoon patterns — but always with a twist.) For Spring/Summer 2016, nylon tutus and negligees were worn over gingham shirts and argyle vests. Another subversion.
Fashion icon Chloë Sevigny opened the label's Spring/Summer 1996 show, which imagined Gen X's X-Girls fishing for '70s vintage in their mothers' wardrobes: baby-tee silhouettes in avocado green and chocolate brown, '90s mesh in camel plaid, tiny bandeau tops in kitschy florals.
Sevigny, in fact, has been one of Miu Miu's most enduring muses. Since walking the label's SS96 runway, the actor has fronted a myriad of Miu Miu's endeavours — from Fall/Winter 2012's luxe Mad Hatter campaign to its 2020 Holiday shoot, which celebrated the "absolute individuality" of "icons for women of all ages." From Cannes to Paris Fashion Week, Miu Miu has outfitted some of Sevigny's most iconic red carpet moments, including a mirror-ball Met gala minidress and a cute puppy-printed MOCA frock. In 2017, Miu Miu invited Sevigny to make her directorial debut with the label's "Women's Tales," an short film series that taps distinctive female filmmakers to explore the Miu Miu persona.
Alongside Sevigny, Miu Miu's myriad muses have included actors Drew Barrymore, Stacy Martin, Maggie Gyllenhaal, Léa Seydoux, Hailee Steinfeld, Mia Goth, Lupita Nyong'o, Elle Fanning and Gwendoline Christie. The Crown's Emma Corrin and Euphoria's Storm Reid are among the label's latest cast members. Across the brand's seasonal campaigns, each actor breathes new life into the Miu Miu girl. Fall/Winter 2011's Steinfeld is an intrepid Alice in Wonderland-type. Fall/Winter 2015's Goth is a mischievous woman-about-town. Fall/Winter 2004's Gyllenhaal is quirky and coy. "A cast comprising actors and performers is inherently keyed to the meaning of Miu Miu — of transformation, of reinvention, of a woman who can be women," the label writes about its 2020 "Icons" campaign, but may as well be describing the endeavour of Miu Miu, as a whole.
Like the label's infamous SS22 micro-skirt, the Miu Miu muse is multi-faceted. She's complex and a little contradictory. And that's exactly what continues to beguile fans, editors and critics nearly three decades on.
---
Zoë Kendall is a writer and editor specializing in fashion and culture.
Image Credit

Juergen Teller/Miu Miu
Share this article