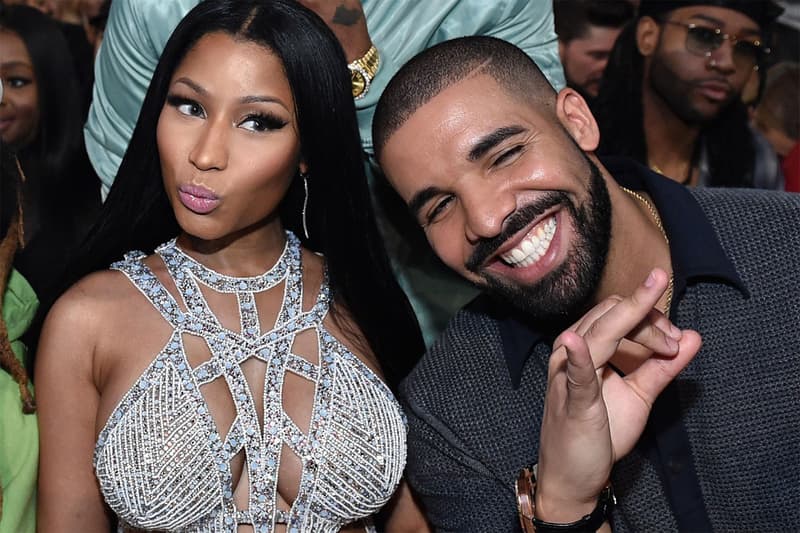 Drake Might Executive Produce Nicki Minaj's Upcoming Album
Here's what we know so far.
Nicki Minaj and Drake might be working together again, following their previous team-ups on "Only," "No Frauds," "Make Me Proud" and more.
The "Bussin'" rapper responded to a fan's question on Twitter about her upcoming album and if "Champagne Papi" will make an appearance: "We actually discussed him EP'ing this new album. That was b4 Seeing Green even came out." Minaj responded to another question about how long it took for her to come up with the outback steak house line in "Seeing Green": "Few mins. What's funny is — that was originally 1 of the many lines I had on Seeing Green. My SG verse was just way too long so I kept creating new edits and sending back and forth to Champagne Papi." She continued: "Cuz he was like Wayne verse already long as well, so we gotta try to shorten the song."
Take a look at the tweets below. Stay tuned while we wait for more details about Minaj's new record.
Few mins. What's funny is- that was originally 1 of the many lines I had on Seeing Green. My SG verse was just way too long so I kept creating new edits & sending back & forth to Champagne Papi. Cuz he was like Wayne verse already long as well, so we gotta try to shorten the song https://t.co/O7QPMljx9Y

— Nicki Minaj (@NICKIMINAJ) March 5, 2022
We actually discussed him EP'ing this new album. That was b4 Seeing Green even came out. https://t.co/iOGQ6Rxosh

— Nicki Minaj (@NICKIMINAJ) March 6, 2022
Share this article