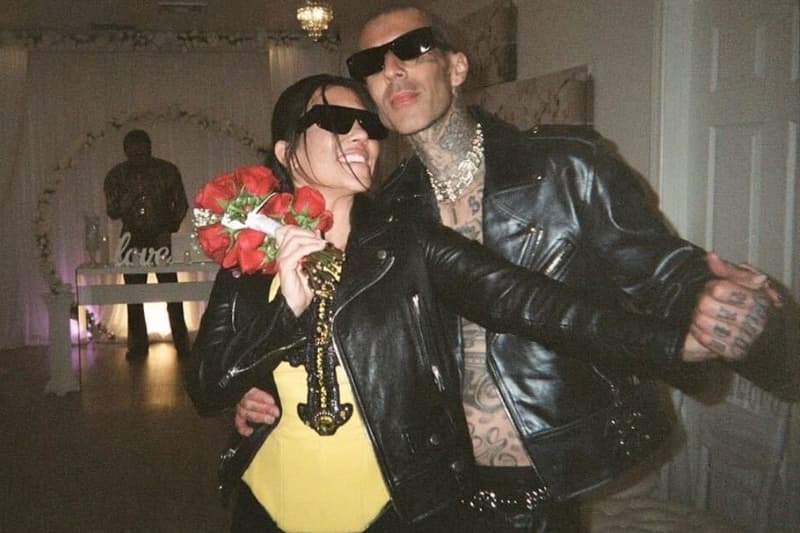 Entertainment
Kourtney Kardashian Confirms Las Vegas "Practice" Wedding to Travis Barker
Revealing no marriage license was involved.
Kourtney Kardashian Confirms Las Vegas "Practice" Wedding to Travis Barker
Revealing no marriage license was involved.
It turns out, Kourtney Kardashian and Travis Barker really did tie the knot after the 2022 Grammys. Well, sort of. The Poosh founder took to social media to confirm the news and revealed that the Sin City wedding was actually practice for the real thing, meaning the marriage is not legal.
"Found these in my camera roll," she captioned a series of Instagram photos with Barker at a Las Vegas wedding chapel. "Once upon a time, in a land far, far away (Las Vegas) at 2 a.m. after an epic night and a little tequila, a queen and her handsome king ventured out to the only open chapel with an Elvis and got married (with no license). Practice makes perfect."
News that the couple had gotten married broke one day prior to Kardashian's confirmation. At the time, TMZ had reported that they "had a marriage license and presented it to the chapel's owner, who was also a witness."
Barker popped the question in October 2021 with a romantic beach proposal. Though both Barker and Kardashian have shared photos from that day, fans can expect to see a more in-depth version of the proposal in their new Hulu show, The Kardashians, premiering on April 14.
Additionally, the show will document Kardashian's IVF experience as she tries to get pregnant and start a family with the drummer-slash-producer.
Check out all of Kardashian and Barker's Las Vegas wedding chapel photos below.
View this post on Instagram
Share this article