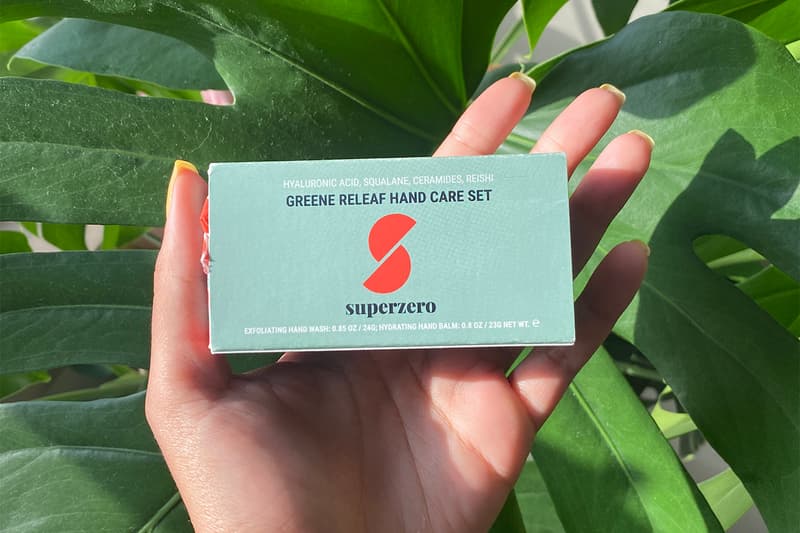 Introducing superzero x Maryah Greene's Greene Releaf Hand Care Set
The sustainable self-care gift that gives back.
In celebration of Earth Month, sustainable, bodycare brand superzero has partnered with Instagram plant doctor Maryah Greene to create the Greene Releaf Hand Care Set, an exfoliating and nourishing kit crafted to restore your hands' health after a hard day's work.
In an exclusive interview, Greene regards self-care as preparation for community care. "Water your plants first," she explains. "It's not natural as a black woman to check in with myself before checking in with others, so I physically set up ways to make taking care of myself more natural. It's the small practices that help me put myself first, like setting out a mug with tea on the counter for the morning or using the Hand Care Set. Working with my hands all day, it's like a nice little hug and a way to carve out time for myself after caring for everyone else's pants all day."
Designed to transform the simple act of washing up into a bite-sized, self-care ritual, the Hand Care Set is filled with effective upcycled ingredients from cleansing charcoal in the solid hand wash to skin-protecting ceramide in the decadently hydrating hand balm. While the set gives back to dry, covid-worn hands, it also gives back to the community as 10% of all proceeds will be donated to Camping to Connect. The nonprofit from Brooklyn, New York promotes leadership and positive self awareness in young men of color through outdoor education, peer learning and mentorship.
As a former teacher, Greene understands the importance of making sustainability accessible and practical for all, to ensure a more long-term and sincere interest. Greene continues, "It can be hard to be sustainable and people don't acknowledge that enough. It can be expensive. When I first started teaching, I was teaching at-risk youth in DC and I remember someone coming in to speak to the kids about sustainability and the students were so disengaged from the conversation. It's understandable because firstly, often, their choices are about survival – if your first meal of the day is the lunch you get at school, you don't care if it came in plastic. Secondly, they had few experiences out in nature, so there wasn't the opportunity to even feel deeply connected to the Earth and responsible for it."
The Greene Releaf Hand Care Set is available for $30 USD on superzero's website.
Share this article