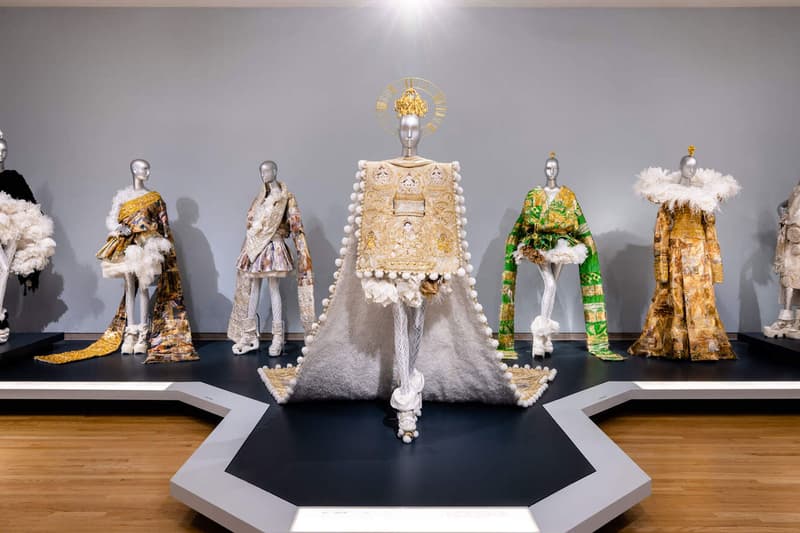 Art
12 Exhibitions to Check Out in 2022 If You Love Fashion
Shows celebrating Virgil Abloh, Alber Elbaz, Guo Pei, Lee Alexander McQueen and more.
12 Exhibitions to Check Out in 2022 If You Love Fashion
Shows celebrating Virgil Abloh, Alber Elbaz, Guo Pei, Lee Alexander McQueen and more.
With multiple countries opening back up, we're seeing a lot of exciting art and fashion exhibitions opening all around the world this year. From The Costume Institute's "In America: A Lexicon of Fashion" show at the Met Museum to Alber Elbaz's tribute exhibit at Paris' Palais Galliera, we've rounded up some of the major exhibitions you should check out in the U.S. and Europe regions.
If you're in New York, stop by Chelsea to view "Jean-Michel Basquiat: King Pleasure," which celebrates the late artist's works, or Brooklyn, where Virgil Abloh's legacy is remembered. On the West Coast, you can find shows dedicated to couturier Guo Pei in San Francisco and Lee Alexander McQueen in Los Angeles. In London, we're spotlighting some of the V&A's hottest exhibits, which include "Africa Fashion," "Hallyu! The Korean Wave" and "Fashioning Masculinities: The Art of Menswear."
Continue scrolling to see the fashion and art exhibitions to check out this year.
Tate Modern in London, United Kingdom
Yayoi Kusama's iconic immersive installation work is on display at Tate Modern. The exhibit features Infinity Mirrored Room – Filled with the Brilliance of Life, which is one of Kusama's largest works to date, as well as Chandelier of Grief, which is a room filled with rotating crystal chandeliers. In addition to these installation pieces, the show also presents a series of photographs and moving images from Kusama's groundbreaking career.
DATE: May 18, 2021 — June 11, 2023
LOCATION: Bankside, London SE1 9TG, United Kingdom
The Metropolitan Museum of Art in NYC, New York
Following the 2021 Met Gala, The Costume Institute has been showcasing an exhibition dedicated to American fashion at the Met Museum. The experience is divided into two parts, featuring roughly 100 men's and women's garments from the 1940s onwards. The first part is sectioned into 12 themes: Nostalgia, Belonging, Delight, Joy, Wonder, Affinity, Confidence, Strength, Desire, Assurance, Comfort, and Consciousness. The second part, "In America: An Anthology of Fashion," will be opening in the American Wing period rooms on May 7.
DATE: September 18, 2021 — September 5, 2022
LOCATION: 1000 5th Ave, New York, NY 10028, United States
Fondazione Prada in Milan, Italy
Taking place at Fondazione Prada in Milan, "ROLE PLAY" is a show curated by Melissa Harris displaying photographic, video and performing works by 11 artists. Each piece is an exploration of individuality, touching on topics such as gender tropes, stereotypes and more. Featured names include Juno Calypso, Cao Fei, Mary Reid Kelley and Patrick Kelley, among others.
DATE: February 19, 2022 — June 27, 2022
LOCATION: L.go Isarco, 2, 20139 Milano MI, Italy
Design Museum in London, United Kingdom
Emerging London-based designer Bethany Williams' works are celebrated in this special exhibition. The show focuses on the creative's sustainability practices, highlighting garments made from recycled book waste while providing a deeper look into her works that take inspiration from social and environmental issues.
DATE: February 22, 2022 — September 4, 2022
LOCATION: 224-238 Kensington High Street, Kensington, London W8 6AG
Victoria and Albert Museum in London, United Kingdom
Sponsored by Gucci, this exhibition explores the changing landscape of men's fashion. The show features everything from '90s Calvin Klein ads and Hedi Slimane's Dior Homme motorcycle jackets, to Harry Styles' androgynous style and tailoring by Demna for Vetements and Balenciaga. This must-see exhibit is described as "a comprehensive and often surprising overview of what 'menswear' actually means now and how far it's come."
DATE: March 19, 2022 — November 6, 2022
LOCATION: Cromwell Rd, London SW7 2RL, United Kingdom
Starrett-Lehigh Building in New York City
Jean-Michel Basquiat's career is celebrated in this retrospective displaying over 200 never-before-seen works by the late artist. Created by the Basquiat family, the show is designed by architect Sir David Adjaye OBE, who is known to have designed the Smithsonian National Museum of African American History in Washington, D.C. "We wanted to bring his work and personality forward, in a way only his family can, for people to immerse themselves in. We want this to be an experiential and multi-dimensional celebration of Jean-Michel's life," Lisane Basquiat, the creative's sister, spoke of the show.
DATE: April 9, 2022 — June 30, 2022
LOCATION: 601 W 26th St, New York, NY 10001, USA
Legion of Honor in San Francisco, California
Guo Pei, the couturier behind Rihanna's viral yellow gown at the 2015 Met Gala, gets her very own exhibition at San Francisco's Legion of Honor. More than 80 of the designer's works are exhibited, including those showcased on runways in Beijing and Paris. Pei spoke of the show: "As a creator and artist, there is no greater honor or privilege than to share my creativity with a wider audience. I am therefore honored and humbled that the prestigious Legion of Honor Museum will be presenting a retrospective of my work. In doing so, I hope that it will bring greater awareness and understanding of my life's passion, and convey Chinese culture, traditions and show the new face of contemporary China."
DATE: April 16, 2022 — September 5, 2022
LOCATION: 100 34th Ave, San Francisco, CA 94121, United States
The Los Angeles County Museum of Art (LACMA) in Los Angeles, California
"Mind, Mythos, Muse" marks Alexander McQueen's first exhibition on the West Coast of the United States. The show gives viewers a closer look into the late designer's artistic process through garments from collector Regina J. Drucker as well as LACMA's permanent collection. Divided into four themes — Mythos, Fashioned Narratives, Technique and Innovation and Evolution and Existence — the exhibit highlights some of McQueen's rarest creations.
DATE: April 24, 2022 — October 9, 2022
LOCATION: 5905 Wilshire Blvd, Los Angeles, CA 90036, United States
Palais Galliera in Paris, France
Alber Elbaz's legacy is celebrated in this Palais Galliera exhibition, which arrives after AZ Factory's "Love Brings Love" runway in 2021. 46 fashion designers including Balenciaga, Louis Vuitton, Rick Owens and Y/Project remember the late designer with specially designed looks. "By reenacting this moving and unprecedented tribute by the fashion industry, we wish to honor his life and legacy and invite our visitors to engage in the designer's joyful vision of fashion," the museum's director Miren Arzalluz shared in a statement.
DATE: May 3, 2022 — October 7, 2022
LOCATION: 10 Av. Pierre 1er de Serbie, 75116 Paris, France
Brooklyn Museum in New York City
The Brooklyn Museum is honoring Virgil Abloh's life and career in this upcoming exhibition. Curated by Antwaun Sargent and Michael Darling, the show serves as a continuation of the late designer's "Figures of Speech" exhibition. While not much information is available just yet, we're expecting Abloh's works in fashion, art, design and music to be displayed in an immersive space designed by Rem Koolhaas' architecture firm OMA*AMO.​
DATE: July 1, 2022 — January 29, 2023
LOCATION: 200 Eastern Pkwy, Brooklyn, NY 11238, United States
Victoria and Albert Museum in London, United Kingdom
The V&A is hosting an exhibition dedicated to the creativity and impact of contemporary African fashion. It features over 250 pieces by 45 designers from more than 20 countries, including Thebe Magugu, Imane Ayissi and IAMISIGO. The exhibit will additionally spotlight the influence of African culture, as well as the works of stylists and photographers.
DATE: July 2, 2022 — April 16, 2023
LOCATION: Cromwell Rd, London SW7 2RL, United Kingdom
Victoria and Albert Museum in London, United Kingdom
If you love K-pop, "Hallyu! The Korean Wave" is an exhibition to check out. This V&A show explores the dynamic culture of South Korea, as well as the global impact of the K-wave in music, fashion, beauty, entertainment and more.
DATE: September 24, 2022 — June 25, 2023
LOCATION: Cromwell Rd, London SW7 2RL, United Kingdom
Share this article