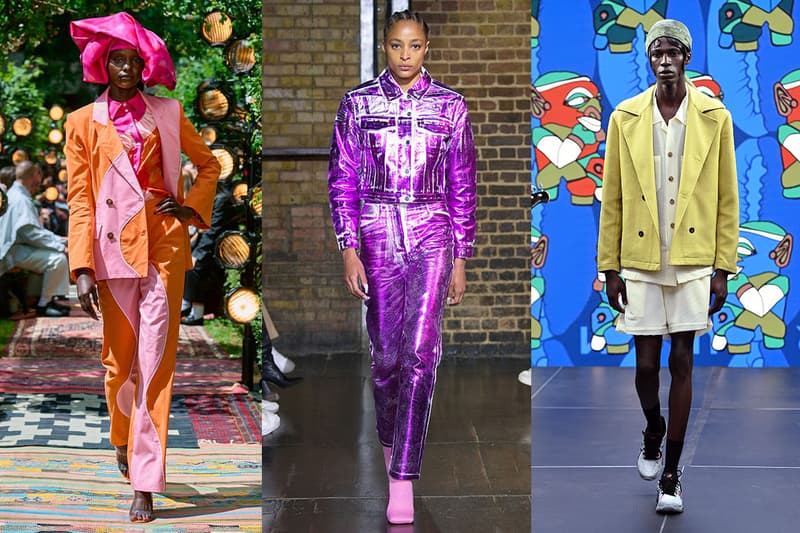 Fashion
The Top 5 Shows and Runway Trends at London Fashion Week SS23
From AGR's runway debut to Ahluwalia's celebration of cultural heritage.
The Top 5 Shows and Runway Trends at London Fashion Week SS23
From AGR's runway debut to Ahluwalia's celebration of cultural heritage.
This Spring/Summer season at London Fashion Week merged the online with the offline, through a hybrid schedule of both physical and digital events. With showcases from Labrum, Ahluwalia and Qasimi, heritage-inspired design ruled the runways, paying tribute to cultural archives and injecting color back into the city's streets. Vibrant pinks and electric blues took center stage, influencing the summer ahead, while eclectic prints and new dyeing techniques brought the DIY aesthetic to a whole new level. Key themes for this season include the concept of authentic inclusivity, inspired by truly welcoming spaces like the London nightlife scene, alongside genuine cultural representation, going beyond the surface of visual influence and instead drawing from archives, research and personal stories.
With LFW coming to a close, we highlight the standout designers and key trends to keep an eye on as we approach the SS23 season.
AGR
Alicia Robinson, founder of AGR Knit took to the London Fashion Week stage for the brand's first-ever runway show, titled "Dripping In Colour." Taking place at London's iconic nightclub Fabric, the collection was inspired by the brand's journey through the music scene and saw a dizzying display of neon knits merge with metallic crochet and pointelle lycra. A true homage to not only Robinson's own creative past, but also to London's eclectic nightlife, the collection was designed to transition from the beach to the dancefloor with ease. In a bid to stimulate positive emotions – something the brand is well recognised for – Robinson utilized color theory to decipher which tones would take center stage. Let positivity and acid brights lead the way if you want to emulate AGR's SS23 offering.
Ahluwalia
For Ahluwalia's SS23 showcase, "Africa is Limitless", the brand took over Salter's Hall at the Barbican. Inspired by the duality of founder Priya Ahluwalia's heritage, the collection was a celebration of Africa's beauty and culture, infused with subtle nods to the designer's Indian roots. Ahluwalia worked with Black Cultural Archives in order to authentically represent Africa, drawing from its rich history and long line of influence. The collection showcased bold block colors in signature Ahluwalia prints, complemented with delicate headscarves and draping fabrics, representative of traditional Somali dresses and Indian saris. Look to the brand's intentional use of clashing color and heritage prints to inform your summer look.
Labrum
Labrum's ss23 showcase was titled "Freedom of Movement," derived from the idea of a borderless society. Similarly to Ahluwalia, the collection was partly inspired by the migration movement and the celebration of merging cultures. Another deeply personal collection, Labrum's SS23 took influence from the founder Foday Dumbuya's own heritage alongside utilizing family photos from the brand's design team. The collection took its color palette from American abstract painter Mark Rothko, known for his seamless blending of blue, brown and green. Let the brand's use of personal archives inspire your SS23 wardrobe, because there's nothing like wearing your life on your sleeve.
Martine Rose
Similarly to AGR's presentation, Martine Rose repurposed a well-known London location: a space beneath Vauxhall's arches that was previously home to "Chariots," a gay sauna spa. Immediately, the location tells you everything you need to know about Martine Rose's SS23. It's sexy, it's dangerous and frankly, it's a little bit awkward. Rose debuts a new shrunken silhouette, paired with exposed zips, skin-tight T-shirts and padlock belts. The collection nods to a seedier London scene, inspired by the city's cultural melting pot and merging personalities. To top it all off, Rose also debuted a new collaboration with Nike during the show, an angular take on the Nike Shox. To take inspiration from Rose's SS23, think intentionally, ill-fitting clubwear, but worn in the unashamed light of day.
Yuzefi
Yuzefi's SS23 presentation offered a lesson in sustainable opulence in the form of stretched satin and metallic knitwear, showcasing a collection comprised of 80% deadstock materials. Inspired by the juxtaposition of beauty and imperfection, the presentation merged rich colors and high quality fabrics with a grungy warehouse location and club-inspired lighting. Exaggerated silhouettes were reworked and unstructured, while added details and flowing fabrics are visibly intentional. Look to the brand's "put-together-but-also-not-quite" aesthetic to inform SS23 eveningwear.
Share this article