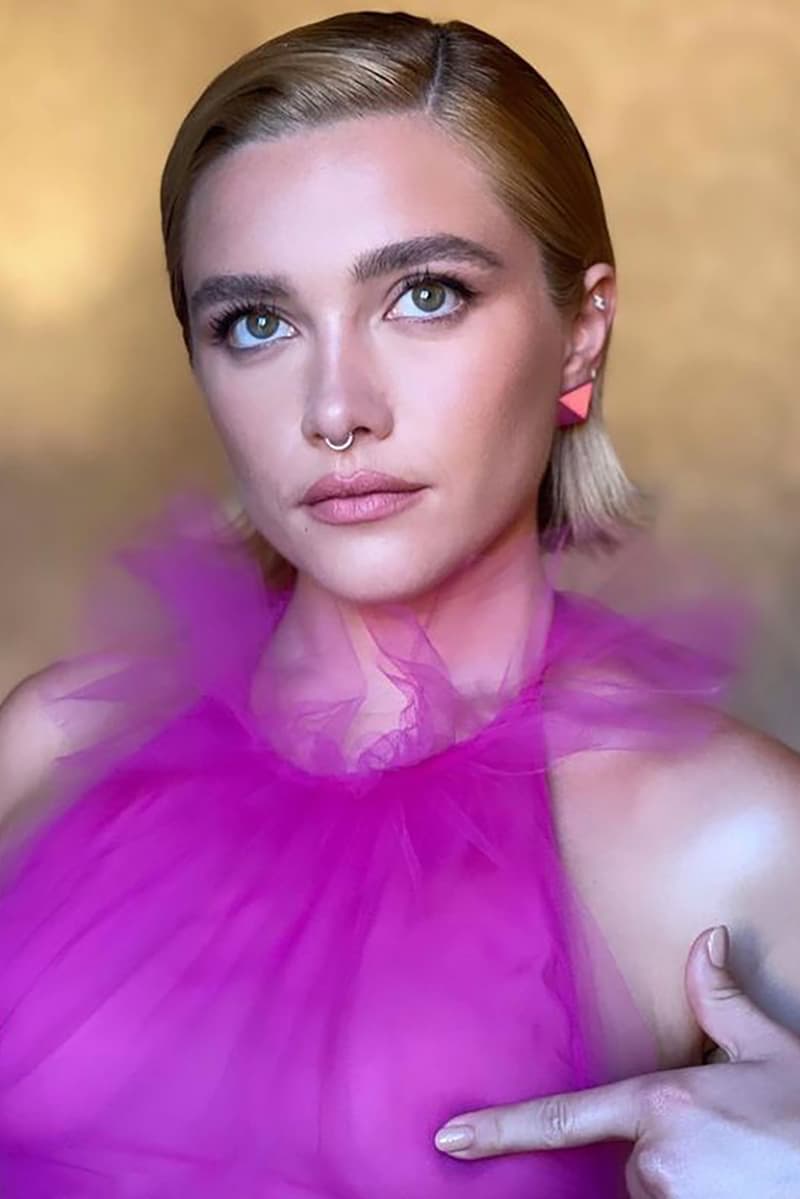 Florence Pugh Slams Criticism Over Her Sheer Dress
"All because of two cute little nipples."
Culture
Florence Pugh Slams Criticism Over Her Sheer Dress
"All because of two cute little nipples."
Florence Pugh is standing her ground after facing a swarm of unsolicited and vulgar criticism over her sheer dress. The actress wore a simply stunning bright pink and sheer Valentino gown to the fashion brand's show in Rome and was quick to remind onlookers that a woman's body is her own and does not need to be sexualized.
After donning her couture look, Pugh endured an onslaught of men expressing their disappointment with the size of her chest, attempting to assert a disturbing level of entitlement over her anatomy. For those who are unaware, breasts are a reproductive, not a sexual organ, yet they've been weighed down with a myriad of connotations that have rendered some nipples normal and acceptable, while censoring and demonizing others.
As the Oxford-born actress stated on Instagram, "So many of you wanted to aggressively let me know how disappointed you were by my 'tiny tits', or how I should be embarrassed by being so 'flat chested'. I've lived in my body for a long time. I'm fully aware of my breast size and am not scared of it. Why are you so scared of breasts? It makes me wonder what happened to you to be so content [with] being so loudly upset by the size of my boobs and body?"
Pugh's runway moment comes at a crucial time as the blonde beauty admits that she knew her outfit would not be received without commentary, as she wrote, "Whether it be negative or positive, we all knew what we were doing. I was excited to wear it, not a wink of me was nervous. I wasn't before, during or even now after."
At a time when a first-world country has stripped half of its population of their human rights and bodily autonomy, proudly and fearlessly displaying her body as it is sends a loud message, but what is even more deafening is the deep-seated control men wish to exact over others. While existing in the public eye opens you up to criticism, it's important to ask why male spectators feel so comfortable expressing their displeasure with a body that is not theirs nor will ever be for their consumption. Pugh added, "It isn't the first time and certainly won't be the last time a woman will hear what's wrong with her body by a crowd of strangers, what's worrying is just how vulgar some of you men can be."
It's clear the Little Women actor is not alone as fellow Hollywood friends Aubrey Plaza wrote, "Ok, this is what I've been saying," while Joey King wrote, "You are truly so amazing. You put into words what so many feel but can't articulate."
Take a look at Florence Pugh's Instagram post below.
View this post on Instagram
---
Share this article