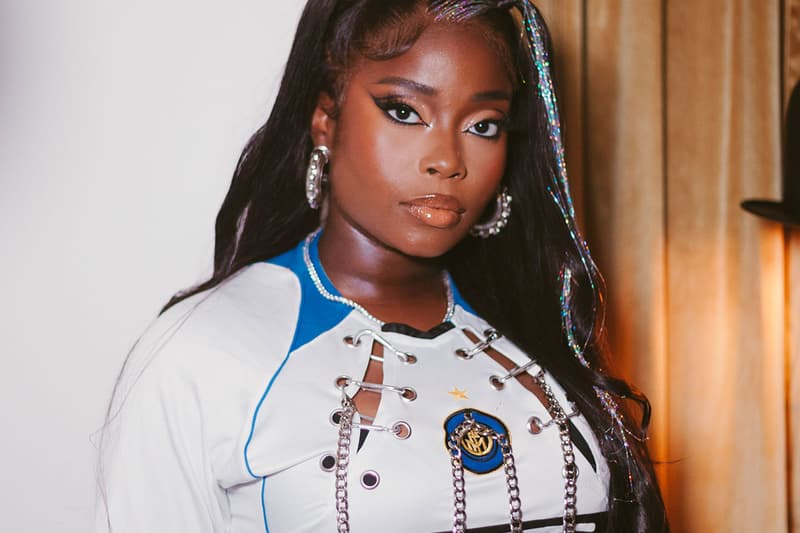 Music
EXCLUSIVE: R&B Artist Bellah on Her New EP and the Power of Collaboration
"For a scene to actually be created, we will need to coexist. I think the idea of 'there can only be one' is killing people."
EXCLUSIVE: R&B Artist Bellah on Her New EP and the Power of Collaboration
"For a scene to actually be created, we will need to coexist. I think the idea of 'there can only be one' is killing people."
North London's Bellah is an artist that's all about co-existing. With a firm belief that "collaboration makes the most beautiful things," and a desire to cement herself as one of the frontrunners for U.K. R&B, the singer-songwriter has big plans for the year ahead.
Fresh off the back of her latest single "Prototype," Bellah has been working on her new EP, Adultsville, which delves deep into her journey to self-discovery, vulnerability and everything in between. We caught up with Bellah to find out more about her journey into the industry, her upcoming EP and how she plans to bring R&B back to the U.K. for good.
Scroll down to read the full interview.
Tell us a bit about how you got started in the music industry.
My mom put me in musical theater when I was younger, so I've always had a love for music. I also remember going to a Beyonce concert once and feeling like "well, now I've got to do that." Everything else I wanted to do seemed really insignificant in comparison to what I'd just seen. I performed at a local festival and I found management there on the spot and honestly, the rest is history. They put me straight into artist development, helped me write songs, helped me grow as a songwriter and then in 2019 I started putting out music.
What was the turning point for you or the moment where you started to really feel like an artist?
I don't know whether I even feel like an artist now. I feel like an artist in terms of the characteristics, like I'm an artist and a creative but in terms of really sitting back and being like "Wow, this is my job and this is what I do for a living and this is what I do full time," it's still a bit of a weird concept to grasp. Especially with things that I would have done for free that I'm starting to monetize. Sometimes it feels a bit like you're not doing anything but you're doing everything at the same time.
How would you describe your sound to those who haven't heard you before?
Fluid R&B and smooth-inspired R&B. Sometimes I go into one genre and sometimes another but at the core of it, it's R&B.
Who are some of your influences, past and present?
Brandy, Abba, Michael Jackson, Luther Vandross, Lauryn Hill, SZA, Frank Ocean, Drake and Daniel Cesar. There are actually so many people.
That's a long, impressive list! What can you tell us about your creative process, how does it start?
It starts with a prayer, like "God help me to be creative today." Then some good food and some good conversation. I like to write from a place of reality and a place of experience because I think those are the songs that people relate to the most. Good conversation always helps with that. Usually, I'm sat with a producer and a songwriter and we'll have a conversation and someone will say something and it'll be like "That's it, that's the song. That's the tagline. How do we say that in the song?" Sometimes I'll be at home and think "this would be good to write about," and then I can go into the studio with someone I trust and love and be like "I really want a rap song that sounds like this, or that encapsulates this feeling." More often than not, it's just about getting in the studio and praying that today's the day the creativity runs wild. Sometimes, there are days we just don't get it and that's okay, there are on days and there are off days.
How do you deal with your off days?
I say to myself "Let's stop here. Let's not force it," because when you force it, it's not that you can't write a song, it's just that it might not be a good one. I'd rather not waste that time because sometimes the vibe is off or you're just not in the mood. Sometimes your mental health is in the bin and sometimes that works for songs but sometimes it really doesn't work. You just have to be flexible and know your limits and everybody else's limits, too.
You've said before that one of your aims is to be a frontrunner for R&B in the U.K. Why is that important to you?
I want to be a frontrunner for R&B because I'm a Black woman. I see that as a prime representation of an actual success story. I want to be all that I want to be so that I can say, despite what was supposed to be endurance, I still made it. I would love to be able to say, "Yeah, I've seen this work for somebody that looks like me," but right now I wouldn't really say that and I want to, I want that to be the change. I want the 13 or 14-year-old who wants to sing right now to look at Bellah and go "Yeah, that's what I'm gonna do."
Definitely, it sometimes feels like there are a lot more success stories in the U.S. within R&B. Why do you think the U.K. scene is so different?
There are loads of factors. One is that R&B isn't inherently ours, but we're really good at it when we get it right. We're so small as a country and you would expect that to make it easier for you to be bigger, but it doesn't. I think people see that we're all in such close proximity and go, "Well, I don't really want to support this person, because, I know them or I know of them." People don't want to openly admit that the proximity makes it uncomfortable for them to really support someone. That's why they say it's easier for strangers to support you than your friends. We have a little bit of a songwriting problem here as well, we love the R&B genre, but we don't really necessarily do it justice with our songwriting. We have some of the most incredible songwriters in the country but a lot of them go to the U.S. because their talents are more appreciated over there. A lot of artists don't like collaboration too, or they don't want to seem as if they write with other writers, because of this weird pride thing, which I think, is very stupid, because everyone who writes knows that collaboration makes the most beautiful things. There's just not enough camaraderie between the artists as well. Automatically, because we're in the same arena, we must be in competition with each other, and that's just not the case. For a scene to actually be created, we will need to coexist. I think the idea of "there can only be one" is killing people.
That's often the problem with a smaller industry, isn't it? The idea that if one person's out there doing what I want to do, then I can't do it as well, because there can't be two of us. Especially for women of colour.
Exactly and that's the programing that we have to unlearn. There's no such thing as tokenism if we've created it, if this is our sound. It's FUBU, right? For us by us. We're not here to fit in spaces that are predominantly white and we're just trying to be ourselves. In those spaces, there's no such thing as over-saturation in those spaces because it's ours. I think we need to take tokenism out of our minds and rewire it. My mom always says this proverb in our language that literally just says that there's loads of space in the sky for all the birds.
Exactly. Taking it back to your own music, you've just announced your new EP. What can you tell us about it?
I'm really excited about it, and I'm also deathly, terribly afraid. I'm so anxious, but I'm really excited for people to hear what I've been up to, what I'm doing and the kind of direction I'm taking and the growth and my experiences and soundscape. I can't wait for people to hear it but I am shaking in my boots, too.
What's it about?
It's called Adultsville and it's about what it means to be in this weird capsule of time. This weird coming of age period where you're becoming an adult and an autonomous human being and having to do sh-t by yourself that you never thought you'd have to until you got there. It's about learning things and unlearning things and just being without any relation to anybody else. I'm an adult now, so in a sense, I am no longer somebody's child. (I am, but you get what I mean, I'm just learning to be Bellah without being Bellah, the oldest daughter or the cousin Bellah.) Just Bellah that exists in the world and eventually will become somebody's mom, somebody's wife. What does that look like? What does that sound like? How do I process that? And how confusing is all of this? The album talks about relationships, general life and how lost I seem to be in all of it.
That sounds pretty powerful and vulnerable, which often makes for the best music, doesn't it? It's almost like the era of you right now, where you are discovering yourself.
Yeah, I'm at that bit in between making a definitive decision for your life and when you weren't allowed to make those decisions. That gap, that little dash in between is where I'm at right now. I'm balancing career and love and family and friends and finances and all that weird stuff that they didn't teach us about.
Finally, you've already done so much since starting out. Touring with Tems, working with Enny, being a MOBO Award nominee. What's next? What are some of the future goals?
I want to try a lot more. I want to be comfortable. I want to be happy. It sounds so cliche, but when you listen to interviews of other artists going, "oh, I just want to be happy. I just want peace," you're like, "all right, whatever." But when you get there yourself, you're like, "oh my goodness, this is so stressful. I just want to chill." So I want to continue making music, and if I'm very honest, I want to fall back in love with music and making music. I want to do some shows. I want to get a Grammy nomination, or a couple, win some of them. I want to do loads of things, but above all else, I want to make sure that I'm happy, healthy and travelling.
---
Share this article