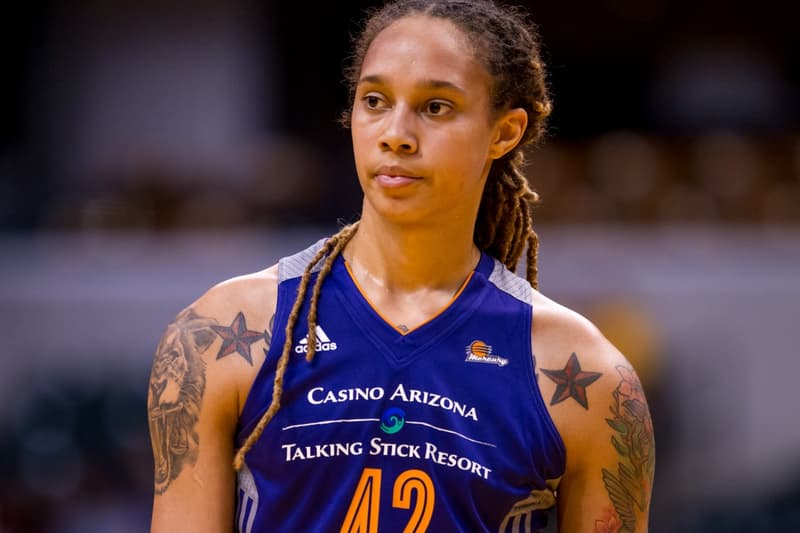 Culture
WNBA Star Brittney Griner Is Sentenced to 9 Years in Prison
After being found guilty for possessing less than one gram of cannabis oil.
WNBA Star Brittney Griner Is Sentenced to 9 Years in Prison
After being found guilty for possessing less than one gram of cannabis oil.
Brittney Griner has officially been sentenced to nine years in prison by a Russian court after being found guilty of drug smuggling. According to Judge Anna Sotnikova of the Khimki city court, Griner has a fine of 1 million rubles, which is roughly $16,400 USD.
On February 17, the WNBA star was arrested after less than one gram of cannabis oil was found in her luggage at Moscow's Sheremetyevo International Airport. Griner claimed it was "an honest mistake" that occurred while packing quickly.
"I never meant to hurt anybody," said Griner during her final statement to the judge. "I never meant to put in jeopardy the Russian population. I never meant to break any laws here. I made an honest mistake and I hope that, in your ruling, that it doesn't end my life here."
She continued, "I know that everybody keeps talking about political pawn and politics, but I hope that is far from this courtroom. I want to say again that I had no intent of breaking Russian laws. I had no intent. I did not conspire or plan to commit this crime."
U.S. President Joe Biden commented on the athlete's ruling. "Today, American citizen Brittney Griner received a prison sentence that is one more reminder of what the world already knew: Russia is wrongfully detaining Brittney," he said. "It's unacceptable, and I call on Russia to release her immediately so she can be with her wife, loved ones, friends, and teammates."
Elizabeth Rood, Deputy Chief of Mission at the U.S. Embassy in Moscow, called the ruling a "miscarriage of justice" and reassured they will do what they can to bring Griner back home. "Secretary of State Blinken, President Biden's national security team and the entire American government remain committed to bringing Miss Griner home safely to her family, friends and loved ones," she said.
Share this article