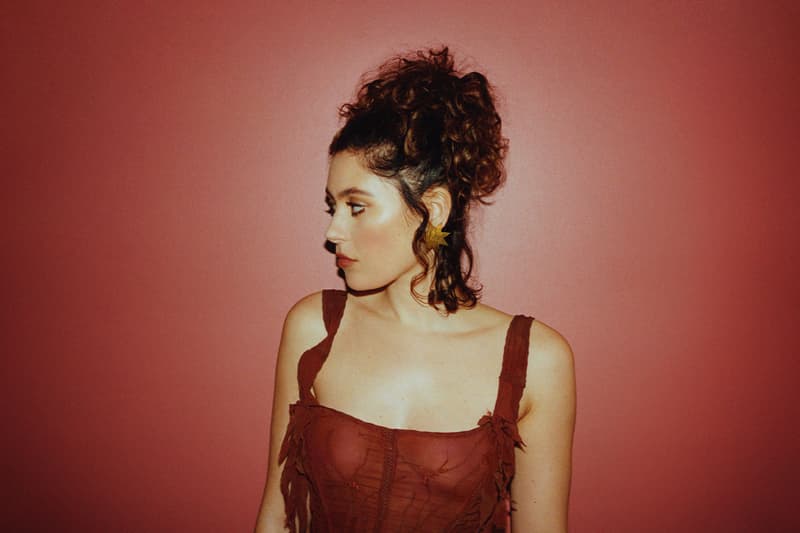 Music
EXCLUSIVE: ELIZA Wants Us to Stop F-cking Up the Planet
Her new single, "Everywhere I'll Ever Be," is out now.
EXCLUSIVE: ELIZA Wants Us to Stop F-cking Up the Planet
Her new single, "Everywhere I'll Ever Be," is out now.
Formerly known as Eliza Doolittle and for infectious tracks like "Skinny Genes," "Pack Up" and "Big When I Was Little," ELIZA has come a long way in the last few years. After taking a much-needed hiatus from music, the captivating R&B soul singer returned to the scene with a newfound outlook on life, a strong sense of purpose and a decidedly different sound.
Drawing inspiration from iconic artists like Radiohead, D'Angelo, Joni Mitchell and Nirvana, ELIZA's new offering is "more confrontational" and about "actually getting sh-t done," according to the artist. "I feel a certain responsibility. I know some people don't and I'm not saying everyone should but I do. So I sort of felt the need to be more confrontational in this record," she tells Hypebae.
We caught up with the artist to find out more about her necessary musical transformation, the process behind her latest single "Everywhere I'll Ever Be," and what to expect from her upcoming album A Sky Without Stars, slated for release on September 16.
Scroll down to read our interview with ELIZA and watch the video debut for "Everywhere I'll Ever Be," premiering exclusively on Hypebae.
You underwent a pretty big musical transformation before your comeback in 2017. What can you tell us about that time?
2017 is when I started properly releasing music independently and it was amazing because I really felt like I found my rhythm and it was my own choice. Everything was my own choice. It didn't have the team of a major label around and it was a really exciting time for me because I'd always loved music. I still love it now. I got guided in different directions when I was younger when it came to the industry career stuff. You don't want to not take those opportunities as they come, so you just do, and when you're young don't really know necessarily how to navigate that. But it was really amazing for me to just make music that actually reflected the music I loved and have always loved.
What was the catalyst for you? 
I think it was definitely leaving my label which was a bit scary because when you're there, there is a little part of you that thinks "maybe I need them. Maybe I need this to be part of this sort of machine-y industry thing." But soon as I did it, I just felt so relieved and I knew that it was the right decision. That was definitely a part of it. And the management side of things as well, switching up the management that I'd had since I was like 13-15. It was like fleeing that nest, whatever that nest was, it was important for me to do that. It was kind of like my university time, I never went to university because I was doing all the music stuff. I went to loads of parties, met loads of new people and listened to loads of new music I didn't know about. It was just a bit of an evolution for me and I'm really grateful for it.
It sounds like you finally kind of gave yourself time to just experience things and do what you wanted. Was there anything that stayed with you from before that time, any elements of that sound or that process that you've kept with you?
I think one of the main things is probably the craft of songwriting, which is something that I definitely learned during that time. I don't know if I would have [learned] if I hadn't done a lot of sessions because I did sessions every day. When I was touring those songs, I was constantly working. It was like I did my 10,000 hours, basically.
You had that big transformation, and then a couple of years later, 2020 happened. That was another pretty big shift within the landscape of music. How did that affect you?
When the first lockdown happened, I was already halfway through making this record. We'd made at least three or four tracks from it. So luckily, for me, I was in that rhythm of creating, and I kind of knew where I wanted to go with it. The thing that I liked at first was just the feeling that for the whole industry and the world, in general, it was just like the rat race stopped, the pressure stopped. It made me feel quite at ease and like I could go even more at my own pace than I thought I was going. You could really feel that with the world when it was slowing down, it made you realise how fast we were all going, so that was really important. From my perspective anyway, because of what went on in the world, and how much deeper we went into the pain of all social injustices, and environmental injustices. These were things that were obvious to us all before, but it was like we all went deeper together into it. I think that was really important as well. You hope to just keep going deeper into what's needed for the world, but I think that time was particularly enlightening for a lot of people.
A lot of people feel like they've gotten sucked back into the rat race, and that things are going back to normal. Do you feel like that time in 2020 has given you the space to continue going at your own pace?
I definitely aspire to that and I want that. But it's definitely been difficult not to fall back into a bit of the rat race. I'm a Londoner and I've been here all my life. I'm realising more and more that I'm craving nature and craving a slower pace, just happiness and less stress and less pressure. I definitely think it did wake me up to what's possible, but I still find it difficult to stay in that place, for sure.

Your new music feels representative of that outlook, like there's less pressure and less stress. How would you describe that new sound? Was there an idea you had in your head that you wanted to achieve?
I think the only idea that I had in my head was that I wanted it to be more confrontational, more missionary. More like "let's actually get some sh-t done." It was definitely more about escapism. I'm always thinking of the issues of the world and how I'm observing those things, but [back then] it was like "let's just have fun and love each other and forget everything" and now it's more like "okay, let's face up to some of this sh-t." Because we can't just start a hippie commune and forget about everything else going on. I feel a certain responsibility. I know some people don't and I'm not saying that everyone should but I do. So I felt the need to be more confrontational in this record. I don't know how that's translated in the sounds or how to describe it, I always say you've just got to hear it. But maybe I could get creative with that and go deeper with that. Ask me next time.
That just means that it's open to interpretation, which is never a bad thing. Who were you inspired by while creating this new music? Who are you listening to at the moment?
Music-wise, at the time of making the record, we were listening to a lot of Radiohead, D'Angelo, who is someone I'm always listening to and always going back to. Nirvana as well. Biggie was a big kind of inspiration, and someone we would speak to loads during the making of the record. Joni Mitchell, I'm always listening to her as well.
You've also just released your latest single "Everywhere I'll Ever Be," what can you tell us about that, and the songwriting process?
"Everywhere I'll Ever Be" was written on a sunny day. We had some mushrooms and went for a walk in the park and then we just went back to the studio and started writing that song. It's definitely got a feeling of "all we are is now, we are everything, everything is forever." You can get quite abstract with that sort of thinking, but I do feel that a lot and wanted to put it in a song.
The track comes from the new album, A Sky Without Stars. What's it about?
The album is full of songs that are about touch on different things. Definitely more confrontational, more wanting things to actually change. I wanted to use the title of the album as an opportunity to bring attention to the fact that if you live in a city or in a town, you can't see the stars. It was funny, actually, we announced the album, and shared the artwork on the same day that NASA put out all those photographs of the galaxy. It just made it sort of land for me even more, how important it is for us to have that connection with the skies and to understand our position within the universe and be aware of the role we hold within it so that we can make decisions with that perspective, rather than with our own little bubble. I don't know why we've done this to ourselves and I'm really hoping we can change it and do something about it.
The album references climate change and that aspect of issues in the world. Why was that issue specifically, something that spoke to you?
I think that climate change is a massive part of what we need to focus on because it's looking a bit scary at the moment if we don't do anything about it. I believe that all the issues in the world fall under the same racket umbrella because it's just about caring for each other and caring for all life. Doing everything with love and making sure that we're not hurting each other. Obviously, there are systems and people who are greedy and want to take in more and more and more at the cost of other people, and of the planet. I think we need to f-cking stop that, basically. That's where I'm at, in my mind. It's all I think about all the time, I just want everyone to have the opportunity for happiness and peace and that's all I'm singing for really.
With that in mind, what's next for you? What are some of your other goals?
Music has always been my channel for everything. It's what my passion is and how I like to share my thoughts and feelings, so continuing to write as well. More shows, it'll be beautiful to connect with people in the room. I haven't done very much of that since COVID. Just generally being connected with my community in London and, hopefully around the world a little bit as well. Spreading the love.
ELIZA's new single "Everywhere I'll Ever Be" is out now.
---
Share this article