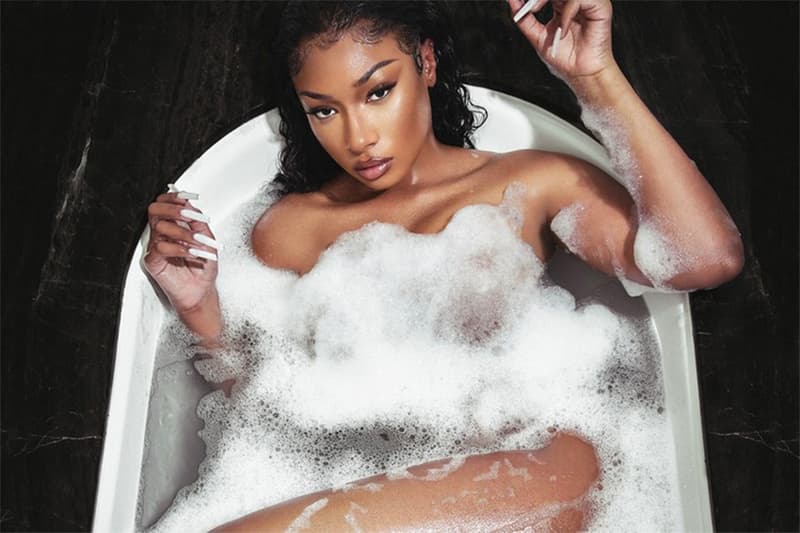 Sex & Dating
Megan thee Stallion Playfully Discusses Her Sexuality on 'Caresha Please'
"Ebony porn, bitch."
Megan thee Stallion Playfully Discusses Her Sexuality on 'Caresha Please'
"Ebony porn, bitch."
Megan thee Stallion recently joined City Girls member Yung Miami on her new podcast Caresha Please and discussed everything from her latest album Traumazine to unexpectedly, her sexuality.
On the trending podcast powered by REVOLT, Caresha taps into her sex and dating bag and opens up about what she prefers. According to the City Girl herself, she loves porn and the only type of porn that turns her on is "girl-on-girl" porn. Basically, she can do without porn that caters to the male gaze.
Megan thee Stallion became quite open about her bisexuality on her iconic track "Captain Hook," but never have fans heard her elaborate. Caresha, powering through nervous giggles tries to admit that she prefers sex with women better than with men and as she struggles to admit it — Megan blurts it out for like a true friend.
Crine they talking about how having sex with women is better pic.twitter.com/lHbqWUDxZQ

— ⭒ (@dansensolsens) August 26, 2022
Caresha's sentiment is not different from most women's, however. In fact, there's an entire category of ethical porn created by women for women, unlike mainstream content that caters to the male gaze — cue Bellesa Films.
Megan thee Stallion actually believes that feminine connection is what makes sex better. "Girls are so sensual," she shares. "But I feel like girl sex can last like two days," she joked. Which, if you're queer you know to be a truth. Women do not follow heterosexual scripts, so sex doesn't have to be over once the male partner ejaculates. So technically speaking — it can go for hours.
In the words of Megan thee Stallion in regards to queer sex, "B-tch is you tired?" "Nah b-tch, is you tired?"
Click above to watch the hilarious interaction and hear Megan's views on queer sexuality.
---
Share this article