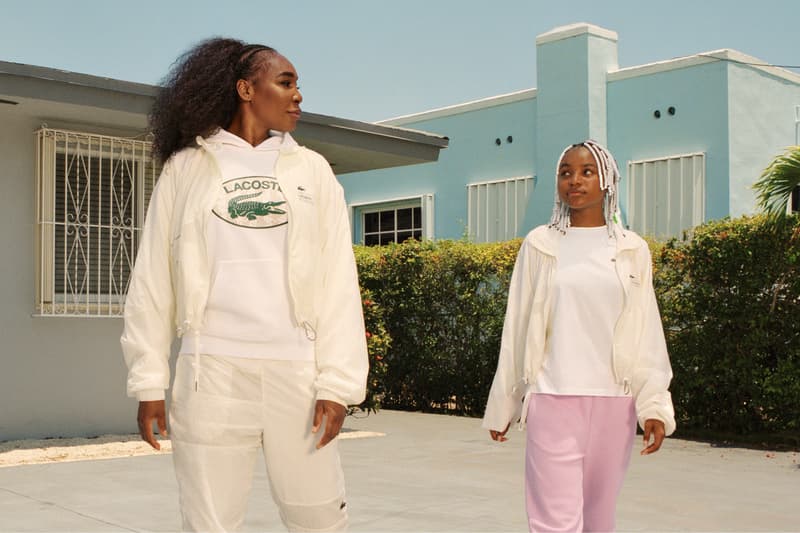 Fashion
Venus Williams Stars In Lacoste's Latest Campaign
Together with Saniyya Sydney, who recently starred as a young Venus in the film 'King Richard.'
Venus Williams Stars In Lacoste's Latest Campaign
Together with Saniyya Sydney, who recently starred as a young Venus in the film 'King Richard.'
Lacoste is back with a new collection campaign starring tennis champion Venus Williams and actor Saniyya Sidney, who recently portrayed the role of a young Williams in the Academy Award-winning film, King Richard. 
The campaign comes in two separate releases highlighting pieces from both the Spring/Summer 2022 and Fall/Winter 2022 collections. Captured by Irish photographer Ronan Gallagher, the visual direction combines a documentary format with a contemporary street fashion feel. In addition to the release is a short film directed by the talented young duo, Kenten.
The SS22 chapter celebrates the brand's new tone of voice with a plot that tells a story of unexpected occasions. Showcasing a series of elevated sports-inspired pieces, the narrative features an impromptu meeting between the brand's newest ambassador Williams and a young Lacoste fan played by Sidney.
Meanwhile, The FW22 chapter follows a short scene of a young teenager returning a white Lacoste jacket to its unexpected owner, Williams. In that instance, the two leads realize that they have the same piece of clothing bearing the brand's signature crocodile embroidery. The film closes with the two women playfully moving their ways, an ode to the tennis player's iconic courtside dancing.
In early 2022, Lacoste introduced Venus Williams as its new global ambassador. Alongside, the brand also debuts its line of new silhouettes under the vision of its creative director, Louise Trotter.
Take a look at the campaign's official photo via the gallery above. Lacoste's SS22 and FW22 are available on the brand's website.
---
Share this article