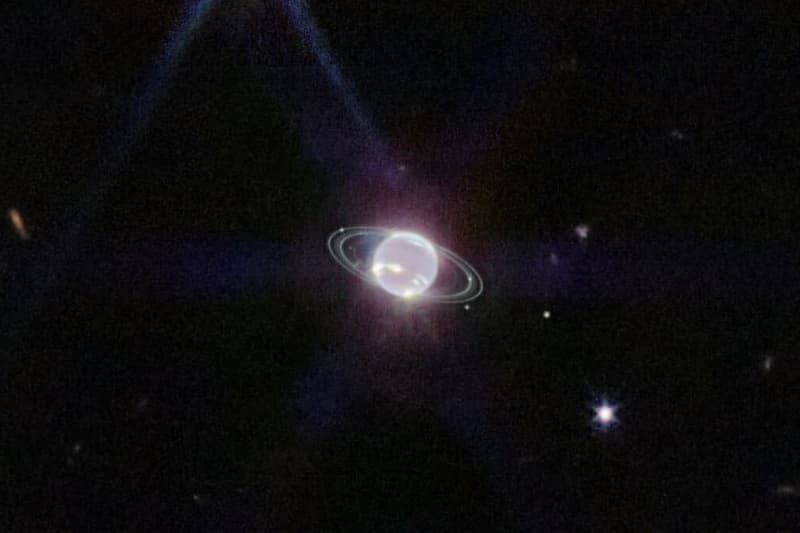 Culture
NASA Captures the Clearest Photos of Neptune's Rings in Over 30 years
Take a closer look at the planet's rings and moons here.
NASA Captures the Clearest Photos of Neptune's Rings in Over 30 years
Take a closer look at the planet's rings and moons here.
NASA has released photos of Neptune, giving a closer look into the planet's rings and moons like we've never seen them before.
"@NASAWebb captured the clearest look at Neptune's rings in 30+ years — our first time seeing them in infrared light," NASA captioned an Instagram post.
The post contains four different photos — all taken from different angles and distances. In the first image, pictured below, Neptune appears pearl-like with its rings posing as ovals around it. The rest of the images show Neptune's moons, with one of them, Triton, resembling a large, bright star.
"Because Triton is covered in frozen, condensed nitrogen, it reflects 70% of the sunlight that hits it — making it appear very bright to Webb. The other 6 moons can be seen as tiny dots surrounding Neptune and its rings," states the caption. "Neptune and Triton can still be seen at the center of the last image, which zooms out to show the big picture. Webb's powerful infrared vision uncovers scores of background galaxies and stars."
For more on the solar system's eighth and furthest planet from the sun, swipe through the images in the post and read the full caption below.
View this post on Instagram
---
Share this article