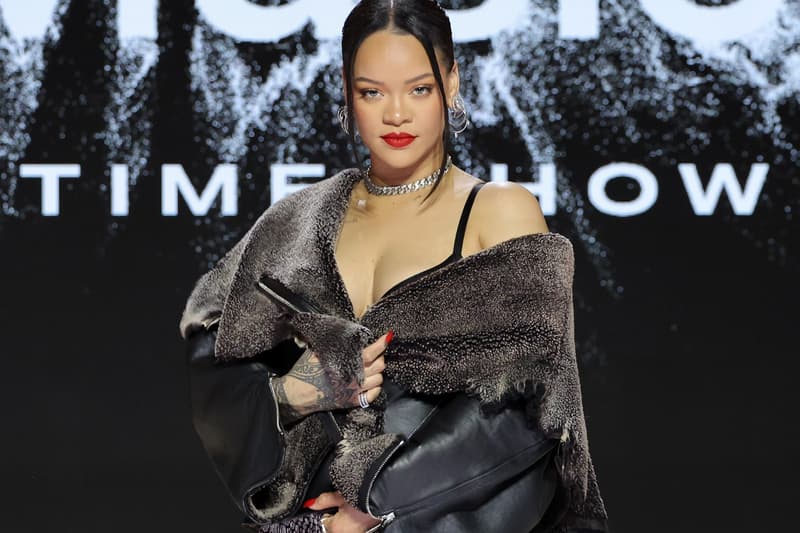 Music
Everything You Need To Know About Rihanna's Super Bowl Halftime Show
Plus, updates on new music.
Everything You Need To Know About Rihanna's Super Bowl Halftime Show
Plus, updates on new music.
Before Rihanna's return to performing, she made an appearance at the official Apple Music Super Bowl LVII Halftime Show Press Conference to disclose everything we need to know about the iconic event. She also dropped a new Super Bowl trailer, honoring her home of Barbados. Additionally, the musician-slash-entreprenuer shared an update on upcoming music. Keep scrolling for everything you need to know about Rihanna's first Super Bowl halftime show performance.
When is the Super Bowl halftime show?
The Super Bowl is on Sunday, February 12, 2023, at State Farm Stadium in Glendale, Arizona. Kickoff for the Kansas City Chiefs and the Philadelphia Eagles is at 6:30 p.m. EST/4:30 p.m. MST, which means Rihanna's halftime show should probably start somewhere after 8 p.m. EST/6 p.m. MST.
Who else is performing?
So far, Rihanna is the only confirmed artist performing during the halftime show, though surprise guest(s) could be making an appearance. However, it's been confirmed that Sheryl Lee Ralph, Chris Stapleton and Babyface are performing during the pregame lineup.
How can I watch the Super Bowl halftime show?
You can watch both the Super Bowl and the halftime show via Fox. You can also stream it on live streaming services, such as Hulu+, YouTubeTV, fuboTV and Sling TV. Just note subscriptions are required.
How long will Rihanna's performance be?
During the conference, Rihanna revealed her halftime show performance will be 13 minutes long.
How was the process of prepping for the Super Bowl halftime show?
For starters, Rihanna hasn't performed on a stage in seven years, and prepping for a Super Bowl halftime show is never an easy task, mainly because there are so many different factors to consider. The singer, who gave birth to her first child in May 2022, opened up about her challenges, which included getting in the right shape as well as figuring out the perfect set list, aka the "hardest part," especially considering it was changed 39 times.
On feeling right physically, Rihanna said, "the physical challenge has definitely been immense, for many reasons, of course. But, I haven't done this in a minute. First thing's first, so you're just running around for 13 minutes, trying to put a two hour set in 13 minutes, and you're gonna see on Sunday, it just, from the time it starts, it just never ends until it's like the very last second. Now I'm saying too much? But it's a jam-packed show, and it takes a toll on your body, it does."
Regarding the set list, RiRi said, it's about "deciding how to maximize 13 minutes, but also celebrate. That's what this show's gonna be, it's gonna be a celebration of my catalogue in the best way we could have put it together. And you only have 13 minutes, that's the challenge, so you're trying to cram 17 years of work into 13 minutes. So it's difficult. You know, some songs we have to lose because of that, and that's gonna be okay. But I think we did a pretty good job of narrowing it down."
Will Rihanna drop new music soon?
It's likely. The Barbados native revealed it's definitely something on her radar. "Musically, I'm feeling open," she added. "I'm feeling open to exploring, discovering, creating, things that are new, things that are different, things that are off, weird, might not ever make sense to my fans, you know, the people that know the music that I put out. I just want to play. I want to have fun. I want to have fun with music."
To get a feel on what to expect of Rihanna's halftime show performance, check out the new trailer below.
---
Share this article