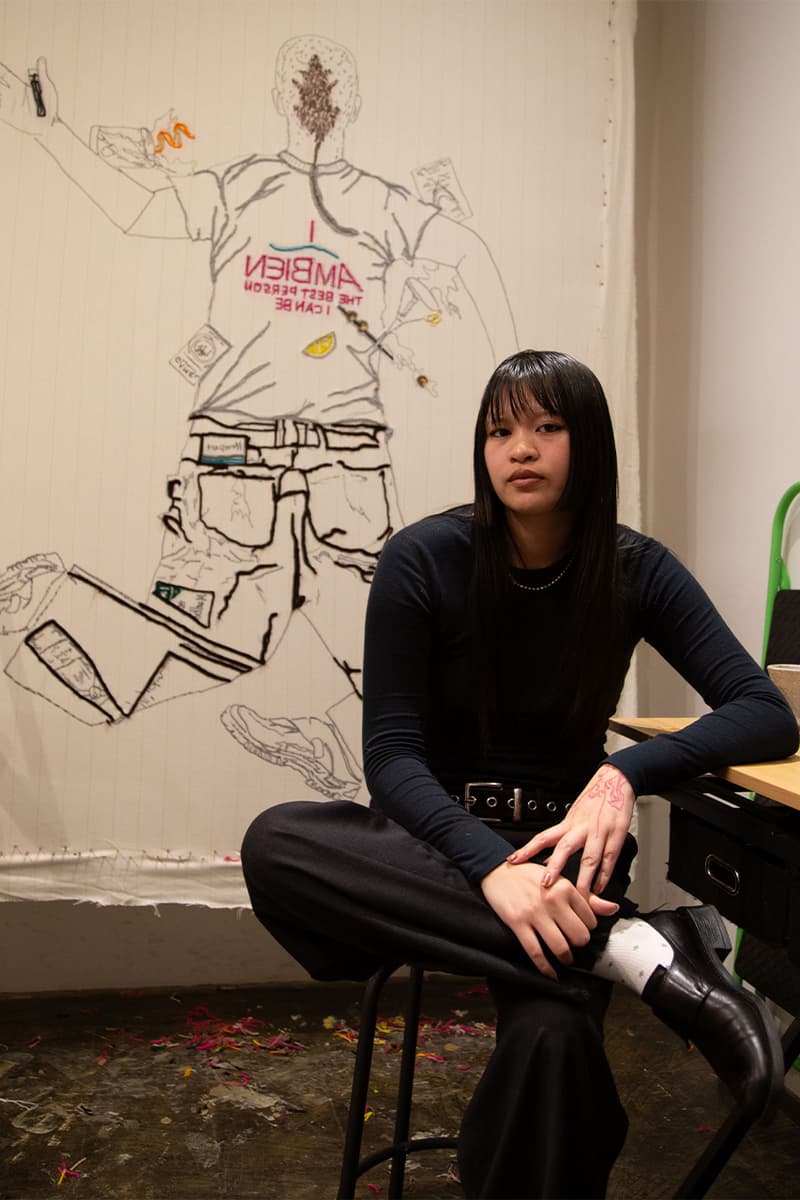 Rugs and Rock & Roll, Meet the Unapologetic Tufting Artist Angela Anh Nguyen
Hypebae sits down with the Los Angeles-based creative to learn more about her exuberant artistic practice and love for (counter)culture.
Art & Design
Rugs and Rock & Roll, Meet the Unapologetic Tufting Artist Angela Anh Nguyen
Hypebae sits down with the Los Angeles-based creative to learn more about her exuberant artistic practice and love for (counter)culture.
Angela Anh Nguyen is a Los Angeles-based, self-taught textile artist who, in the past five years, has redefined the age-old practice of tufting as a medium for countercultural self-expression. Her work, firmly rooted in storytelling, celebrates this complicated thing we call life and pays homage to the skilled, traditional rug makers.
The Vietnamese-American creative is known for her life-size figure rugs which portray caricatures from our tumultuous modern age. Meanwhile, her more traditional collage compositions are inspired by cartoon characters, newspaper headlines, colonial hypocrisy, viral memes and sports themes. Despite never appearing serious on the surface, Anh Nguyen's work sparks intellectual appeal and speaks to our general state of anxiety with a sense of comedy and empathy.
Ahead of her upcoming solo show How We Hegemony at One Grand Gallery on April 7, Hypebae sat down with Anh Nguyen to learn more about her view on hegemony amidst the chaos of our modern age, her exuberant creative practice and her love for (counter)culture.
We'd love to learn more about your journey as an artist and how your upbringing influenced the creative you are today.
I don't come from a family of creatives, nor do I come from a family of scholars (in fact, I come from quite the opposite). I think we expect that story often when we read about artists, but I can admit there is no single generational narrative that has led me to where I am now. I am a textile artist birthed from general curiosity. Everything I have ever built for myself has been self-taught through a creative outlet. My mother is a retired nail salonist and my father is a furniture manufacturer. I come from a working-class family from the '90s Vietnamese diaspora. My father never shuts up about current events and lives off media consumption, so if anything, he is the source of my art's ideology. It sounds so stupid but "I love culture," I love internet culture, counterculture, meme discourse, etc… That's what I make art about for the most part.
When and how did you discover the craft of tufting? Why is it important to incorporate a working-class perspective into your pieces?
I've been practicing tufting for about four years now, I began during the "reawakening" of the textile manufacturing form in late 2018. Through trial and error, I learned how to build a frame and thread textiles using a tufting gun. Tufting gets a pretty bad rap for being a source of production. New age tufting is saturated with reproductions of popular iconography like the Murakami flower, the Cactus Jack logo, or some GOLF WANG sh-t. I personally think the act of bootlegging luxury items is actually really sick. But I'm obviously trying to challenge that notion in my art, as it can be as much an art form as a manufacturing application.
On the other hand, I believe it's important to incorporate a working-class perspective into every industry, not just limited to art. However, in my work, I try to tell narratives of being an artist from a working-class family. In addition to a "Don't forget where you came from" sentiment to those who have abandoned a working-class lifestyle, I also wish to push these narratives among those who aren't exposed to the realities of the remaining 99% of the world.
We love how your creations speak to our generation's general state of anxiety with a sense of humor and understanding. Could you talk a little bit more about why you choose to approach art through this hybrid and satirical take?
I don't think art needs to be so serious. Conceptual art speaking to identity does not need to be exploitative. Sad and mundane emotions don't need to translate into melancholy. Political and social discourse doesn't start and end with calamity. But more importantly, I love a classic "Ha-ha" moment.
Once you've identified your new subject, how does it play out from there? What does your creative process look like?
Most of my work presents caricatures (figure rugs) of human identities stemming from various cultures, so it all really just depends. I guess it's helpful to admit I am a huge hater, so if there is ever a moment I come across a type of person I can't help but critique, I turn it into an artwork. In doing so, I begin with a persona and ask myself the following questions: "What would they wear? What would they say? What are their most dominant characteristics?"
I can say the same about the collaged area rugs that I create. When I am creating a work as a commission for someone, I must understand who that individual is and how to incorporate their personal story into the theme I am working on. What's special about my artwork is that it is both a piece of art from a design perspective as it could be from a contemporary fine art perspective. The work is functional — it can be installed front and center on a wall or it could lay on the floor below books and tables.
Let's talk about the choice of the title of the show: How We Hegemony. What can we expect?
In the past year or so, I have really struggled with fine-tuning the direction of my art practice. The risk of my art having a variety of pathways is an opposition to the status quo that often results in its own inadequacy. Should my work be installed on the floor, on the wall or on the wall and floor? Is the work a rug or is it a tapestry? Does the work lose its value in its variety? Of course, these challenges, among so many others, are really just the result of cultural hegemony.
How do we navigate the cultural, moral and ideological direction over subordinate groups by dominant schools of thought? How We Hegemony is heavily influenced by Antonio Gramsci's claim to cultural hegemony through societal navigation of the status quo. In other words, we weave through life doing the things we do because someone somewhere up there told us to. My hope for the show is to tell a story about various individuals' ideologies and how their actions are inherently and culturally hegemonic. Even forms of counterculture and resisting the status quo are somewhat influenced by a norm. Everything I'm saying sounds like word salad, but I am hoping those who see the show understand the relevance of these diverse narratives in modern times.
Would you rather see your rugs in a museum or at somebody's home?
I'd love to imagine a situation where my work can be in both a home and an art institution. No one is better than the other. The functionality of my work is all about "Why not both?" More than anything, I want my work to serve a purpose to someone and that someone could be anyone.
If you could create a custom piece for someone you admire, who would it be?
What's next for you? Would you ever try other forms of creating?
I have some exciting things coming up! Besides my solo show with One Grand Gallery in Portland, I'll be participating in a group show with IRL gallery NYC in May, as well as a group show with Albertzbenda Gallery NYC in June. In terms of my practice, I'd love to see how I can possibly scale down my work to encourage accessibility in textile/fiber art. I am very noncommittal to the material and process of my technique, therefore I am curious to explore new avenues in order to improve my work and perhaps introduce new mediums.
---
Share this article