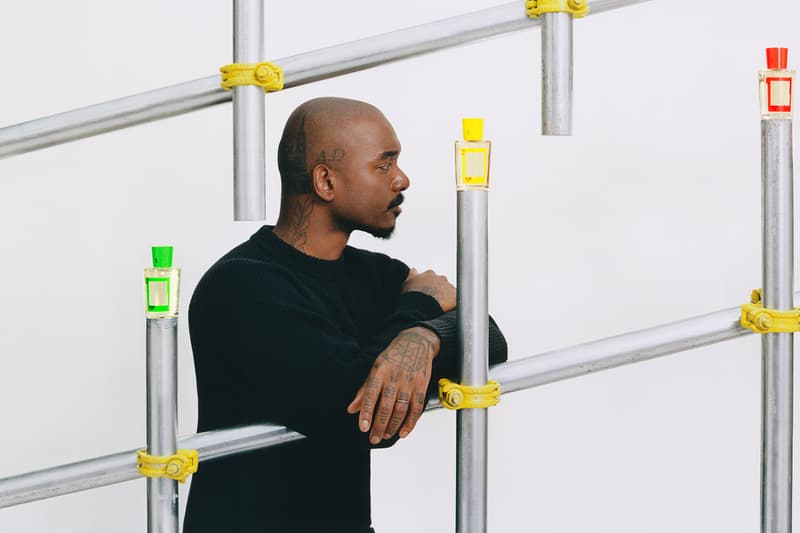 Beauty
Designer Samuel Ross Holds Culture, Heritage and Identity Closely With Acqua Di Parma Collaboration
Reimagining the brand's signature fragrance with a familiar twist.
Designer Samuel Ross Holds Culture, Heritage and Identity Closely With Acqua Di Parma Collaboration
Reimagining the brand's signature fragrance with a familiar twist.
Heritage fragrance brand Acqua Di Parma reimagines its signature "Colonia" scent in a creative tandem with designer Samuel Ross. The limited edition collection is a play of colorful cultural context with three distinct shades "Sun Rise Yellow," "Grass Blade Green," and "Ultra Orange." Keeping true to the 1916 standard of the brand infused with Ross's delight in aesthetics.
The collection is the first display of a three-year partnership with Acqua di Parma and Ross' studio SR_A. Respectfully dubbed "Colonia Limited Edition by Samuel Ross," it is a love story of design codes and new generational discovery, all with respect to culture, original origin and context. As this is Ross' first official round in the beauty space, Hypebae Beauty was curious to know the artist's relationship with scent and how the partnership with Acqua di Parma aligned.
He answered, "I think it's always started with scent and how scent can affect space," He exclaims. "Some of my earliest memories of scent shaping space would be personal memories like my grandmother's home in Brixton and her perfume blazing through her home. Ross affectionately described that scent is quite profound for him as it reminded him of his most cherished memories.
Ross is a direct prodigy of the late designer Virgil Abloh, and for his collaboration with Acqua Di Parma, he pulled from his teachings from Abloh and his personal POV of experience from other creative projects and looked to the architecture and infrastructure elements of London and Milan for inspiration — always leaning on culture.
The "Colonia Limited Edition," by Samuel Ross is now globally available via Acqua di Parma's website.
View this post on Instagram
---
Share this article