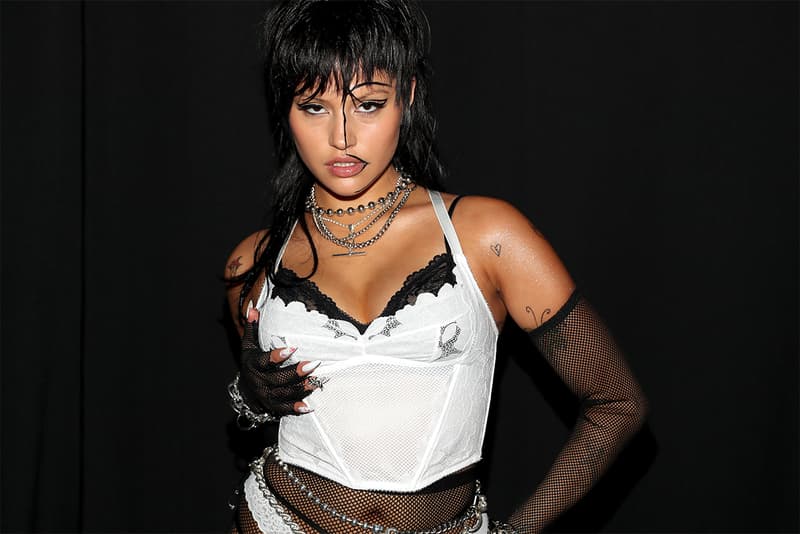 Sex & Dating
How Your Black Moon Lilith Sign Effects Your Sexuality
Nebula's astrology expert, Iva Naskova, delivers a sex-positive breakdown by sign.
How Your Black Moon Lilith Sign Effects Your Sexuality
Nebula's astrology expert, Iva Naskova, delivers a sex-positive breakdown by sign.
Expert astrologer, Iva Naskova from Nebula horoscope and astrology app shares the connection between astrology and sexuality, with a zodiac sign breakdown.
When people think "Black Moon Lilith" they instantly think of dark feminine energy or dark sexuality, as TikTok has created an underworld of this style of content. But according to Naskova, who has over seven years of experience helping people figure out love and career while finding their inner peace using astrology — that's not the full picture.
In short, "Black Moon Lilith can also be referred to as Lilith, the Dark Moon, and astrology's dark angel," Naskova says. However, she reveals that to understand this placement's meaning, one must understand the story behind it:
"Lilith was the first wife of Adam, the very first man on Earth. So before there was Eve, Lilith was there. However, Lilith refused to be sexually submitted and obedient to Adam. As a result, she was banished and replaced by Eve.

Although she was punished for her actions, strong, determined, and brave, Lilith didn't bend over and stood her ground. As a result of her proudly keeping her head up, Black Moon Lilith today represents feminine power and energy. In addition, it symbolizes courage, inner strength, and our secret desires and passions.

Your Lilith sign can show you where your hidden powers lay and how you can empower your life. But most importantly, it can help you learn and discover more about your sexuality. Black Moon Lilith points to parts of you that you keep hidden because you fear the world will see them as taboo and judge you. Black Moon Lilith is often misunderstood and seen as a dark and negative influence. On the contrary, you can use its influence to liberate yourself and tap into your inner powers."
To find your Black Moon In Lilith, you can use an online natal chart calculator and input your "exact time of birth, date, and place." Within your results, look for a dark moon symbol. This signifies the zodiac sign when Black Moon Lilith is located.
Keep reading to find out what your Black Moon Lilith sign means.
Lilith in Aries
When the lights go off, and you and your partner get into bed, your Black Moon Lilith in Aries drives you toward being dominant and impulsive. Your high confidence is what makes you irresistible to others. Tap into your sexuality by being bold and direct about what you want.
Lilith in Taurus
Your sensuality is your hidden power if, in your Chart, Lilith is placed in Taurus. You can be a very passionate lover but also tend to get very possessive. Tap into your sexuality by using your magical touch and flirting by "accidentally" touching your partner on their hand or back.
Lilith in Gemini
When the lights go off, the fun continues for you. With Lilith in Gemini, you are very curious and like to laugh and try new things. Tap into your sexuality by being less calculated and thinking long-term. Instead, have fun in the present moment.
Lilith in Cancer
Lilith in Cancer influences you to follow your partner's desires and set their needs first. You are a gentle, caring, and affectionate lover when the lights go off. Tap into your sexuality by finding your independence and strength to stand on your own.
Lilith in Leo
You enjoy the attention, and with Lilith in Leo, mirrors are your kinky thing when you make love. Your inner strength and charm are captivating to others. Tap into your sexuality by letting go of your ego and allowing your partner from time to time to take the lead.
Lilith in Virgo
When the lights go off, your whole focus is on satisfying and making your partner happy. However, Lilith in Virgo can influence you to feel ashamed of your deepest desires and fantasies. Tap into your sexuality by embracing it and letting go of the fear and shame.
Lilith in Libra
Your ability to seduce the person you like is incredibly powerful. With Lilith in Libra, you manage to make people turn heads for you almost effortlessly. Your elegance and grace are your hidden powers. Tap into your sexuality by freeing yourself from the pressure of what people will think or say about you.
Lilith in Scorpio
When the lights go off, your passion intensifies, and you love the darkness as you can explore with your hands and lips. The mystery surrounding you is your hidden power and what makes you irresistible to others. Tap into your sexuality by allowing your heart to lead you.
Lilith in Sagittarius
Your curiosity and passion for life are what attract people toward you. Lilith in Sagittarius influences you to be very open-minded about sexuality and eager to explore and experiment. However, your curiosity can also impact you to be prone to infidelity. Tap into your sexuality by pushing the boundaries that society sets.
Lilith in Capricorn
Lilith in Capricorn sets your criteria in love so high that they can be almost unreachable. You are a demanding lover, but you give as much as you expect to receive. However, your partner not meeting your expectations can make you ice-cold towards them. Tap into your sexuality by being less restricting and rigid.
Lilith in Aquarius
You are a rebel in all things, including love. Lilith in Aquarius inspires you to push boundaries and make the love field fun and as broad as possible. Your kinky and unique personality are your hidden powers. Tap into your sexuality by being more emotionally available.
Lilith in Pisces
When the lights go off, there are candles, seductive music, and rose petals. With Lilith in Pisces, romance is your hidden desire, and you like a partner who will go above and beyond for you. In return, you will love them with your whole heart, forever! Tap into your sexuality by being more initiative and direct.
---
Share this article