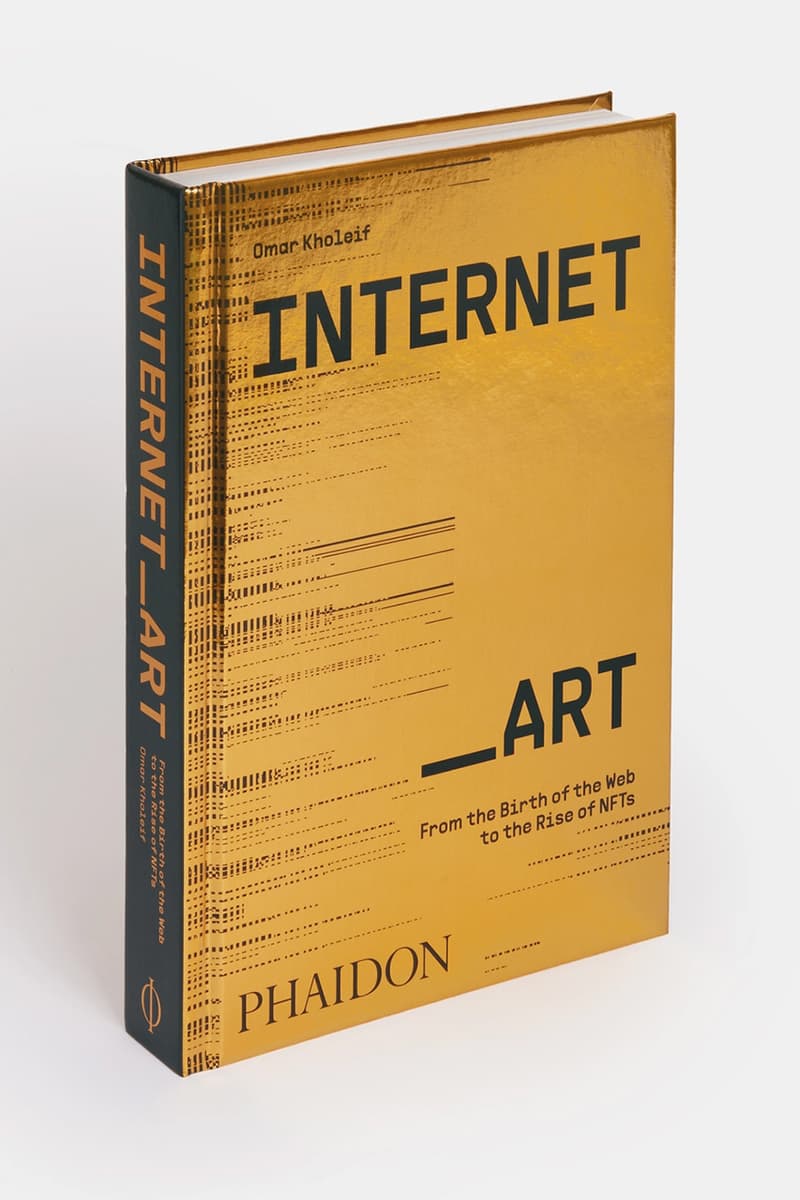 Dr. Omar Kholeif Discusses Internet_Art: From the Birth of the Web to the Rise of NFTs
"There is so much art and world to experience that already exists and it's time to start living and loving it!"
Art & Design
Dr. Omar Kholeif Discusses Internet_Art: From the Birth of the Web to the Rise of NFTs
"There is so much art and world to experience that already exists and it's time to start living and loving it!"
It can be hard to imagine life without the internet – especially now that technology is moving into our bodies, and we seem to be okay with it. Humans indisputably spend most of their time online, with our relationship with machines becoming tighter and tighter. Yet within Zoom calls, never-ending open tabs and thousands of unread notifications, this immersive, abstract space has also given birth to something bigger: a new era of art and creatives, whose creative limits become augmented throughout the possibilities of the matrix.
Egyptian artist and writer Dr. Omar Kholeif tells the story of digital culture as never before told with Internet_Art. The in-depth hardcover title explores the history of internet art, from the birth of the World Wide Web to the augmented and virtual metaverse. For Dr. Kholeif, it felt urgent to present an expansive and personal field guide to cyberspace's relationship to art for current generations and those to come. Exploring the internet — the network of all networks — as a juncture in history is no easy task. Yet with Internet_Art, Dr. Kholeif successfully manages to spotlight leading and underrepresented voices in digital culture, particularly those who documented it from its beginning in 1989.
Published by Phaidon, Internet_Art: From the Birth of the Web to the Rise of NFTs includes 75 illustrations and spans 296 pages. The book is now available to purchase from the publisher's website for $39.95 USD.
To gain a behind-the-scenes look at the title, Hypebae spoke to Dr. Kholeif about his career, how he forges new ways to see creativity in cyberspace and the endless possibilities of digital futures.
Continue scrolling to read Dr. Kholeif's full interview with Hypebae below.
Could you tell us a bit more about yourself and your career?
In this context, you are speaking to Dr. Omar Kholeif, aka the avatar of the broadcaster Dr. O—the world's leading Pop Physician™, among several other undisclosed avatars. I began my career as a music writer aged 17, and for two decades, I've been a museum director and curator who writes books about art. The fuller story is in the book, of course!
How did the idea of writing Internet_Art materialize? What was the research process like?
I have been writing about the subject for two decades. In the first two weeks of the pandemic, with the thickening of the digital walls around us, I feared a cultural amnesia might take over society. Hence, it felt more urgent than ever to create a document not just for me but for my parents, my siblings, my kids, my godkids and those who have yet to enter this world. The research was an endless game of organizing and re-organizing ideas into a memoir that would be accessible to an audience as wide as possible.
What was your initial reaction to the world of NFTs? How did this relationship evolve with time?
My initial relationship with Blockchain technologies came about through the work of artist Simon Denny, who personally developed and contextualized the myriad concepts for me. My relationship around the context of NFTs has developed through my conversations, not only with artists but with entrepreneurs, venture capitalists, those who qualify themselves as gamers, as well as with lawyers, and just as importantly with every other person that I meet–my siblings, folks I bump into on the subway, as well as my local cab driver, the historian, the politician, and so forth. It's amazing how acronyms can unsettle and reconceive certain aspects of the human imagination.
What do you think makes this abstract space, the internet, so fascinating?
I chose to make the book resemble a luminous gold bar as a comment on the continued speculation in and around the sphere. But yet, we so often speak of the internet as an intangible, but it is literally cables and wire; data; energy — currents of energy that move across space and time! The layperson, nor even the studied, does not even necessarily realize this, I have come to find.
In your book, you take us on a journey across key moments in the history of Internet Art. Which one do you find the most meaningful and why?
Nothing is ever more meaningful than another, as we as individuals change in space and time, continually updating in "Feeling" just as our software continually and perpetually seems to. What I try and create is a space to consider and re-consider what matters most in certain moments of history and why, and indeed, what the currents and shifts are that continue to change that.
What are some of the names in the current digital ecosystem that excite you and inspire you?
It's people that I do not yet know, or haven't heard of, who are expressing themselves in unique ways.
What do you hope to see in the future of internet art?
I really hope to see us engaging with the present, the past and what is right there in front of us. There is so much art and world to experience that already exists and it's time to start living and loving it!
---
Share this article