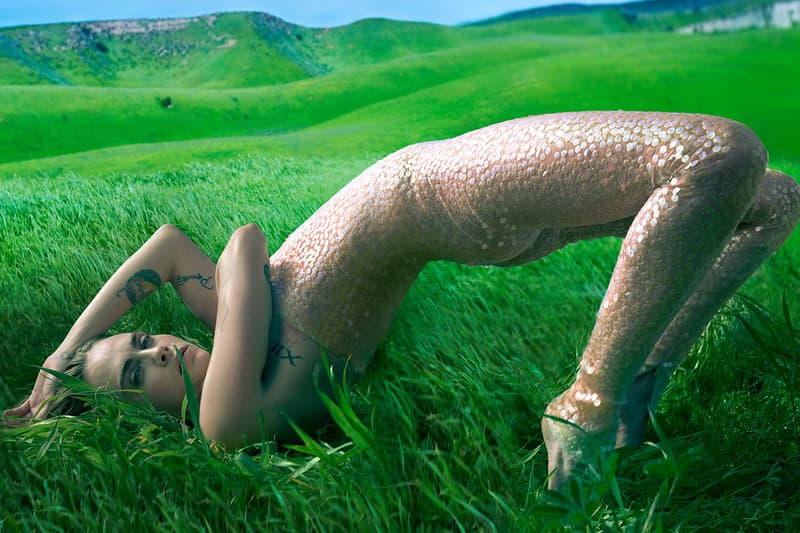 Fashion
Stella McCartney Just Made the First-Ever Plastic-Free, Plant-Based Sequin Garment
Featuring sequins made from plant-based cellulose, free of metals and synthetic pigments.
Stella McCartney Just Made the First-Ever Plastic-Free, Plant-Based Sequin Garment
Featuring sequins made from plant-based cellulose, free of metals and synthetic pigments.
Stella McCartney is responsible for creating the world's first-ever garment made from plastic-free, plant-based sequins.
Dubbed "BioSequins," the designer's newest innovation comes courtesy of Radiant Matter — a material innovation company that creates sequins derived from plant-based cellulose, resulting in plastic-free, biodegradable and non-toxic pieces which contain no metals, minerals or synthetic pigments and colorants.
McCartney utilized the BioSequins to create an all-in-one jumpsuit, handmade at the brand's London atelier and custom-made for model and activist Cara Delevingne. "I am amazed by the iridescent beauty of our BioSequin all-in-one — handcrafted in my London atelier from plant-derived, non-toxic sequins that are even more stunning than conventional options. Who says sustainability can't be sexy?" the designer ponders in a press release.
"It's so special to see how Stella McCartney has worked with our BioSequins to bring them to life on this beautiful jumpsuit. We've loved her uncompromising approach to sustainability and aesthetics which are reflected in every decision, down to the fabric and thread choice, resulting in a stunning yet fully plant-derived garment," adds Elissa Brunatto, founder of Radiant Matter.
The process came about as a result of looking into the effects of the fashion industry on the world's already-existing plastic problem. According to Oxfam, British women purchase 33 million sequinned garments every festive season, with 1.7 million garments ending up in landfill — often after just 5 wears. Due to this, 35% of microplastics currently contaminating the world's oceans are found to be coming from synthetic clothing. It's for this reason alone that finding sustainable alternatives is imperative, with brands like GANNI also leading the charge with its plant-based glitter.
Currently, McCartney's BioSequin garment is yet to be available commercially, however, the introduction of the piece is a small step towards making sustainable methods available for mass production — helping to change the way that we think about fashion and its impacts.
Take a look at the garment above, and head to Stella McCartney's website for more info.
In other sustainable fashion news, KIPPA TRES is the London-based label creating clothing out of secondhand sneakers.
---
Share this article