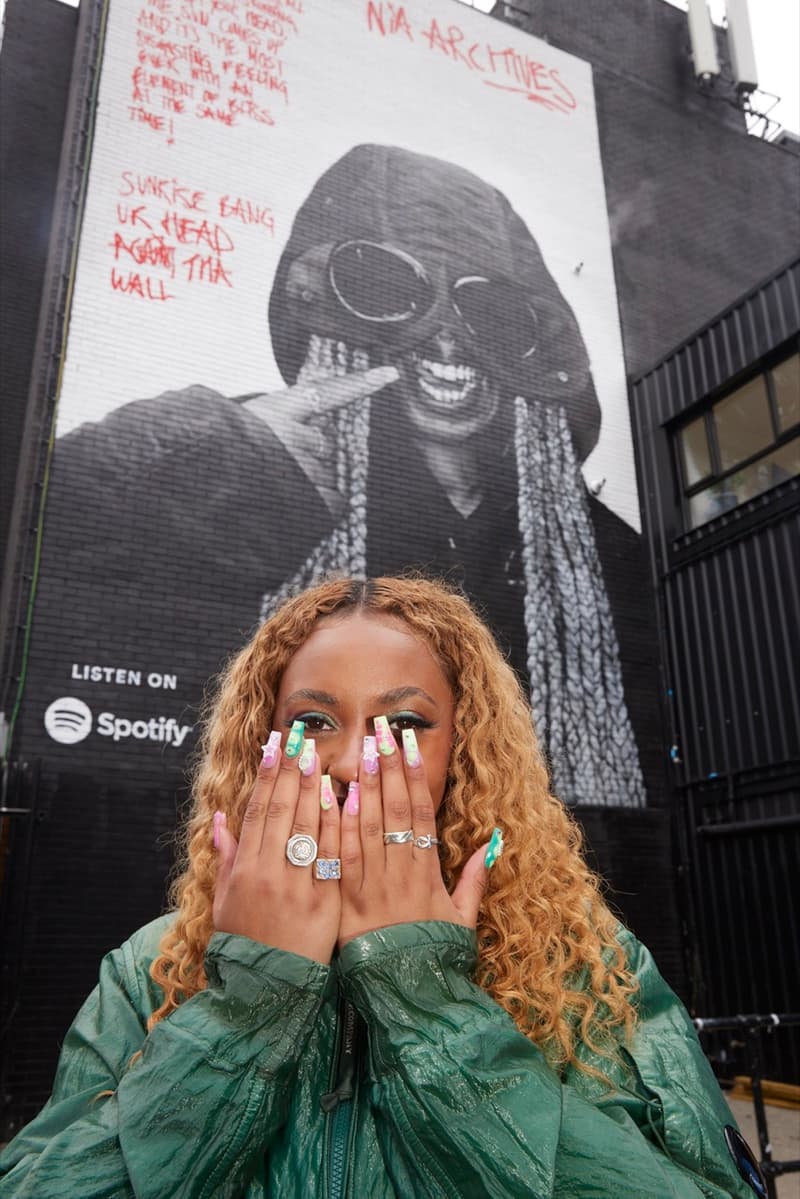 1 of 2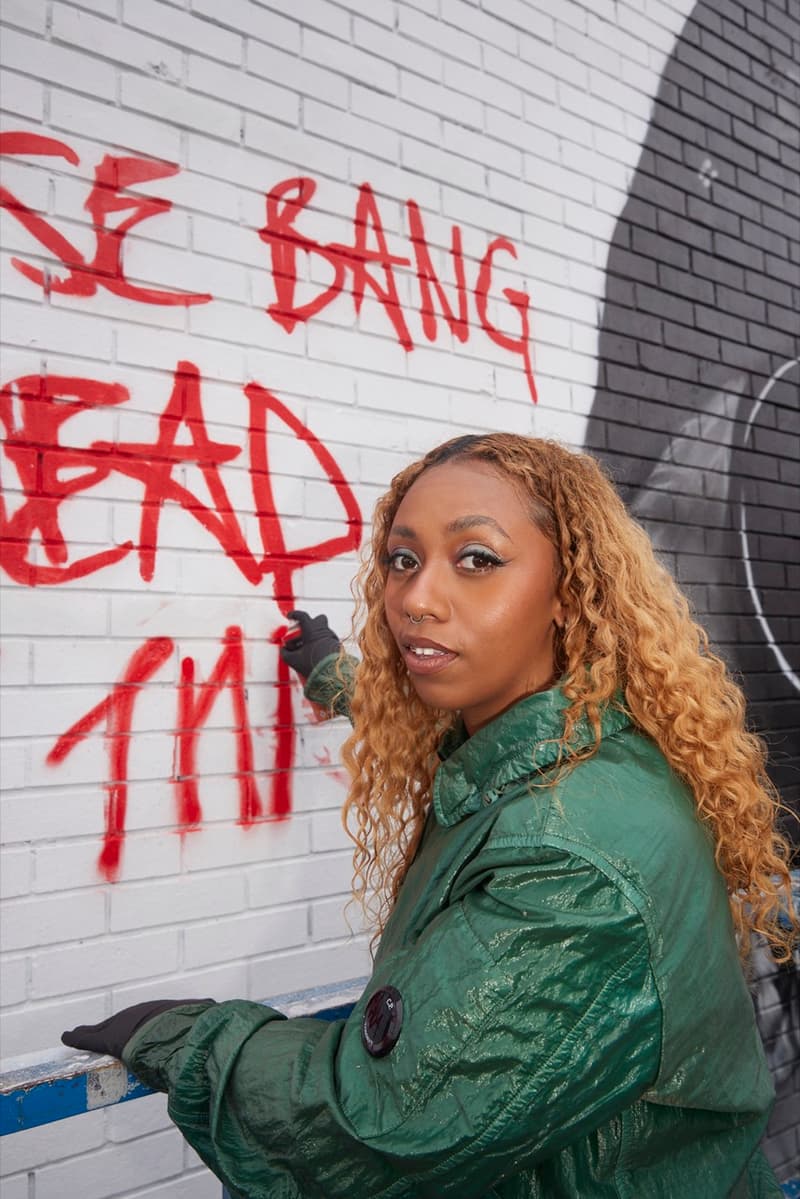 2 of 2
Music
INTERVIEW: Nia Archives on Making a Mural and the Resurgence of Jungle
We caught up with the award-winning artist to find out everything there is to know.
INTERVIEW: Nia Archives on Making a Mural and the Resurgence of Jungle
We caught up with the award-winning artist to find out everything there is to know.
If Nia Archives isn't somehow already on your radar, she's about to be. So far, the 24-year-old music producer has received a MOBO Award, NME Award, DJ Mag Award and was nominated for a BRIT — all in 2022 alone. Alongside starring in campaigns for Nike and adidas, the Bradford native has also been dubbed one of the few artists responsible for the resurrection of jungle music, revered for its revival and newfound relevancy amongst the younger generations of ravers.
Further cementing her status as young East London's favorite producer, Nia Archives worked alongside Spotify to create a full-length mural in Hackney — designed with street art collective, Graffiti Life, to commemorate the release of her new EP. Dubbed Sunrise Bang Ur Head Against Tha Wall, the highly-anticipated project sees Nia getting up close and personal with her growing fanbase, playing host to infectious tracks like "So Tell Me…" and "Conveniency."
Following the release, we caught up with Nia to find out more about her work with Spotify, how she defines herself as an artist and what she thinks contributes to the rise of Jungle.
Scroll down to read the full interview.
Tell me a bit about how you got into the industry and got started with music.
I always liked music and I've always liked producing. I had a Distrokid and I released a song called "Sober Feelz" during the lockdown, made a video for it in my bedroom and people started listening to it. That was really my journey into the industry.
View this post on Instagram
Making music, was that something you'd toyed with exploring prior to lockdown? 
Oh yeah. I'd been making music for about five years, but I guess with lockdown — like everybody else — I was furloughed and I finally had the time to spend on making music and videos. Without lockdown, I probably would've still done it but there was a lot more I was able to do with that time.
Definitely. And for those who haven't heard your music before, how would you define your sound?
I'd say it's like a New-gen Junglist.
It feels like there's a real resurgence in jungle music right now, what do you think has contributed to that? 
You know, it's been around for like 30 years. I think in order to push things forward, there has to be something like new coming in into that, like a younger generation for example. There's a lot of really cool and exciting producers and DJs that are playing jungle and dedicated to jungle now, I think that's really what's caused the rise.
Alongside being a part of that rise, you've won a MOBO award, been nominated for a BRIT and won multiple awards for producing — all in such a short space of time. What do you think has been the key to your success for far?
Just by doing something that I really enjoy, and like making music that I personally really like, quite selfishly. I'm being really selfish with my art and I guess just being true to myself and authentic to myself. Having a good team around you as well, definitely helps.
View this post on Instagram
Definitely! With all of that, you've also worked with Spotify to celebrate the release of your new EP. How did the idea to create a mural come about? How did it feel to be a part of? 
Spotify suggested it and I thought it was a really cool idea. Initially, I thought it was just going to be a poster but when I realized it was going to be hand-painted, I thought that was really sick. It was a bit surreal because at the time, I'd literally just come back from America so I was jet lagged and confused. I got to spray paint the wall and put on the finishing touches so I was really grateful and super overwhelmed.
I can imagine. On the topic of your new EP, the project is set to explore themes of love, loss and rejection. What do you hope that listeners will take away from it?
I guess for me, it's kind of a way to bring people more into my world. It's almost like a window into what an album for me could sound like and then there's an element of growth and development of the sound that I'm creating. I hope I can just like bring people on a journey with me really, and hope that they like the music.
In terms of a potential album then, how far away are you from doing that, currently?
I'd love to release an album this year. If I get if I can get the time. I'm currently just in that really early process of like, trying to create like a concept and work out what I want to say with it because you only get one debut album, but I'm definitely in the process of getting that going which is fun.
Sounds like an exciting time! It feels like with new artists, the requirements and the expectation have changed a lot in recent years. There's now the the added pressure of social media and specifically, TikTok, and those platforms have had a real influence on the way that people make music today. What has your experience with that been like? Has social media and TikTok influenced your creative process? 
I really was a bit late to TikTok. I was quite resistant to that because at the time, I thought that it wasn't very credible. I'm not saying that about other people but for myself. I felt like I was being pressured by other people to  strive for like, going viral and I just didn't really care about that. Now, with TikTok and social media in general, I just have fun with it. I'm not trying to get famous off of TikTok. If a video does well, it does well, but I think I've got a really great foundation, outside of social media that I've built from doing the work of performing shows all over the country and having regional bases in Europe, Australia and the USA. I'm doing the groundwork to build a fan base that will be with me whether I have a hit or not. I still have fun with TikTok, I think it's a really funny app and I really do enjoy using it but I just use it without the stress of trying to be famous from it.
View this post on Instagram
I feel like that's the best way to be because it's one of those things where you just you can't guarantee it anyway. Like you said, I don't think it will ever replace the graft of performing shows and actually meeting your audience face to face. There's pros and cons, but like, it's just not the same, is it? 
Yeah, I think it just doesn't have as much longevity in it. I think people will know you for a year and might not care after a year whereas I've had listeners and people come to my gigs from 2021 to now and I still see the same faces so building a relationship with them, that's more what I'm going for.
Totally. Moving away from the music for a bit, we're obviously big into streetwear and fashion at Hypebae. Where do you get your fashion inspiration from, do you have any favorite brands or designers?
For me, comfort is a big thing. Feeling comfortable and feeling good in what I'm wearing is so important so I wear a lot of CP Company and Stone Island. I love men's clothes so I wear a lot of menswear brands but last year I also delved into more feminine styles, wearing brands like AGR and Vivienne Westwood.
We're big fans of AGR and Westwood here! So, over the next few months you're at Coachella, you're supporting Slowthai and working on an album. What else is on your plate?
I guess this year, I'm really working on growing my audience. In America, I'm really looking forward to the challenge of  being out there. It's so humbling, because I feel like they don't give a f-ck about UK music. They don't know you and that's kind of exciting, it's a fun challenge to go out there and educate people on jungle and stuff like that. Also for me, as a producer, I'm really looking forward to kind of co-producing for some artists that I really like. I did a few sessions recently with Rico Nasty, Sudan Archives, and JPEGMAFIA so I'm excited to do a lot more producing.
View this post on Instagram
That's a pretty impressive list of collaborators already. How do you balance producing and creating your own music? Does it require you to channel a different part of your brain? 
I think it's way more fun, because my stuff is always a bit more personal and vulnerable, and like deeper to me. Whereas when I do it for someone else, it's just really fun to take yourself out of it. There's no ego, it's just like "What would I like to hear this person on beat wise? What do they want?" It's more about getting to know the other musicians, which I think is really fun, making sure they're happy with it. I think it just like takes the pressure off a bit and it's more about just making stuff, which I really enjoy.
Nia Archives' new album, Sunrise Bang Ur Head Against Tha Wall, is now available to stream on Spotify.
---
Share this article