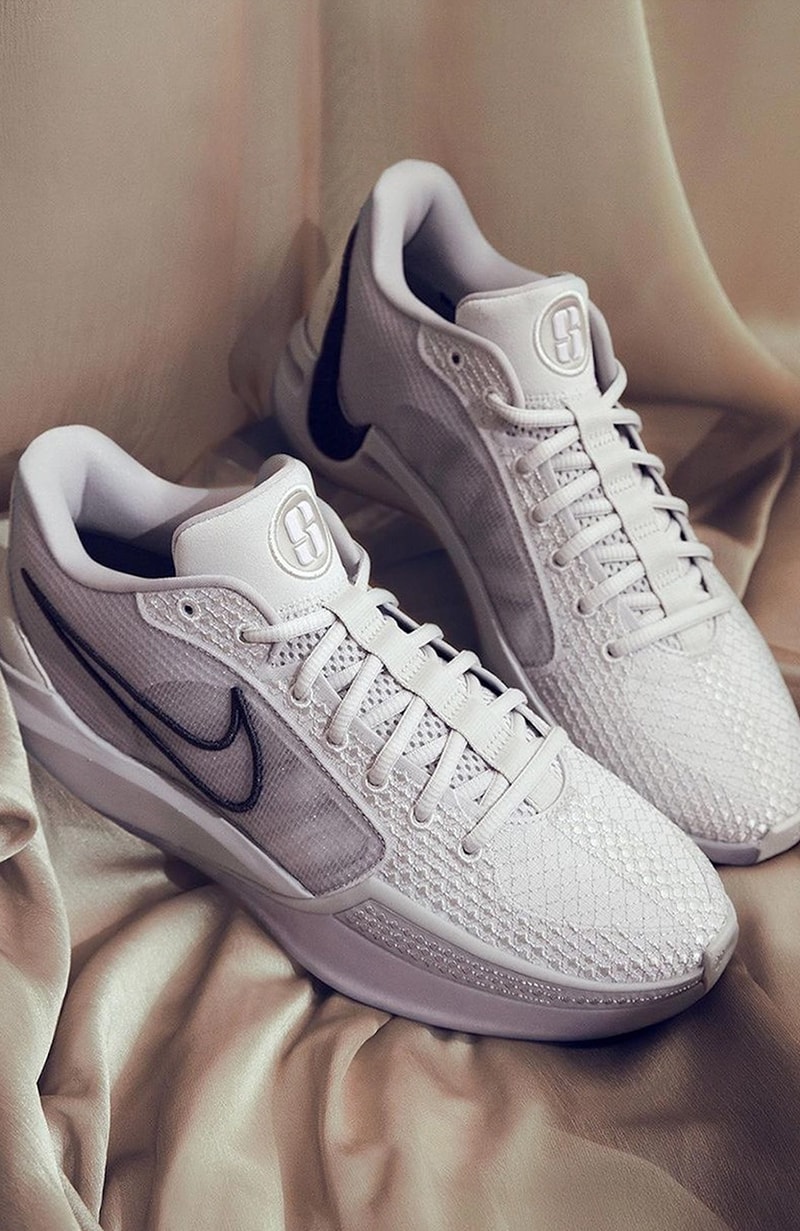 INTERVIEW: Nike Taps Sabrina Ionescu for Signature Basketball Shoe
Paired with the brand's first-ever unisex collection from a female athlete.
Footwear
INTERVIEW: Nike Taps Sabrina Ionescu for Signature Basketball Shoe
Paired with the brand's first-ever unisex collection from a female athlete.
Nike is no stranger to rallying up female athletes. Over the years we've seen the Swoosh swift gracefully on Serena Williams, hit the field running with Megan Rapinoe and champion the next generation of champions like Naomi Osaka and Reilyn Turner. Today the brand welcomes WNBA's New York Liberty point guard, Sabrina Ionescu, into the women's signature fold.
Marking the 25-year-old's first foray into footwear, the Sabrina 1 reportedly took three years to develop. The shoe was made for athletes who, like Ionescu, want to move quicker on the court without jeopardizing the lightness of their feet. Pulling from the ball player's Romanian heritage, the embroidered patterns pay homage to the country's rich art and architecture while a vertical Swoosh represents a number of barriers broken throughout Ionescu's career. A hidden "Anyone, Anywhere" message affirms the point guard's belief that dreamers and achievers can come from all walks of life.
We caught up with Ionescu to find out more about the significance of this partnership, if the star player always had an interest in fashion and design, and how it felt to step onto the court in her finished product.
Scroll down for the full interview and learn where and when to cop the full collection.
What was your first introduction to sport?
I found sports at a really young age, growing up with two brothers. You know, my parents worked a lot and so we got dropped off at the park and had to find something to do while they were working. And so a lot of the time it was basketball, tennis, soccer, and I gravitated towards basketball at a really young age and just fell in love with the game and the process.
I had two brothers growing up, too. How did they treat you? Being the only girl in the group of siblings.
They were definitely protective but they didn't treat me any differently than they treated each other. So we would fist fight and there'd be blood when we were playing basketball. It was just a battle every single time. And I think that helped shaped who I am today, you know, the player I am, but also the person that I am.
What influence did Nike have on you growing up and in the early stages of your career?
I've been a Nike athlete since I was young. In AAU I was a part of the UIBL circuit with Nike and through high school and college as well. And so obviously going to the University of Oregon all we know is being part of the Nike family. And so I've been able to be a part of the brand and grow with it. Getting to this stage, being a signature athlete and continuing to represent the brand to the best of my ability, it's been an amazing partnership and I'm excited about the future.
Were you always into fashion and design or did you first explore it when Nike presented the opportunity?
I've definitely just recently started to pick it up. But I'm usually always in sweats, a sweatshirt and basketball shorts, so the apparel collection is something that I'm used to. I'm enjoying learning about fashion, especially while playing in New York. It's a big part of of the city's culture so it's been fun to learn and grow with the times.
So I know that the apparel collection is unisex but I just found out a few minutes ago that you're the first female athlete to create a unisex collection for Nike. Did you want to create a unisex collection or did it just kind of happen?
No, it was definitely something that was a priority for me early on. I think just the ability to give young girls and boys access to wear the clothes and shoes was a priority to me and something that we've talked about from the early stages of this collection. And so I'm happy to see it finally come to life and I'm excited to see, you know, boys, girls, men and women all wearing it.
In your own words, can you explain the "Anyone, Anywhere" hidden message inside of the shoe?
It was something that was presented to me and I just loved it because it was something that I was harping on a lot of, you know, having the line be unisex and wanting anyone, anywhere to be able to feel empowered and putting on the shoe and telling their own story. And so having that there, on the shoe, and remind people that, you know, they're capable of doing whatever it is they want to do was super important. It's a detail of the shoe that I really love.
Have you made a slam dunk in the Sabrina 1? If so, how did it feel?
I have and it felt absolutely amazing. The Sabrina 1 and signature apparel collection are slated to release later this summer on Nike's online store as well as select retailers.
---
Share this article