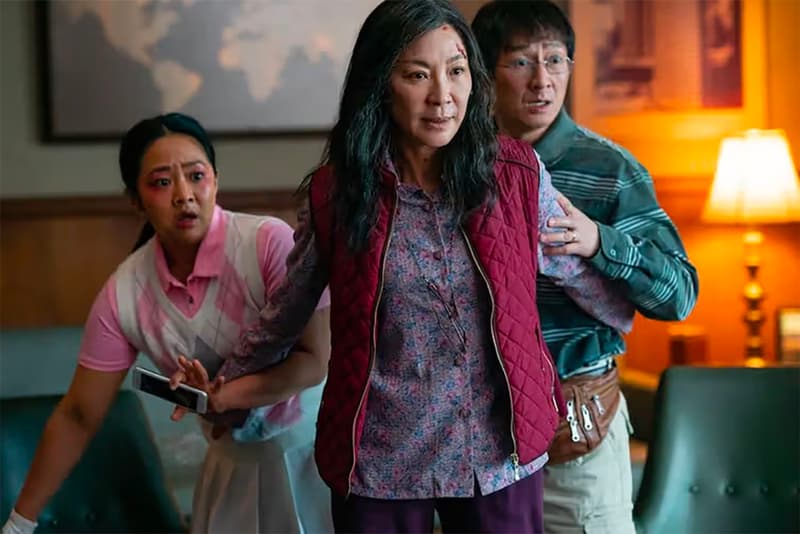 Film & TV
Here's What 'Everything Everywhere All At Once' Oscar Wins Mean for the LGBTQ+ Community
Let's talk about the film's queer representation on and off-screen.
Here's What 'Everything Everywhere All At Once' Oscar Wins Mean for the LGBTQ+ Community
Let's talk about the film's queer representation on and off-screen.
At the 95th Oscars Academy Awards, Everything Everywhere All At Once sweeps with 11 nominations and seven category wins. Alongside its category wins, is its outstanding impact on the LGBTQ+ community.
The most obvious impact of the film, is the casting of a queer actor, Stephani Hsu, for a queer role. Despite not winning an Oscar for her iconic performance — cue Jamie Lee Curtis' win? — Hsu's role marks a necessary casting shift, but also offers representation for women of color who are "supported" but not unconditionally by their parents.
As critic Michael Cuby wrote for Them: "Queer films, films about minority groups, about our struggles and our triumphs — they deserve to be everything. We deserve genre-busting, boundary-pushing, norm-smashing narratives that turn our lives into exhilarating universe-hopping adventures, that capture our pain but understand our playfulness."
View this post on Instagram
Holly Wong also wrote for The Gay Times, "Kwan's understanding of how a person's queerness intersects with every relationship – and part of – their life is what makes the queer storytelling in EEAAO so powerful."
On a playful note, when accepting one of his many awards of the evening, director Daniel Scheinert praised the queer community, his parents and shared a word for those opposed to drag. "Thank you for not squashing my creativity when I was making really disturbing horror films, or really comedy films, or dressing in drag as a kid, which is a threat to nobody," he said to his parents onstage.
Leading with 11 nominations at this year's Oscars, it's clear Everything Everywhere All at Once is one of this generation's favorite films. By prioritizing queer stories and representation both on and off-screen, it further raises the standard of queer allyship in film, as well as the responsibility of truly telling the full scope of our stories — not just the sh-tty parts.
For more on queer representation, check out our favorite LGBTQ+ appearances on the Oscars Red Carpet.
---
Share this article