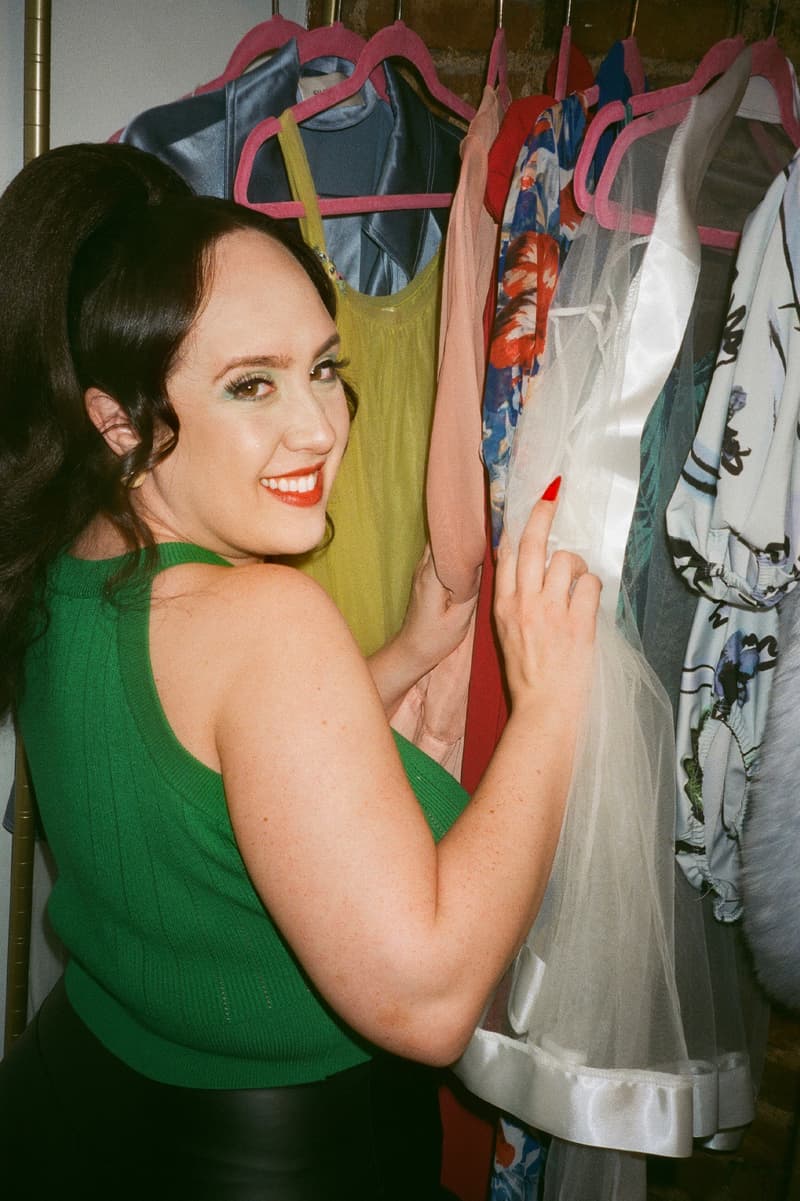 Meet Dolly Debutante, the Former Burlesque Star Helping New Yorkers Keep Their Kinky Homes
"Ok, so are all of these strap-on harnesses currently in rotation or can some be stored?"
Sex & Dating
Meet Dolly Debutante, the Former Burlesque Star Helping New Yorkers Keep Their Kinky Homes
"Ok, so are all of these strap-on harnesses currently in rotation or can some be stored?"
In an interview with Hypebae, Dolly Debutante of Dolly Organizing, shares her story of dominating burlesque to becoming a sex work-friendly professional organizer — with a few tips for the kinky femmes in the chat, of course.
When Dolly Debutante began performing as a burlesque dancer in 2012, she "felt like she found her people," she told Hypebae. "Performing was great but what I loved most was being a stage kitten." For those unfamiliar, a stage kitten — other than having the cutest fucking job title — is a "burlesque show assistant who does everything from picking up discarded costume pieces in between acts" to running drinks, doing prop set up and anything else to keep the show in flow.
Like many creative babes, Dolly worked an office job she despised during her burlesque era to maintain her lifestyle. Luckily for her, maintaining trust in her vision paid off. A recently divorced showgirl friend needed assistance with the "emotional process of sorting through her ex's remaining belongings," and Dolly took the gig making that friend her first client. That one gig was such a success, word of mouth spread and Dolly was able to "pack up my pasties and stop performing entirely."
"She'll even help you organize your dildos, even if they're covered in cat hair."

With clients like Jamilah Lemieux, The Lingerie Addict, Liara Roux and the New York School of Burlesque, Dolly Organizing caters to some of the most notable sex-positive changemakers. Dolly's notable client Rachel Rabbit White revealed: "Without Dolly's help, my apartment would have looked like a rat's nest. She's the only one who taught me how to use organizational systems in a way that works to keep everything tidy, even if you're throwing your clothes around as you get ready. She is a miracle worker, and she'll even help you organize your dildos, even if they're covered in cat hair. She won't judge you."
Dolly's expertise is essential as f-ck for "messy babes with an abundance of beautiful things" as she puts it, not only because she teaches femmes how to be proud of themselves, but because she delivers A1 service no matter whether your lifestyle is deemed socially acceptable or not. She's a safe space every human deserves.
Keep reading for more on Dolly's journey and tips for keeping your kinky things tidy.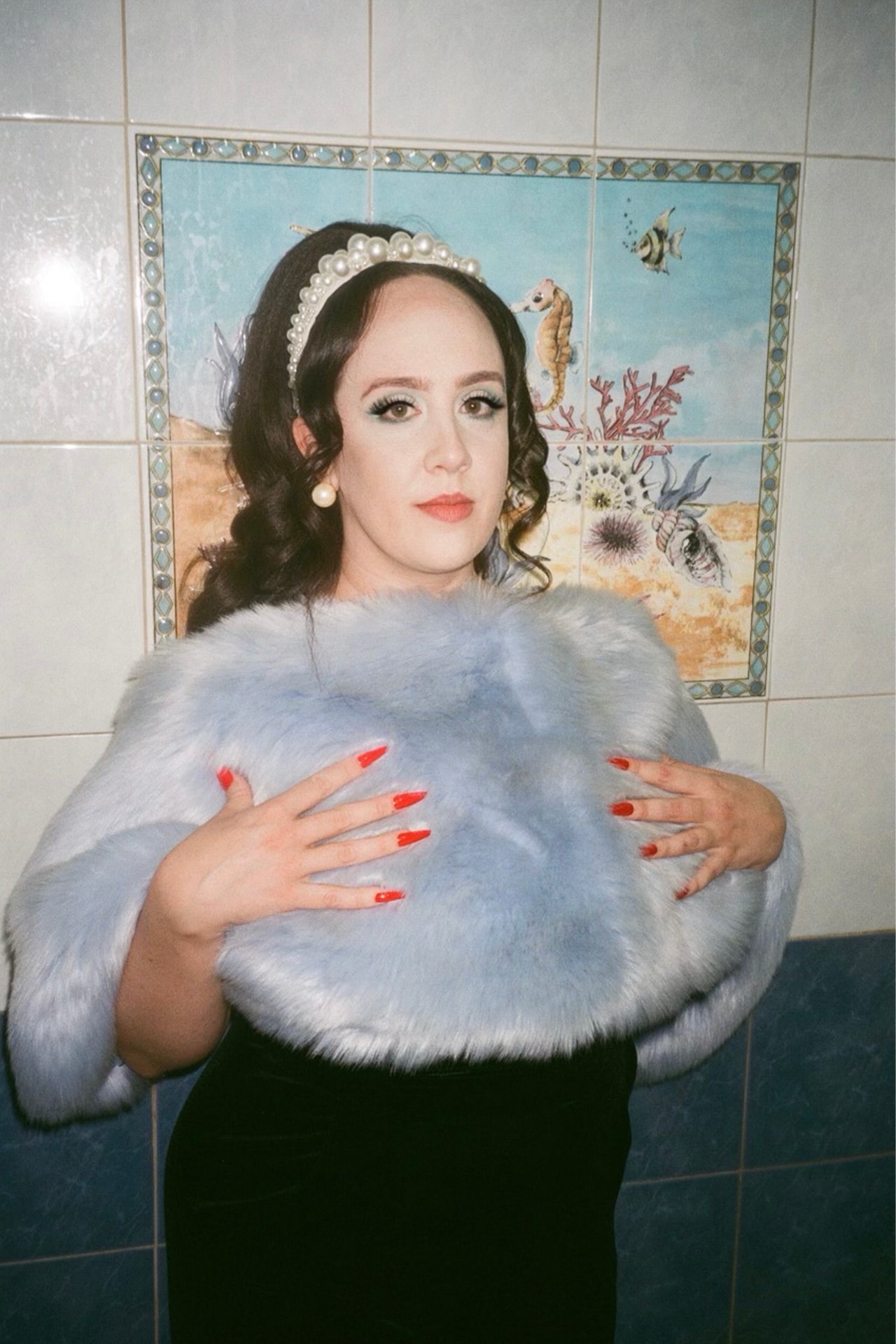 What was the most unique home you've ever organized? What made it special?
Just last month, I had the honor of working with NYC dominatrix Mistress Ramona Ryder who found me through Rachel Rabbit White's Instagram. Ramona greeted me at the door dressed in a leopard print chemise and black velvet slippers, with her adorable cat Chopper at her feet. The apartment was stunning! It was decorated in a sexy boudoir, rock n roll style: red walls, animal print rugs, gothic decor. Just so dark, lush, and gorgeous. She had customized all the little details, like a dressing room with shelving tailored to fit her impressive lingerie and high-heel collection.
I think if I had walked into a place like this earlier in my career, I would have been intimidated. Because there was simply no mess! But with nearly eight years of experience organizing for clients, I know that even if you can't tell right away, there are always projects waiting. People call me for a reason, after all. So we got to work labeling her stacks of vintage porn and punk magazines, sorted through piles of kinky accessories, and hung up some of her extensive collection of antique gold crucifixes, incorporating them into an already existing gallery wall. Sometimes the biggest help I can offer a client is having a designated block of time with a qualified professional. Actually, Ramona even compared our organizing session to her own work as a service provider: what kind of magic can happen when you have space to learn and explore with a pro?
What's the most significant need you've noticed among sex workers and queer babes?
To feel safe and not judged. It takes a great amount of trust to bring a stranger into your home and let them paw through your secret things. So many people are scared they're going to be the worst I've ever seen. They're worried I'll look down on their mess or their lifestyle, tell them everything they own is ugly, and that they're a moral failure for letting things get so out of control. Meanwhile, I'm thinking "Wow, that's a gorgeous cabinet. What a useful shelf. We can really maximize this wall space over here." I'm already looking at the potential and how I can teach them to tweak things. When Marie Kondo exclaimed, "I love mess," I felt that because I do, too.
"Ok, so are all of these strap-on harnesses currently in rotation or can some be stored?"

A few years ago, I saw an episode of an organizing show I'm still mad about: they were doing this woman's bathroom and they laughed at her for having a vibrator in her things. Now think about a client who is queer or trans or a sex worker or all of the above in these increasingly hostile, dangerous times. They don't want an organizer who has a moral objection to their existence, someone who will report them to the police. I have clients who come to me scared that they'll have to explain or defend their pronouns, their partners, their profession, or why they have piles of cash, sex toys or lingerie. They'll call me and say they looked at some other organizers online but didn't feel they would "get them." So when I come in with my long, pointy red nails and matter-of-fact questions like, "Ok, so are all of these strap-on harnesses currently in rotation or can some be stored?" They feel a sense of relief. I strive to be that safe person my clients can rely on. I never want to take their trust for granted. So much of my business is referrals by previous clients and it means so much to me that they consider me a safe enough person to pass along my info to their community.
View this post on Instagram
Why do you think people feel shame about being a "messy babe with a lot of beautiful things" as you call it?
There is SO much shame tied to being disorganized and messy. However, I've seen so many peoples' homes so I can confirm that disorganization and mess are wildly common. Also, there's so much pressure for women and femmes to be "naturally" good at being organized while at the same time, domestic skills aren't something our culture values or appreciates. You'd be surprised how many straight cis men find out what I do for a living and they can't believe such a profession exists. They're baffled that anyone would pay money for my expertise. I never get that reaction from women or queer people. They're more like "How interesting, I could really use someone like that" or want to talk about some great storage ideas they saw on Pinterest.
Organization is a skill that we can learn and practice but it's not something anyone is born knowing. People see interior design magazine spreads or curated Instagram feeds and get this unrealistic picture of how things should look. Clients will ask me "What's your apartment like? Is everything perfect?" And I always tell them I'm tidy but nowhere near perfect and it's true. I loved Julia Fox's apartment tour she gave on TikTok this year. Here's someone we're regularly seeing out on red carpets looking flawless. So when she showed her apartment and it looked so normal, I think a lot of people felt relief from that. I've been hired by so many of the people who are always out looking fabulous and I can assure you that most of their apartments look a lot like hers.
What are your top three tips for sex-positive babes aiming to keep an organized, yet playful and sensual home?
I have endless tips! I don't gatekeep and I'm always sharing on my Instagram so my followers can find inspiration, encouragement, and other resources there if they're not quite ready to book a session. That being said, here are my three favorite pieces of advice:
1- Nurture your taste and style. Organized doesn't have to mean minimalist. Organized doesn't have to mean boring. It simply means the majority of your belongings have a place and that you can find your things when you look for them. Not all of my clients want everything in clear containers or beige baskets. Keep your jewelry on a pretty tray that belonged to your grandma. Save that sturdy shoe box to hold your evening handbag collection on your closet shelf. Put your cozy couch blankets in that nice basket you thrifted last year. Hang your riding crops and floggers on hooks next to the bed so they're easy to reach.
"Organized doesn't have to mean boring."

2- Set a goal, make a plan, and set aside time. So many people get overwhelmed because they just think "I need to organize my whole home" and then PANIC. The goal is too big and too broad, there's no plan, and they freeze. Or they pull everything out of their closet, dump it on their bed, and give up. So I recommend that people start small. The goal can be "I want my home to feel less chaotic and more relaxing" and the plan can be "So I'm going to set aside 15 minutes on Saturday morning to sort through my collection of tights and stockings that have grown so big my dresser drawer won't close anymore." You'd be surprised how much calmer a person can feel just from doing a quick little project. I love helping clients create organizing plans. We break it down room by room, task by task. Also, we can make it a party! Put on your most glamorous lounge outfit, pour some seltzer into a wine glass, blast your party playlist, and get to work.
3- Make your things accessible. You're way less likely to wear your gorgeous lingerie sets if they're shoved inside a shopping bag in the back of your closet. So pull out that bag, sort through it, make sure everything fits, and find a better way to display it. Some clients want everything open and visible or they'll forget about it. Some want everything tucked away because it's too much visual stimulation. Figure out what you prefer. NYC apartments are small so it makes sense to put the out-of-season clothing under the bed or on the shelf you need a stool to reach. Keep the things you're currently wearing accessible.
View this post on Instagram
Any other tips for keeping a beautiful home?
Give yourself a break! Don't beat yourself up because you had a stressful week and things got messy. Learn what works for you. The place where something goes only needs to make sense to the person who needs to find it. Enjoy your things. Hang your art, drink out of your pretty glassware and wear your silky robes. Life is short, city living is hard, and ideally, home is somewhere you can relax, recharge, and nurture your creativity.
This interview has been condensed for clarity.
---
Share this article