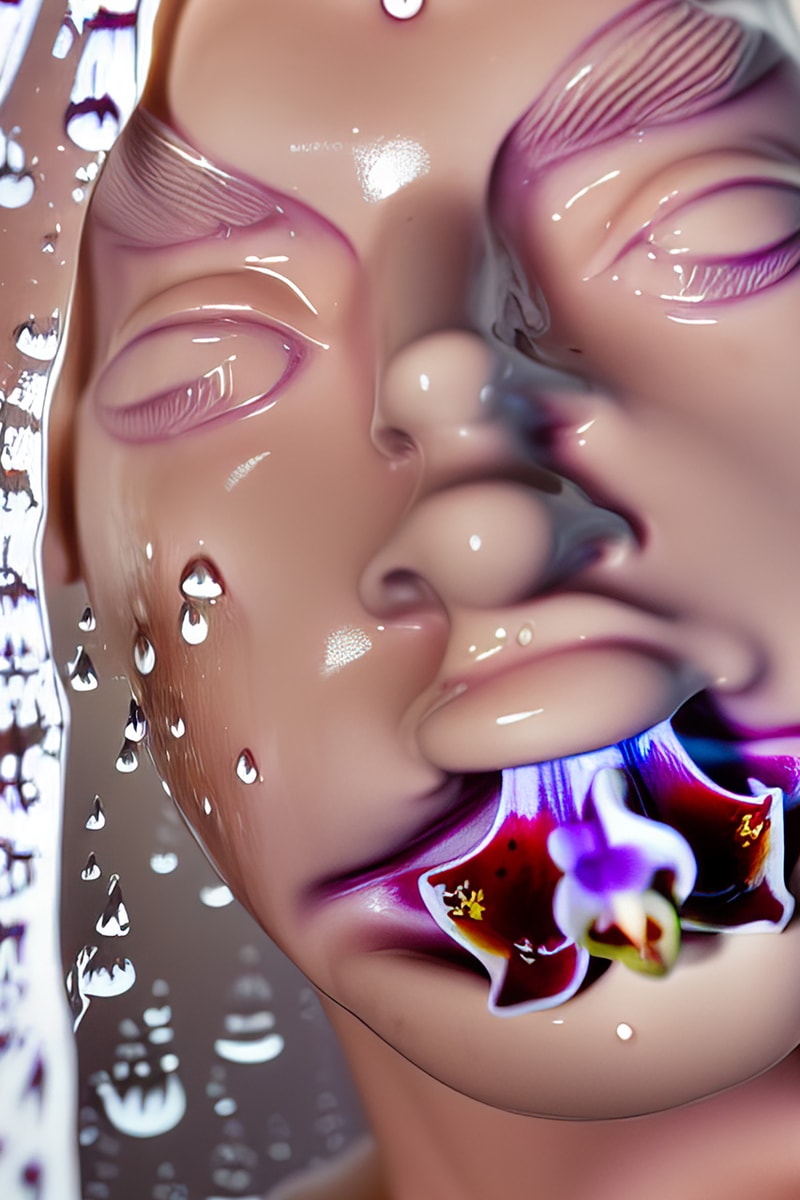 Beyond the Interface: How Women-Led NFT Gallery, Vellum LA Is Curating Post-Reality Dreams
Sinziana Velicescu, Director and Curator at Vellum LA, shares her view on NFTs, creativity's future and the cutting-edge intersection of art and technology.
Art & Design
Beyond the Interface: How Women-Led NFT Gallery, Vellum LA Is Curating Post-Reality Dreams
Sinziana Velicescu, Director and Curator at Vellum LA, shares her view on NFTs, creativity's future and the cutting-edge intersection of art and technology.
Beyond the Interface is a fashion-tech series that explores the vibrant spectrum of next-gen designers and artists in the Web3 industry. The series provides an inside look into the digital ecosystem's most promising names and explores the radical shifts challenging all creative practices.
For the fifth installment, Hypebae spoke with Sinziana Velicescu, Director and Curator at Vellum LA, a Los Angeles-based gallery aiming to connect digital art with art history and educate people about how blockchain can disrupt the future of the field. In a dazzling conversation, Velicescu told us about her background and how Vellum LA is facilitating visual culture enter a whole new dimension.
---
In recent years, the art world has been shaken up by the emergence of Non-Fungible Tokens (NFTs), digital assets that have revolutionized the way we perceive and experience art. This new frontier has presented both exciting opportunities and challenges for artists and collectors alike, pushing the boundaries of what we consider "valuable" or "collectible." As this market continues to expand, galleries are faced with the task of integrating new media into the context of art history, while also educating the public on the potential of blockchain technology to shape the future of the field.
One of the spaces leading the way is Vellum LA, a Los Angeles-based gallery specializing in these notions. Established in 2021, Vellum LA has rapidly become a prominent figure in the Web3 landscape and beyond. The gallery's showcases are quite immersive and abstract in nature, yet explore complex subjects such as body and identity. At the helm of the location is director and curator Sinziana Velicescu, an award-winning architectural and fine art photographer and expert in the field of digital art.
View this post on Instagram
In this interview, we sit down with Velicescu to discuss Vellum LA's mission, their approach to showcasing digital and new media in physical spaces, the role of blockchain and NFTs in shaping the future of creativity and the cutting-edge intersection of art and technology. We'll also learn more about Velicescu's background and how she became involved in the fascinating world of Web3. Keep scrolling to discover everything about the intriguing world of Vellum LA.
How did the idea of starting a gallery to bridge the gap between digital art and the physical world materialize?
Before starting Vellum, I spent a decade as a curator and creative producer for StandardVision, a company specializing in designing and implementing large-scale LED installations worldwide. In March 2021, we were approached to create a museum-grade canvas for displaying NFTs. Coincidentally, my friend Jacob Patterson reached out around the same time to discuss showcasing NFTs at the LA Art Show.
View this post on Instagram
Having previously worked with many of the artists who had found success in the NFT space, I saw an opportunity for someone who could understand the importance of curation while also adapting digital art to various physical formats and applications, whether it be the Luma Canvases that were eventually developed by StandardVision and are currently on display at Vellum or more immersive experiences such as our Miami Basel event in 2022.
At what point did you first encounter NFTs and Web3 and what was your initial relationship with them?
While my background as a curator and artist was my primary focus, I also found myself drawn to the web3 space because of my experience curating art beyond the traditional gallery world. I realized how NFTs provided a platform for artists who may have been overlooked by traditional institutions and were bringing new attention to digital and contemporary media art, which had previously been considered a niche interest.
View this post on Instagram
Despite being an outsider to the Web3 space, my genuine curiosity about the technology behind NFTs allowed me to connect more easily with others interested in exploring this new digital frontier. Using my knowledge and expertise in the art world, I was able to help artists and collectors navigate this exciting new landscape, offering guidance and support.
Web3 is still relatively unknown to the public and many people hesitate to explore this fascinating space due to preconceived notions that it is difficult to understand. How does Vellum attempt to educate the public about the potential of emerging technologies while also embracing art history?
I completely agree that the Web3 space can be challenging to navigate and it's often viewed negatively. The technology can be complicated and media coverage often focuses on the PFP side of NFTs, which doesn't fully represent the incredible boundary-pushing art that exists within the space. Moreover, there's a significant gap between what happens on NFT Twitter 24/7 and what goes on in the rest of the world. Having a physical space where these two worlds can convene and experience art together is a small step towards bridging this gap.
View this post on Instagram
As a gallery, we can only do so much, but I also believe that as the technology behind NFTs becomes easier to understand and use, there will be less resistance from the mainstream. Our doors are always open to anyone interested in getting into the space and learning about how to begin collecting NFT-backed art.
Could you take us through Vellum's journey from the initial showcases to the present ones and how the overarching narrative across exhibitions has evolved? Furthermore, why is it necessary for this narrative to change over time?
The journey of Vellum, from its initial showcases to the present ones, has always been centered around storytelling, reflecting each curator's intention. Our earlier exhibitions aimed to draw connections between digital art and art history while also showcasing how NFTs could shape the future of art. Over time, our shows have evolved to explore more conceptual themes, such as identity and our relationship with technology, as well as envisioning a future where these two worlds collide.
View this post on Instagram
The common thread that ties all of Vellum's exhibitions together is how digital art serves as a medium for artists to imagine entirely new worlds and forms of existence while simultaneously reflecting on our rapidly changing world. As for why the overarching narrative across exhibitions must change over time, we need to keep up with the ever-evolving digital landscape and continue pushing boundaries in both art and technology.
View this post on Instagram
Can you explain Vellum's curatorial process and how you go about selecting the artists and exhibitions you feature?
Our curatorial process at Vellum is highly flexible and dynamic, involving careful observation of the art world both online and offline, engaging in conversations with other thinkers and inviting outside curators to suggest topics they would like to explore. The goal of the gallery has always been to maintain a democratic approach while emphasizing the importance of storytelling, context and education. In addition to this, we often discover new artists through recommendations from other artists and enjoy curating group exhibitions that showcase both emerging and established artists together in the same space.
What are some of your favorite exhibitions and which projects would you like to spotlight?
"Elsewhere is a Negative Mirror," which I co-curated with Jesse Damiani, showcased the work of ten artists who were exploring the possibilities and limitations of virtual architecture. The exhibition aimed to challenge our notions of architecture as our digital realities become increasingly integral to our lives. As an artist who focuses on documenting architecture in an abstract manner, the showcase was particularly meaningful to me. It was inspired by one of my favorite books, Invisible Cities by Italo Calvino.
View this post on Instagram
"Hotel Blue," curated by Alice Scope, featured the work of eight artists who were exploring the concept of home and community for the future generation of virtual beings. The showcase elaborated on how the body can be used to give material form to an idea that has no physical shape and no space in society. "Hotel Blue" was very special to us as we had the opportunity to create an immersive experience at SV Studios, breathing new life into the exhibition and creating something that spoke to the futuristic ethos of the theme.
View this post on Instagram
Vellum LA places a strong emphasis on showcasing women and non-binary artists. Can you explain why this representation is important to you and to the art world as a whole?
The NFT world has often been perceived as a "Boys club" from an outsider's perspective, despite the presence of many talented women and non-binary artists who create thought-provoking and groundbreaking artwork. Although there is a lot of talk about supporting women and non-binary artists within the space, we often witness the same ten top-selling artists (mostly white cis males) being referenced, sold and exhibited repeatedly (which is also true for the top-selling artists in the traditional art world).
View this post on Instagram
Unfortunately, the work of women, BIPOC and LGBTQIA+ artists tends to sell for less and be exhibited less frequently. Rather than following in the footsteps of other galleries and platforms by showcasing the same popular artists, we strive to feature the work of artists from diverse backgrounds, including those unfamiliar with the NFT space. We believe this to be the best way to foster a more diverse community and inspire more nuanced artworks that reflect a broader range of human experiences.
How does Vellum LA fit into the larger art community in Los Angeles and beyond? Furthermore, what is your vision for the gallery's future?
In my opinion, Vellum LA has already established itself as a prominent gallery for digital and new media art within the broader art community of Los Angeles and beyond. Since its inception, our gallery has been sought after by institutions looking to gain a better understanding of the developments in this space.
View this post on Instagram
Notably, LACMA recently acquired artwork from our solo exhibition with Nancy Baker Cahill and Centre Pompidou in Paris acquired John Gerrard's "Smoke Hands" from our "Simulation Sketchbook" exhibition curated by Jesse Damiani. As the NFT space continues to evolve, Vellum will continue to support and showcase emerging and established artists who push the boundaries of technology within an ever-evolving art landscape.
---
Share this article