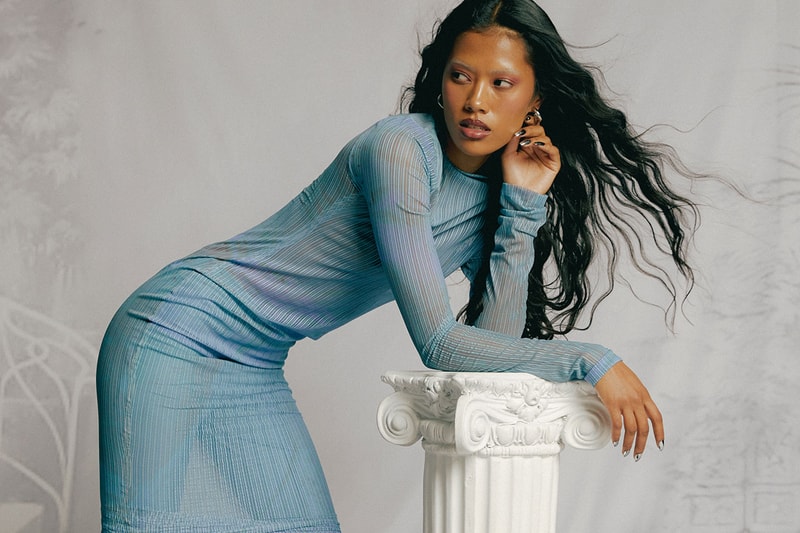 Fashion
Designer Rupal Banerjee Talks Bringing Bollywood to Streetwear and Inclusivity in Fashion
"Seeing Indian fashion in the western world is quite a new concept."
Designer Rupal Banerjee Talks Bringing Bollywood to Streetwear and Inclusivity in Fashion
"Seeing Indian fashion in the western world is quite a new concept."
Being a woman of color in the fashion industry is not an easy ride. Though progress is taking place and inclusivity appears to be at the forefront of most companies' minds, for many of us, it still feels like little is being done to support emerging talent from different backgrounds and make us feel like we truly belong.
One designer on a mission to change that narrative is Rupal Banerjee, the founder of Ru by Rupal. By fusing her Indian heritage and cultural vision with streetwear silhouettes, she hopes to increase visibility for the South Asian community in fashion and prove that not only is there space for us, but we also deserve to be there just as much as anybody else.
When it comes to shifting the industry norms to become more inclusive, Banerjee believes that the answer is simple. "Include people of color in these 'exclusive' spaces. So many events, shows, and prizes try to create this exclusivity by making things invite-only (which I understand), but the larger groups sponsoring and running these events have control over who gets to enter the space and who doesn't, and that is a choice," Banerjee tells Hypebae.
View this post on Instagram
Alongside developing her own brand, the designer recently founded Club Her, which aims to provide a safe space for female creatives of color. "There is always space for everyone to succeed, and a goal of mine is to include the proper representation and diversity in these fashion spaces," she adds.
We caught up with the designer to find out more about her path into the industry, the unique creative process that underpins her designs and her hopes for the future in terms of inclusivity in fashion.
Scroll down to read the full interview.
From the get-go, your path into the industry was different to that of your white counterparts. What inspired you to keep going and to create your own brand?
I've always loved the process of achieving success, no matter how difficult. I've always remained really positive and come to terms with the fact that there will be obstacles and it's my job to manoeuvre around them, rather than hoping one day, having any form of obstacles will just stop. I really love a challenge. What also inspires me to continue moving forward is the fact that I've personally created something from nothing, and I continue to find new creative ways to create with the most minimal resources. I really love focus and discipline which is also part of just enjoying the process of reaching that level of success that I'm trying to get to.
View this post on Instagram
I got this drive from my immigrant parents. They came to this country and created a business from nothing while still facing obstacles, including multiple health issues, raising two children and having immigration issues as well. For me, if my parents were able to create what they have in their life today; I feel that there's no excuse for me not to be able to be successful in anything I do.
Your designs continually draw inspiration from your Indian heritage, why is that important to you?
I grew up on Bollywood movies and Bollywood songs and it was just so inspiring for me. I really always loved it, so as an adult, it's very cool to be able to incorporate that part of my life into my love for fashion. I also love the fact that Hinduism incorporates so many goddesses into Indian culture. It's really a little bit more of a female-centric space and I feel like that idea that a woman should be respected and is one of the most powerful beings is something I carry with me in my day-to-day life.
Where else does your inspiration come from? Are there any other brands or designers who you look to?
I'm actually really inspired by my love for fitness, which is something a lot of people don't know about me. I think the mindset of actively achieving new goals to better yourself is so badass that it also really inspires me to keep moving forward, adding this overarching theme of strength around all my collections and pieces. I do heavy weight-lifting and boxing in my free time, but I really feel like that ties into who I am as a whole. This also connects to my inspiration of women's empowerment. The athletics space has been dominated by men for as far back as I can remember, so as a woman, it's endearing to see other females conquer and be strong too.
View this post on Instagram
Some brands that I look up to are Ahluwalia, KNWLS, and Jade Cropper. Ahluwalia incorporates her Indian and Nigerian heritage into her pieces which is so similar to what I try to do, so it really resonates with me. Both Jade Cropper and KNWLS represent this edgy, strong female presence which is one of my favorite concepts. Aleali May, Vashtie and Sita Abellan are also some of the style icons that really have inspired me over the years in the fashion space.
What can you tell us about your creative process, where do you typically begin?
Living in New York for four years really taught me so much about my creative process. I typically start by doing major trend analysis; reading articles on fashion outlets to really keep up with who is up-and-coming, and what I should hope to see on the runway. Then I start designing blank silhouettes, interpreting trends in my own style, in a very open-ended way, before hitting the drawing board to create some prints and see what's hitting and what's not. Finally, I place the print onto the silhouettes. I tend to have way more designs than I can actually use at the end, so I like to just narrow down from the larger batch of designs.
I think there is a smart way to design clothes. I know a lot of people think that when it comes to creativity and design it's super open ended and everything, but there is a difference between good and bad design. When it comes to designing, I'm designing for the consumer because of my PR and marketing background, but also, my experience in graphic design allows me to create unique prints for my audience. I really like to implement parts of my culture in subtle ways because seeing Indian fashion in the western world is quite a new concept and I feel like the audience needs to have some time to step into this new form of fashion.
View this post on Instagram
Sheer fabrics and printed mesh feature heavily within your designs. What's the significance of those materials for you?
The versatility of the sheer mesh fabric allows me to do a lot more in a smart way. They are also such a fun way to incorporate prints without it being too loud. It really allows the wearer to dress the piece up or even wear it down or even wear it as a swim cover-up.
How do you incorporate sustainability and resourcefulness into your designs?
I incorporate sustainability by creating a responsible supply chain. I make all my garments made to order so that way a lot less fabric is wasted. I also incorporate resourcefulness by using certain fabrics that adjust to a wider range of sizes, in addition, I also include utility into a lot of my pieces so the waistline of certain items are also easily adjustable for the consumer.
The lack of representation and diversity within the fashion industry is a longstanding issue for many creatives of color. Though progress has been made, there's still a lot more that needs to be done. What do you think still needs to change in order to make it a more inclusive space?
I truly think the answer is simple: include people of color in these "exclusive" spaces. So many events, shows, and prizes try to create this exclusivity by making things invite-only (which I understand), but the larger groups sponsoring and running these events have control over who gets to enter the space and who doesn't, and that is a choice. Valuing a creative for their talent rather than their following can drastically shift this paradigm.
View this post on Instagram
I want to see more PR teams personally seek out POC to be the faces of fashion and let them in the room. I also personally believe in building the room, if I'm not let into the room myself. I try my absolute best to give women of color and underdogs opportunities. Whether it's mentoring people at their first fashion week, giving people space to be creative on collaborative projects with no judgment, or building up models to show them they can be "high-fashion" when others have told them otherwise. There is always space for everyone to succeed, and a goal of mine is to include the proper representation and diversity in these fashion spaces.
Finally, what's next for you? What are some of your future goals and plans?
I'm already working on my SS24 Collection which I truly think is my best work yet. I'm also a Jack Daniels Classic Remix Grant Prize Winner this year and I'm so excited to see where that takes me. I also created an AAPI Month panel event with my Asian counterpart, Chelsea Ma; which will showcase important AAPI fashion and digital creatives to further build this "new room" of inclusivity. A future goal of mine would be to land a collaboration with a sportswear company to design a boxing collection. Boxing is a major passion of mine and I'd love to connect that area of my life with my love for fashion.
Head to Ru by Rupal's website to shop the new collection.
---
Share this article