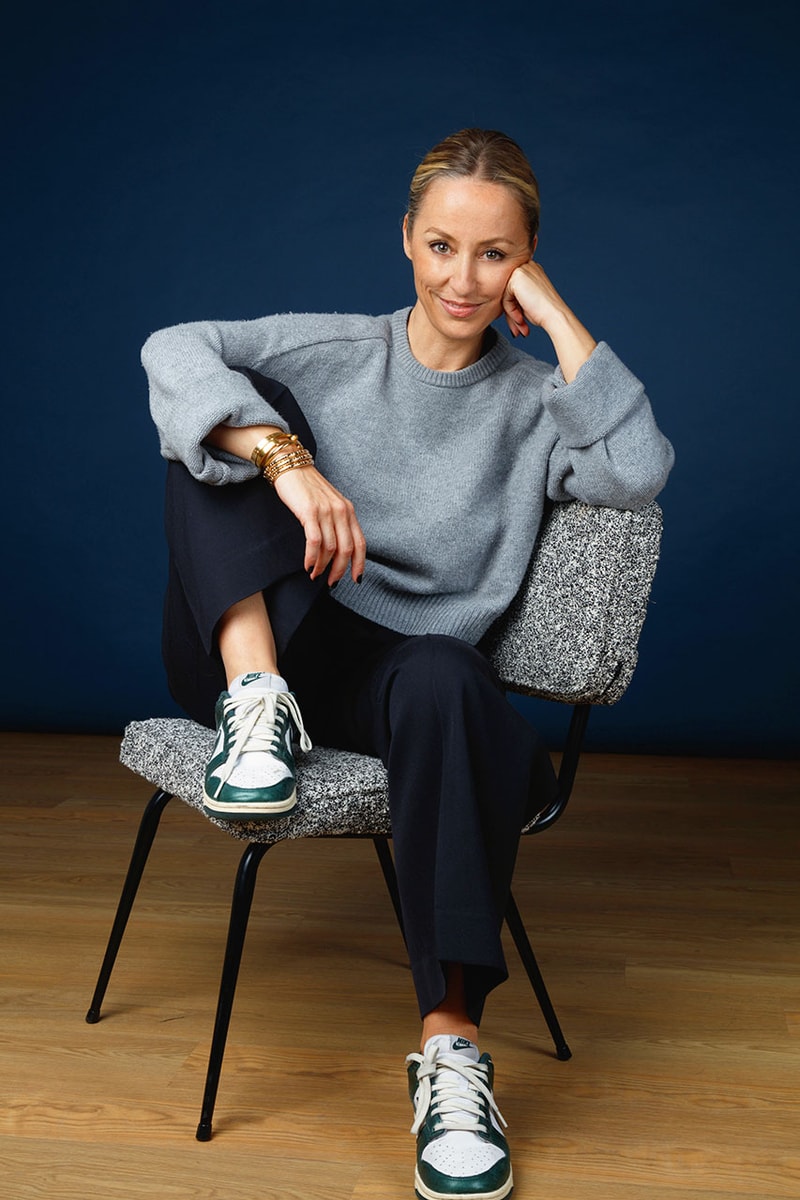 Vestiaire Collective Co-Founder Unpacks The Biggest Trends In The Luxury Resale Market
From pop culture imperatives to the rise of investment pieces, Fanny Moizant shares what's next in pre-loved fashion.
Fashion
Vestiaire Collective Co-Founder Unpacks The Biggest Trends In The Luxury Resale Market
From pop culture imperatives to the rise of investment pieces, Fanny Moizant shares what's next in pre-loved fashion.
Vestiaire Collective knows a thing for two about the impact of luxury resale in the fashion market. The B Corp certified company's global reach is backed by its thoughtful insights into the trends and movements that matter most to consumers. In its latest Impact Report, the team explores pre-loved imperatives that are pivoting the way people purchase, discover and share fashion around the world. Tracking the rise of brands such as Gucci, Diesel, Louis Vuitton and Coperni, Vestiaire Collective is dedicated to providing space for people to extend the lifespan of their pre-loved items.
At the helm of its trend-backed ambition is Fanny Moizant, the Co-founder and President of the collective. Read more to explore Moizant's journey into the resale industry and her thoughts on the future of secondhand luxury.
While you're here, discover how Vestiaire Collective became the first designer marketplace to ban fast fashion.
What about the second-hand and vintage clothing industry made you want to get involved initially?
My mom was my first and greatest fashion inspiration, who led me to my love for fashion and to this career. Growing up, she used to own a few shops, with one of them being a fashion boutique, where I spent a lot of time. It was then that I became deeply interested in fashion and it's stayed with me ever since. Knowing that I wanted to work in fashion and that I couldn't find any job that I wanted to do after fashion school, I decided to go the entrepreneurial way and launch my business and that's how it all began.
After having my two daughters and looking for my next career move, I decided that I wanted to find more purpose in what I do, because from looking around me, I noticed a significant change in the way people – my friends and myself included – consume fashion: buying more and wearing less. The rise of social media and fast fashion has gone from an era of possession to an era of usage, where consumers are urgently in need of a sustainable solution to cope with this behavior. This soon led to the creation of Vestiaire Collective, a company dedicated to providing an opportunity for people to extend the lifespan of their pre-loved items, therefore minimizing waste in fashion and giving high-quality luxury fashion pieces a second or even a third life.
The report calls out a few standout items. Can you shed light on what spurred the rise of interest into these garments and accessories in particular?
We have observed a growing interest in and trend towards reviving vintage styles, such as what we saw with the Fendi Baguette, alongside the rising interest in Gucci belts, Moncler coats, Louis Vuitton Speedy handbags, and more. Our recent collaboration with Paco Rabanne on the 1969 bag was a proactive initiative we took to respond to this movement.
Classic investment items remain the most searched items, with 'investment' being one of the key drivers why vintage items of globally renowned brands with a high resale value – like Gucci, Moncler and Louis Vuitton – are so popular. Some can even grow in value based on various factors: they have been made in very limited quantities and are extremely rare; they are iconic pieces; they are brought back in pop culture, in movies, TV shows or seen on the red carpet and see a revival as classics. These are some reasons and drivers that spurred the rise of interest in these particular second-hand luxury pieces.
What are the biggest social and political pivots driving the adoption of vintage shopping for younger audiences?
Globally, we see that there is a growing interest in second-hand fashion items. Our latest Impact Report and 2022 Vestiaire Collective x BCG report show that sustainability is a key driver for 40% of our fashion consumers – the second most important reason to shop on Vestiaire Collective, after affordability which is, however, decreasing year-on-year. Hence, we predict that the second-hand fashion and luxury market will grow by 20-30% annually, primarily due to younger generations – Gen Z and Millennials – embracing circularity and sustainability as a way of life and looking beyond seasonal trends.
How do you see instant virility influencing consumer behavior specifically as it relates to fashion and beauty choices?
Today's consumers, from Paris to Hong Kong, are acutely aware of the environmental problems we are facing: from global warming to pollution as well as fast fashion and textile waste through extreme overproduction and overconsumption – these are major problems in the fashion industry. Hence, we, as a B Corp certified company, consider it our mission to fight against these environmental problems by banning fast fashion items from our platform as well as educating and encouraging our fellow fashion enthusiasts to follow our mission. People are becoming more and more aware of the drastic environmental impact of fashion waste – and waste in general – as well as non-sustainably produced, low quality products. It is exactly this growing awareness which influences modern consumer behavior, not only when it comes to purchasing fashion or beauty products, but it defines and reshapes their entire lifestyle.
What was the most surprising learning from the report in your eyes?
One of the most interesting learnings from our latest report is the influence of pop culture on resale. In 2022, we observed that the resale market was strongly influenced by key events and figures in the fashion world. For example, the fabric spray dress worn by Bella Hadid at the Spring/Summer 2023 show sparked a 345% rise in likes of Coperni items on the platform the day after the show, while the influence of Glenn Martens resulted in exceptional search increases for Diesel of 297% from 2021 to 2022. Another example is the deaths of legendary designers which also sparked renewed interest in their work and the brands they represented. Following Thierry Mugler's death in January 2022, likes for Mugler items on the platform increased by 1,131%, while searches for Vivienne Westwood items rose by 613% in December following her passing.
Moreover, the Impact Report also revealed that 82% of items bought on Vestiaire Collective prevent a first-hand purchase, which shows a significant increase from 70% in 2022 – within one year only –, as resale has become more ingrained in consumers' approach to buying fashion. This means that the platform not only enables avoiding environmental damage related to clothing production, but also participates in a shift in consumers' behavior towards new items. And as a consequence of this upscale effect, the majority of Vestiaire Collective users purchase fewer new fast fashion items because they can find higher quality items for an affordable price on the resale market.
As we see DIY, upcycling and mending rise amongst consumer adoption, what do you think the near future will look like at the intersection of fashion and sustainability?
As we are just at the beginning of our fashion movement, striving towards a fully circular fashion industry, we also look for solutions for our members – how they can upcycle, repair, and recycle items that cannot be sold anymore. Looking at different ways of how to repurpose materials and fashion pieces, immersive and technologically advanced innovations will continue to play a major role in this process through AI.
---
Share this article