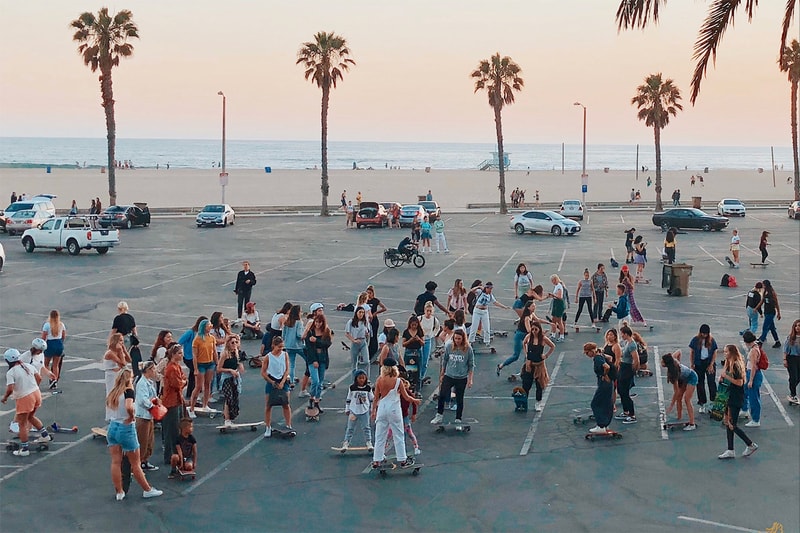 How GRLSWIRL Is Making the Skate Park a Safe Space
Meet the collective breaking down barriers of entry for women skateboarders.
It's been 21 years since Avril Lavigne's "Sk8r Boi" was released, immediately sparking a love for the grungy sport in an entire generation of girls.
For many of us, the classic Y2K pop punk anthem served as the only connection to the past time, outside of brothers or male friends. For far too long, skateboarding has been a boy's club as women have been largely underrepresented. Thanks to sexist stereotypes, we've been dissuaded from pursuing sports in an effort to "protect" our fabricated fragility and ultimately keep us in the home. While we regularly stared in shock and awe at Tony Hawk's talents during the X Games, his female counterparts couldn't even get air time as ad buyers couldn't justify spending money on their scarcely watched segment. Sadly, we've internalized sports as dangerous, suffocating our inner child's love of having fun.
This is where GRLSWIRL rolls in.
Dedicated to providing a safe space for the "okayest" skateboarders, GRLSWIRL offers a sense of community for those who are afraid to skate alone or even get on a board. Inspired by co-founders Lucy Osinski and Lindsey Klucik's instant friendship, the collective demystifies the quintessential "cool girl" sport, bringing skaters of all skill levels together. "We feel powerful skating with one another. It helps push the needle a little bit forward within the culture and gets people to see women as strong," Osinski shares.
Five years after its inception, GRLSWIRL has over 15,000 members across the world with chapters in Venice, New York, Paris and Lisbon, proving the overwhelming need for representation in skateboarding. Imagine how many more female skaters would there be if our thirteen-year-old selves got to witness a drove of bad-ass women cruising on boards.
Continue scrolling to learn more about GRLSWIRL from co-founders Lucy Osinski and Lindsey Klucik, alongside team rider Val Laforge.
What inspired you to found GRLSWIRL?
Lucy: I asked Lindsey if she wanted to skate with me after realizing that she was the only other blonde on a Carver board with a small dog. Soon enough, more and more girls started skating with us and we exchanged numbers to schedule meet ups.We all looked around and noticed instead of people catcalling us or giving us dirty looks and asking us to do kick flips, they were cheering us on and it was this light bulb switch that went off in all of our minds and our hearts. It was like we can skate together and feel stronger and more powerful. I can honestly say, even to this day, that every group skate it feels as revolutionary as it did the first day. I think it just speaks to the power that rises when people, especially women, come together to celebrate something that they love. Our community is so laced within that friendship and empowerment and it became so obvious that it needed to be something we keep doing.
GRLSWIRL exists today because of the co-founders' dedication and devotion to the passion that we felt that first day skating and we are recreating that every day through chapters and the work that we're doing to give people around the world what we have here in Venice, which is community and opportunities to change the environment we live in.
View this post on Instagram
GRLSWIRL celebrates being the "okayest" skateboader. Do you think the pressure women feel to be perfect affects our ability to pursue sports?
Lindsey: It's all about modeling and representation. It's important to show that you don't have to be the best when you start something new and you can still have fun. That's the core of GRLSWIRL — trying something new with other people so you don't feel alone. There are barriers of entry within ourselves that we first have to break down. We provide people with the space and tools to feel comfortable to attempt skating. Someone could try it once and decide it's not for them or it can actually change the trajectory of their lives and how they feel about themselves. Being a skater is all about falling down and getting back up, so the sport is a great way to get rid of that perfectionism. It's learning to put one foot in front of the other one day at a time. Skating gives you the confidence to try something new.
How have you seen GRLSWIRL empower riders and bolster their confidence?
Val: GRLSWIRL is actually one of the reasons I started skateboarding. The day I started, girls were telling me to follow them on Instagram, so I really learned the culture of skateboarding through GRLSWIRL. They're the coolest group of girls ever, supporting and cheering each other on. I played college soccer and almost went into the professional league right before COVID started, so coming from a competitive background, it was a complete paradigm shift to be introduced into a space where it's okay to help your friends.
When I build people up, I actually build myself up. It's all about creating this space for people to feel comfortable and learn. GRLSWIRL gives the platform to create community, but then that community goes beyond the first ride because riders will travel together and go to new skateparks, as well as share their progress in group messages. GRLSWIRL created this culture within itself, but that culture is all across the world now. I had the opportunity to go to Copenhagen to host a group skate and that itself is a testament to the core group of girls who created this place for all of us to belong and experience skate culture in a new way where we support each other.
---
Share this article