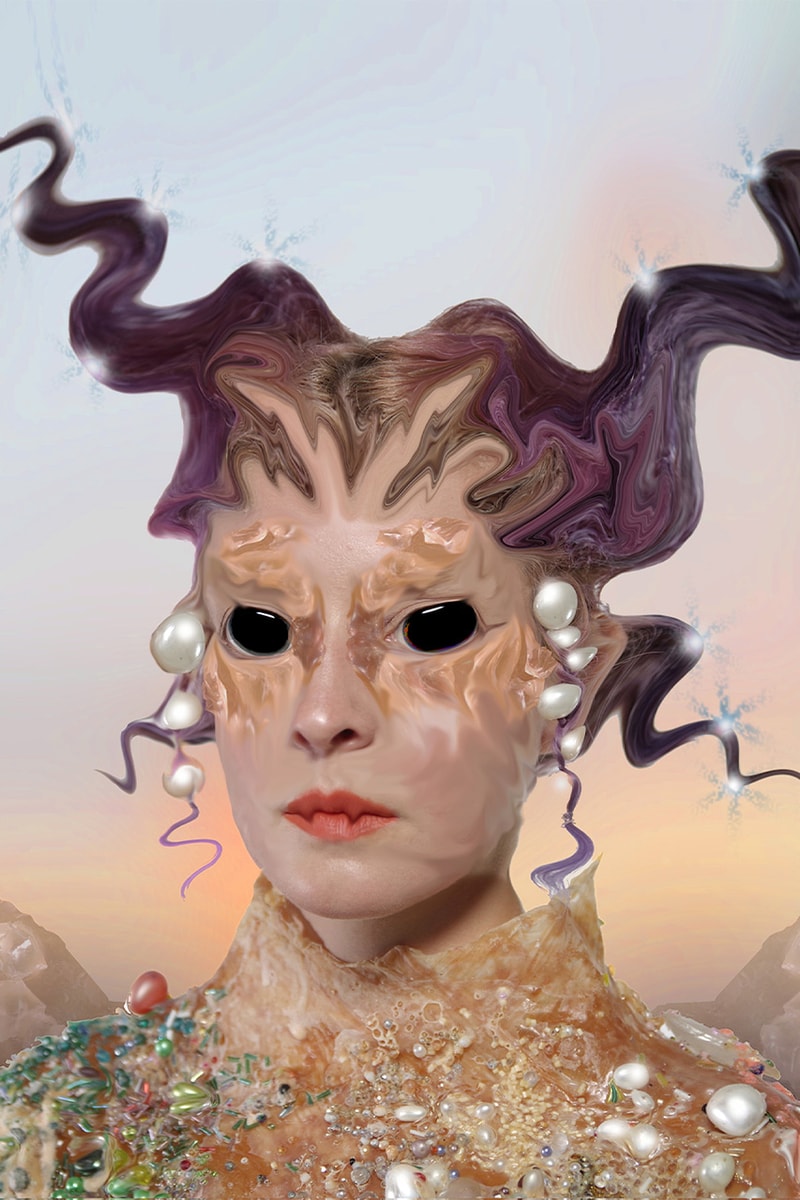 Beyond the Interface: Alpine Witch Livia Rita Through the Looking Glass
The mystic musician and designer discusses a new age for the self, nature, gender and beauty.
Fashion
Beyond the Interface: Alpine Witch Livia Rita Through the Looking Glass
The mystic musician and designer discusses a new age for the self, nature, gender and beauty.
Beyond the Interface is a fashion-tech series that explores the vibrant spectrum of next-gen designers and artists. The series provides an inside look into the industry's most promising names and explores the radical shifts challenging all creative practices.
For the tenth installment, Hypebae speaks with Livia Rita, a polymath merging art, fashion, music and technology to propel forward a new age of witchcraft–a future that holds a touch of queerness and mysticism, while firmly rooted in community and creativity.

---
Livia Rita is many things: a singer, musician, designer, climate activist, choreographer, filmmaker and visual artist. But above all, she is an alpine witch and a visionary force for change, pushing the narrative forward that art can transcend earthly bounds.
In an era of blurred boundaries and morphing identities, Rita pioneers a fluid, genre-defying sound: electronic, earthy beats blend with romantic vocals and misty experimental synths—the arcane meets the avant-garde, crafting intuitive pop that enchants the future.
With an insatiable creative appetite, Rita crosses artistic boundaries, melding self-made "ArtFashion," performance art, dance, visual art and digital projects. This isn't solitary; it's shared with the "Avantgardeners Community," a collective of artists and beings fostering growth and the exchange of ideas. Their latest venture births FUGA FUTURA, a conceptual debut album described as "the cosmic gateway between this world and the next."
Following her "Livia Rita: Dystopian Wetlands" performance at the Southbank Centre in London, we caught up with the multidisciplinary artist—her siren-like melodies, combined with earthy beats, feral movement and ethereal textures, conjured a realm where magic thrived and nature rebelled.
Keep scrolling to read our full interview with Livia Rita.
Could you introduce yourself to our audience?
I'm a singer, designer and alpine witch. I grew up in the Alps and have lived in London since I moved here to study acting.
Poetry, music, art, performance—where does this restless creative energy come from? What inspires you to create?
I want to feel as alive as possible. I love experiencing emotions, creating meanings and memories within life and doing so through art. It's like living intensely and intentionally.
I have always desired to break away from home, become someone different and create a life, a reality, rather than compromising and accepting things as they are.
Through creating, I can make sensations more tangible, giving them a form, a sound.
The gentle nature of your "creatures" appears to symbolize a plea for the world to change. Could you elaborate on how you incorporate utopian and dystopian elements in your multidisciplinary practice and what message you aim to convey through this fusion?
Living feels like a balancing act between utopian and dystopian feelings, thoughts, ideas and visions (this balance is also my star sign). As an artist, I believe the centered "normal life" is somewhat unattainable–we often exist as outsiders with a significantly undervalued place in the dominant capitalist value system. These two ways of envisioning the future–dystopian and utopian–are inherently related, even entwined to me. The middle ground has never been attainable for me.
Once upon a time, I was an exceedingly optimistic person. Growing up in an isolated valley, perhaps it was ignorance, but the world appeared astounding from a distance. I think that sentiment still resonates occasionally. However, when the initial vision and idea of an artistic journey undergo dramatic ruptures, life can drag you into profound depths.
In moments of feeling lost, we need to cling to our dreams and find excitement even amidst the sadness accompanying life's ecstatic moments. What if we channel more energy and intention into the realms of our dreams and fears, desires and temperaments, rather than into a numb, compromised and disconnected middle ground? That's what I fear–the sensation of indifference.
Perhaps by sharing these extremes more openly, they can become more enjoyable, bearable, acceptable and ultimately drive the change within us and our surroundings.
With FUGA FUTURA now live, what specific healing or transformation do you hope it brings to the world? How do you envision it manifesting and evoking emotions or change in your audience?
FUGA FUTURA embarks on a journey of self-empowerment and community; it releases, screams, shakes and floats. It exudes a sense of profound aliveness and a transition toward being softer, tenderer and swamp-like. I hope listening to it will spur us into motion, incite initiative and prompt action.
I intend for it to establish connections between our inner emotional landscapes and worlds. Even in solitude, we can still feel united. Achieving togetherness as individuals during a time of hyper-individualism presents a novel challenge.
In an era characterized by fluidity and post-everything, what do you believe are the extensive possibilities for human experiences, relationships and self-identity? How can this new era foster a more inclusive and liberated society?
I believe we can uncover a more authentic way of life. Many of us conceal and repress our genuine emotions, adopting facades that twist and distort us. Love can be a transformative force if liberated from specific social constructs, behaviors and strictly human experiences.
Our sense of identity captivates my interest–the post-everything era transcends gender norms and conventional beauty standards. I yearn for our future identity to harmonize with nature and feel interconnected rather than isolated from it.
My hope is that this shift will fortify our shared values, making them a more potent currency than mere money. In my utopian vision, this work would empower a broader spectrum of caring individuals.
Nature seems to profoundly influence you and your music. Could you describe how spending time in nature impacts your creativity and artistic expression?
Nature absolves me of any fear of missing out or social pressures. I don't ponder, "What does nature think of me? How can I appease nature?" Nature grants me freedom, which kindles creativity, a sense of beauty, authenticity and a readiness to embrace the unknown.
Nature also awakens wonder. I can marvel at it endlessly–its blossoming, melodies and constant transformations are all profoundly life-affirming. Nature encapsulates versatility, darkness, moisture, brutality, heat, cold, boundless joy and boundless generosity. It radiates incomparable beauty and I feel truly unfiltered when I'm immersed in it. In nature, my thoughts roam further than in social spaces–it often serves as the inception of new ideas.
We are intrigued by the portrayal of FUGA FUTURA as a cosmic gateway between this world and the next. What facets of the performance contribute to this otherworldly experience and what do you hope the audience takes away from it?
I think the sonic textures transport me there; an unrelenting, ambitious approach to redefining a concert experience. The choreography isn't devised by human minds, but by "ArtFashion"–textures and otherworldly forms.
I aspire for the audience to emerge feeling rejuvenated, interconnected, inspired and surprised. This sentiment should remain intertwined with the music, allowing it to revisit these emotions upon subsequent listens. Ideally, the music functions as a vessel of memories.
Your voyage of exploring creature identity and crafting "ArtFashion" through Polaroids sounds really intriguing. Could you delve into this process and explain its impact on your artistic evolution?
I don't aspire to be merely human or to be part of this humanity. I desire to embody something earthy yet cosmic and mystical, imbued with superpowers. Creatures can epitomize that aspiration. This is why I'm so drawn to concepts of transformation–an external metamorphosis that mirrors inner aspirations.
This journey usually commences visually, through the body, textures, shapes and alternate forms. This, in turn, leads me to contemplate characters, narratives and ultimately world-building a Queer future mythology.
I've ceased to view my shows as isolated instances. "ArtFashion" kindled a passion for continuous world-building, introducing new characters and narratives, each intertwining and resonating with one another, all within a sprawling web of tension.
Is there a particular manifestation you've been fervently pursuing lately or a long-standing aspiration? What wellsprings of inspiration propel you forward in your artistic pursuits?
I yearn to assemble an impeccable team to elevate this project to new heights. I wish to be more resolute and focused in my thoughts, to retreat less and be more present, actualizing my intentions. I dream of traversing the world with my art, experiencing enchanting encounters with diverse people and various facets of nature. I anticipate falling in love many more times.
What lies ahead for you and the Avantgardeners Community?
We're crafting music for a new EP, Dystopia Wetlands, accompanied by a corresponding short film. Tours are on the horizon for next year, with an immersive live show that can extend into visual realms, coupled with additional cinematic ventures. New creatures will soon join the expansive universe of FUGA FUTURA.
We're also shaping a novel workshop program, fostering fresh communities and sharing all these experiences with you. Moreover, we're establishing a mountain-based residency where we can collaboratively develop new projects. It's evolving into an invaluable sanctuary for our endeavors.
---
Share this article