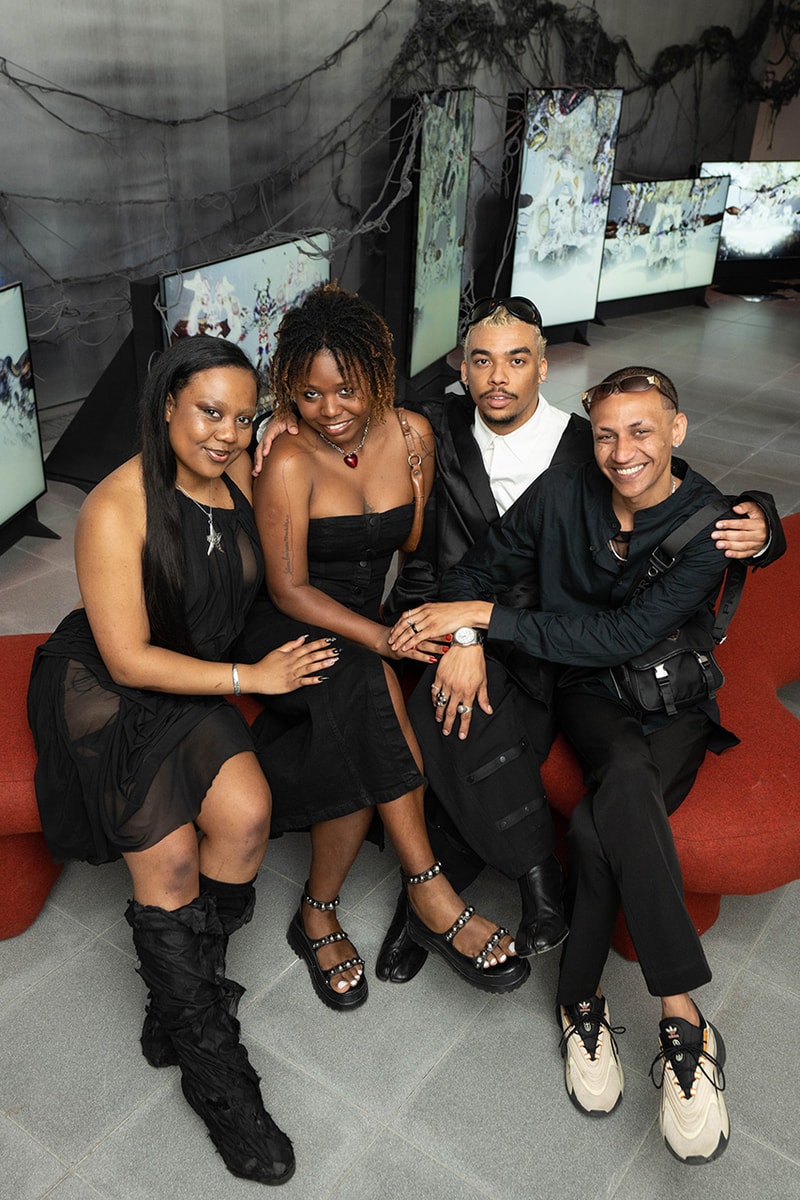 Gabriel Massan and Collaborators Reimagine Society's Past, Present and Future via Web3
The multidisciplinary artists discuss "Third World: The Bottom Dimension," Serpentine's new immersive exhibition.
Fashion
Gabriel Massan and Collaborators Reimagine Society's Past, Present and Future via Web3
The multidisciplinary artists discuss "Third World: The Bottom Dimension," Serpentine's new immersive exhibition.
Beyond the Interface is a fashion-tech series that explores the vibrant spectrum of next-gen designers and artists. The series provides an inside look into the industry's most promising names and explores the radical shifts challenging all creative practices.
For the eleventh installment, Hypebae speaks with digital artist Gabriel Massan, as well as interdisciplinary creatives Castiel Vitorino Brasileiro, Novíssimo Edgar and vocalist and music producer LYZZA, to discuss "Third World: The Bottom Dimension," Serpentine's new immersive exhibition featuring a video game and web3 tokens.
---
Not long ago, Serpentine unveiled "Third World: The Bottom Dimension," featuring an exhibition, video game and web3 tokens powered by Tezos, created in collaboration between Brazilian digital artist Gabriel Massan and interdisciplinary creatives Castiel Vitorino Brasileiro, Novíssimo Edgar and LYZZA.
"Third World" offers visitors a chance to explore an immersive video game in a communal setting, surrounded by site-specific designs, sculptures, soundscapes and films. Players can record their in-game actions as "memories" and mint them on the blockchain, contributing to a public archive of diverse perspectives.
The venture explores themes like ancestral knowledge, healing, ecological consciousness, transmutation and agency. It was a product of the research of each artist who was invited to participate in the project. Edgar explains that his part of the work "is related to memory, using some artifacts as survival strategies, mixing dystopia, indigenous futurism, afro-pessimism, temporary autonomous zones and poetic terrorism, which is, in parts, condensed and in others, diluted throughout the game."
Meanwhile, Castiel Vitorino Brasileiro wanted to show and create an experience with our own understanding of time. She added: "Time for us is a divinity, is spiraled and is cyclical. My work on display is an installation about the Bantu-Brazilian conception of Time. My people use the color white to represent the power of time, memory and aging. On my level, I have some films, like flashbacks and memories about those people. Those small movies can create an atmosphere of another's time. Cyclical Time."
For the experience's soundtrack, LYZZA wanted to skate the line of uncomfortability by way of the themes that come across in the game and the nostalgia associated with it. She commented: "The sound design ties into the themes of the game, as I've made sure to incorporate a lot of Black and Brazilian elements into the soundtracks and reclaim how over the years Latin America has been extremely forgotten when it comes to electronic music, though its rhythms are constantly repurposed in major Euro-centric festivals and clubs."
"Third World: The Bottom Dimension" is on view at Serpentine Gallery until October 22. To delve further into the exhibition, we interviewed Gabriel Massan about their journey as a digital artist, representation of inequality within the Black-Indigenous Latin American experience and how the project came to be, so keep scrolling to read the full feature.
Can you please introduce yourself to our audience and share a brief overview of your artistic background and journey?
My name is Gabriel Massan, and I'm a Berlin-based multidisciplinary visual and digital artist who grew up in a small town called Nilópolis in the metropolitan region of Rio de Janeiro, Brazil. Combining critical storytelling and collaborative worldbuilding, I create worlds that simulate and narrate situations of inequality within the Latin American experience.
Framed through a conceptual practice that I call "Fictional Archaeology," and working across 3D animation, digital sculpture, games, sound and interactive installations, I'm interested in challenging warped conceptions of the so-called 'Third World' while investigating possibilities for subversive otherness.
My urge to repurpose technology to tell stories started early. After obtaining my first PC, donated by my aunt, I produced novels by recording and editing images of computer games, specifically life simulators. This escape was my passion throughout my teenage years and kept me hopeful in a reality that lacked opportunities to fabulate. This strange feeling of detachment and the creation of realities remained alive by observing the carnival of my hometown samba school, Beija-Flor de Nilópolis and the works of Akira Kurosawa, Djibril Diop, Yoshitoshi ABe, Hideaki Anno and Felipe Braganza until I met the legacy of Nam June Paik and Yoko Ono's "Fly," whose impact motivated me later to study Video Art and Video installation.
Inserted in a confrontational urban context of violence and racial segregation, such as the city of Rio de Janeiro, the growing genocide of the young black population by police brutality, backed by the rise of far-right propaganda on the war on drugs, made me comprehend that my critical work was limited to not transgress through the institutions, as was already the case in the challenges that I needed to succumb to transit. Thus came the decision to physically erase me from my research, letting only the ideas and testimonies remain. From that decision, since 2017, across 3D animation, digital sculpting and painting, single-player games, NFTs and virtual and augmented reality experiences, I have been experimenting and researching different ways of building life mimics and habitats in virtual systems.
How has Brazil's digital art scene evolved since your formative years? How can Web3 help explore the impacts of colonialism?
There is a massive scene in Brazil, both inside and outside the Web3 spheres. I believe that with the growth of easy access to 3D development software and game engines and the popularization of the existence of value in digital art, both economically and culturally, the possibilities for more artists to emerge and for those already known to establish themselves have been dynamized and expanded.
With Web3, these artists could organize and connect in a way that had never been seen before, investing in their circles and strengthening themselves through them without the need for institutional and market approval.
How did the idea of producing an exhibition merging digital art, a video game and Web3 tokens materialize?
It came directly from the idea of the project's development process. This exhibition would encompass all the aspects of the experience offered by the game, with a gaze to portraying the concepts investigated in it.
The exhibition is based on ideas I've developed, such as Critical Storytelling and Collaborative Worldbuilding, going through the practices I've researched over the years, as this is my first solo show. It was a significant study with Serpentine Arts Technologies and the collaborators to create a space to discuss and enhance each piece on display.
Can you describe the dynamics of your collaboration with Castiel Vitorino Brasileiro, Novíssimo Edgar and LYZZA, and how each artist's viewpoint influenced the outcome of the exhibition?
I was significantly influenced by Castiel's relationship with memory, affective memory and healing exercises. They were very present in the exchanges. We had to conceive her level in the game and the production of the works displayed in the exhibition. My conversations and experiences with Castiel, the first collaborator, defined how I would think about the digital and physical user experience.
Edgar brought me a unique dynamism and the ability to fantasize about the different living conditions proposed within the game—the spontaneity of finding answers to any situation. Lyzza, on the other hand, has a unique look that respects everything in the space and still imprints her voice as a layer that finishes and perfects the others.
Lyzza knows how to define atmospheres and is always looking in the opposite direction to me. This helped me to understand the experience as a whole from a younger and more sensitive perspective.
"Third World" touches on themes of agency and transmutation. How did you use artistic elements like visuals, sound and interactivity to convey the idea of transformation within the gaming experience?
Visually, it stems from the fact that each of the original sculptures and textures was created specifically for the settings and scenes in which they are positioned. There was a visual study for the development of each location and character, providing meaning and purpose to their existence and relationship with the whole.
There is a distinct difference in the forms of each moment within the experience and how they interact to form compositions. The details are designed to simulate conditions and relationships with time and the narrative within that given environment.
The original soundtrack, also developed by Lyzza, pays attention to the player's position within the scene and the presence of each being and object. It changes with each ecosystem, learning or decision.
Regarding mechanics and gameplay, where the feeling of agency and transmutation alter the interaction within the game, the opportunities for dialogue and response from each encounter or confrontation concentrate on the decisions that can be made. The agency comes with the possibility of tracing multiple paths and interactions within the game environment, both consciously and unconsciously. It clarifies to the player that they are seeking a mutual relationship of empathy and interest.
Does "Third World: The Bottom Dimension" present a utopia or a dystopia? What do you think our future heralds?
It depends on who defines the laws of the game, who plays and how they play. Each experience is unique, making it impossible to define. However, each level mirrors the practice of the guest artist. But these binaries should not exist in the Third World. There are stories told from different points of view, and this is the notion of the world that I was trying to simulate in this experience. It's fun to confuse.
Ancestral knowledge is a central theme of the exhibition. How did you infuse this theme into the digital realm of the video game, and what symbols or elements did you incorporate to connect players to this ancient wisdom?
It's the language first and then the navigation. This notion is based on how the environment communicates and the need to use memory and dialog to share knowledge. I have developed totems and monuments that mark the territory and define it as inhabitable and inhabited, imprinting a historical awareness of intelligent life on each ecosystem. Also, the use of sight as a navigational tool, since the game has no maps, the need to be aware of where you are, where to go and when to go.
As an artist exploring the themes of Queerness and decentralization, how do you balance artistic storytelling with creating an inclusive and welcoming space for diverse audiences?
I don't usually explore topics concretely, and all simulations are subjective. But, of course, they are based on my thinking and critical understanding of my existence and relationship to the territories I occupy.
My works are built on academic thinkers' research and concepts and other artists' publications. Still, they represent much more my interpretation of these ideas and how I see them in my own experience. Gender roles are not part of my artistic practice, and sexualities are not defined by these roles either. But the defense mechanisms, the understanding of my identity and freedom, are somehow passed on to the personalities I initiate and program in all beings and environments.
My work reaches different audiences precisely because it touches on affective memory, the relationship with imagery and the possibility of life in other dimensions and natures. It all depends on imagination and interpretation. I'm more interested in sharing feelings and how they can boost empathy for the themes and experiences that pass through me, whether traumatic or pleasurable.
The use of participatory digital tokens powered by Tezos allows players to record and mint their actions on the blockchain, creating a public archive of multiple perspectives and actions. What motivated you to introduce this participatory element, and what do you hope to achieve by making this public archive?
As there are no maps in the game, I wanted the concept of Memory, first introduced by Castiel, to be taken to another level. I also wanted to play with the idea of collection and extraction present in popular games and the colonial foundation. Little by little, I also saw it as a way for each player to build their map or story within the game, to record and formulate the path chosen because I was sharing an open-world experience.
In conversation with Sarah Friend during a session in Berlin, I understood that I should use the opportunity to use tokens to also indirectly build a community around the game since this would be an individual experience. For me, constructing this public archive is the possibility of developing a community that defines the experience of being connected to these narratives and the discoveries that circumstances can offer between encounters.
"Third World: The Bottom Dimension" explores the complex relationship between technology and ecological awareness. What can the physical world learn from this?
All energy collected within the game is not reallocated during your experience. This was a feature of the mechanism I defended throughout the project's development, as well as dialogues to raise awareness of ecological neo-colonialism and the retaking of territories for the sake of preservation with economic interests.
The scenarios in the Third World simulate regions that have been deforested or are suffering from desertification and thawing. This mixture creates a sense of strangeness and urgency disguised as fantasy. It's an experience that sees you as an actor of change, not as the narrative's center. It makes you responsible, demanding your attention and action.
Beyond this exhibition, what are your future aspirations and projects at the intersection of art, technology and social themes?
I have developed other projects such as "Continuity Flaws," exhibited at Serpentine and Outernet Arts, inspired by the book "Unpayable Debt" by Denise Ferreira Da Silva, which works on the author's concepts presented as simulations in digital environments. "Ball Of Terror," first commissioned by the X Museum in Beijing, examines the criminalization of Baile Funk in Brazil and police brutality. Additionally, "Unbonded On A Bonded Domain" delves into queer spaces and language. I plan to expand all these works into series, installations and interactive experiences soon.
---
Share this article