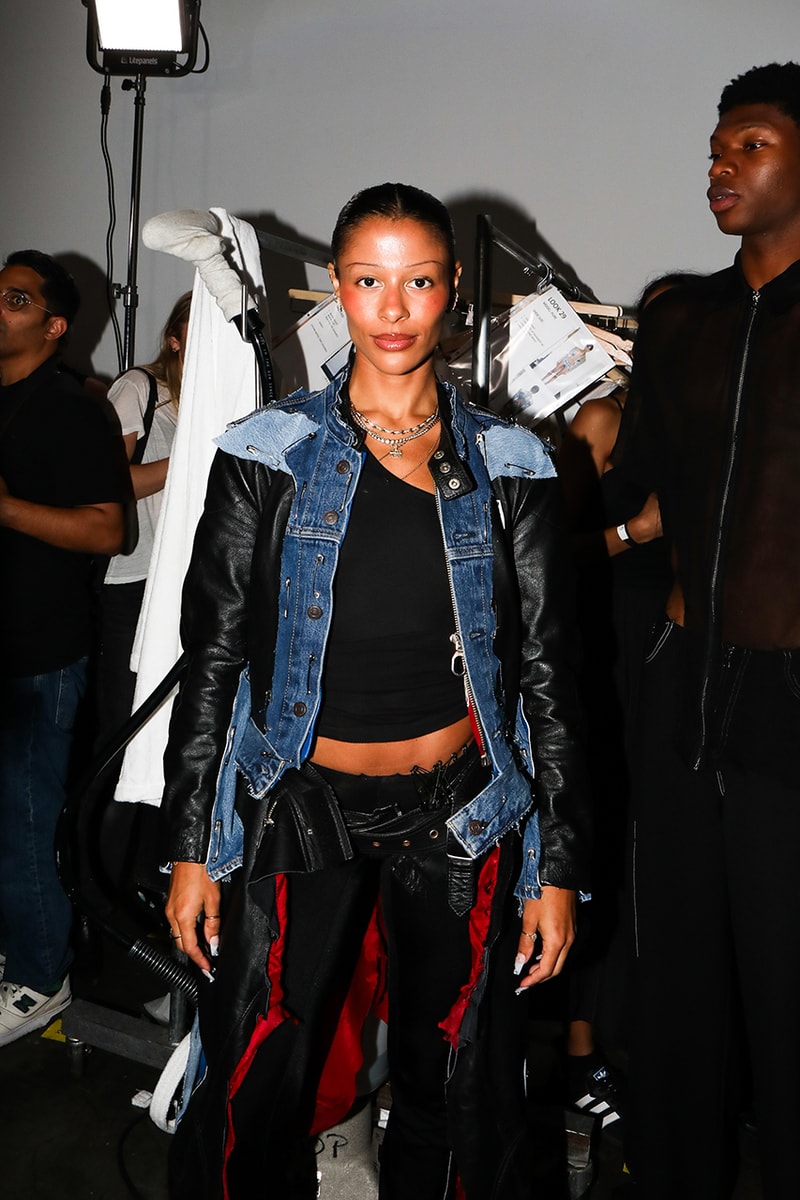 Sami Miro Is Creating a Better Future for Fashion
The designer shares her vision for a more conscious industry.
Fashion
Sami Miro Is Creating a Better Future for Fashion
The designer shares her vision for a more conscious industry.
"Growing up, vintage wasn't cool. It was for kids who couldn't afford anything else like me."
This past Saturday, Sami Miro wowed an A-list crowd as Karrueche and The Clermont Twins watched her transform a pair of jeans into an entirely new outfit for Spring/Summer 2024 for Sami Miro Vintage's debut at New York Fashion Week. While this season is her introduction to the runway, Sami Miro has been dressing celebrities like Bella and Gigi Hadid for years.
Her path, however, has been nowhere near linear as the talented designer started out in San Francisco's Silicon Valley at a tech startup, undoubtedly the most fashionable in a sea of polos and khakis. Soon enough, Miro found her calling in Los Angeles. Not having a background in the industry, Sami applied her Masters degree in Entrepreneurship to the world of fashion, building the world of Sami Miro from the ground up in a mere 10 days.
Much like the seven days it took God to create the universe, Sami Miro is creating her own, paving the way for a more innovative and conscious fashion industry that actually protects the earth and the natural resources we rely on.
Continue scrolling to hear from Sami Miro and how she created her own brand, Sami Miro Vintage.
What initially sparked your interest in fashion?
When I first started in fashion, the journey was more of just doing something that I loved and something that came naturally, but I never thought about fashion as my path. It was just how I liked to express myself. Looking at it as a career really only came much later in life.
Before I started the brand, fashion gave me a sense of confidence for the first time in my life. Back when I was wearing vintage, that was not cool. It was like, "you're poor, you suck." None of it was cool, but it was my only way of keeping up with what the cool kids were wearing and I initially found thrifting and vintage for that purpose. I was wearing this Lacoste polo and it was supposed to be purple, but after all of the lives that it had lived, it had become a weird mauve color and it had holes in it and even though it was not new looking whatsoever, I realized immediately, "Wait, I'm the only person in the world with this polo and everyone else is wearing the replica, that's not cool to me. It's cool to me that I feel special." I was just doing me. From then on, I had that connection and completely changed as a person. I was the world's quietest girl back then and wearing things that were just my own helped me build a newfound sense of confidence.
How did you start Sami Miro Vintage?
Starting out in the tech industry was really valuable. I worked with a startup on day one until it became a global company, so being a part of that was a truly transformative experience. I learned so much working for that company that I can apply, even to this day, even though it obviously is a very different industry. For me, I was really starting from scratch when I started SMV because I had never designed before and I didn't know anything about fashion. I didn't know how to manufacture. It was risky being self-taught in that world. I was trying to wrap my head around how to create something new with vintage as the forefront and as upcycling wasn't a thing back then. Once I realized I can use these fabrics from these vintage clothes to transform them into something new, everything clicked. 10 days later, I started my company.
How did you start conceptualizing your first line EcoTerror?
I spent all of 2018 working on EcoTerror because I was so green in the world of fashion and it was really my efforts to test out my newfound connection to my creativity because it was my first time designing an entire line. It was my first shot to see if I have a point of view as a designer and can I also be an entrepreneur? It was really exciting for me, but I wanted to do it intelligently and in order to do so, I needed to be a one woman show to learn how the process works for each department so that I could make thoughtful decisions moving forward. I wanted to be really smart about everything that I did and learn along the way.
I was lucky to have these one-of-one reworked vintage pieces as the core of the company in the beginning because it was a very low barrier to entry. It wasn't about making money with my first line. With EcoTerror, it was an opportunity to put my pen to paper and make a huge impact. EcoTerror was designed to represent caring about the planet. Eco terrorists will work to save the planet by any means necessary.
How important is it for the fashion industry to hold themselves accountable and for designers to do what they can to still make beautiful clothes, but protect the earth that we live on?
To put it simply, the fashion industry is killing our planet, especially fast fashion. In terms of how important it is, it should be the number one priority and I feel like it's still very much viewed as a trend rather than truly implementing conscious behavior and business decisions into the supply chain and inserting it everywhere. There's just so much green washing. Right now, the fashion world is causing more of a strain on the environment than the aviation industry, but so few people are truly aware of how terribly fashion is affecting our planet.
Is there anything at your show that we can expect? Will you be using it as a type of platform for education?
I want to use every opportunity. I feel like if you have an opportunity, especially in a public setting you're going to get so much press and a lot of eyes on you. If you aren't taking advantage of that opportunity and using it for something better, that's a missed opportunity. The goal is always to educate. I want people who go to my show or see it online to feel something and connect with it.
How has Sami Miro Vintage changed over the last five years? How would you describe it now?
There's been a very big transformation in the last five years, but especially in the last three years because it went from a one woman show in the beginning until the beginning of 2020. Now, I have 10 people in the company now and we're all women of color. I feel like SMV's the poster child for how everyone should think of a new business in fashion and outside of fashion because essentially what I did with SMV is I create something that I love. A conscious business strategy can be incorporated into every single business.
That's a really special and important lesson to learn because sometimes it might mean that it takes much longer to scale and that it's going to take longer to start making money but if you really care about what you're doing, then I think in the long run, it's more important to ingrain authenticity and meaningful things into a company. SMV is a very powerful brand and it's continuing to grow.
---
Share this article