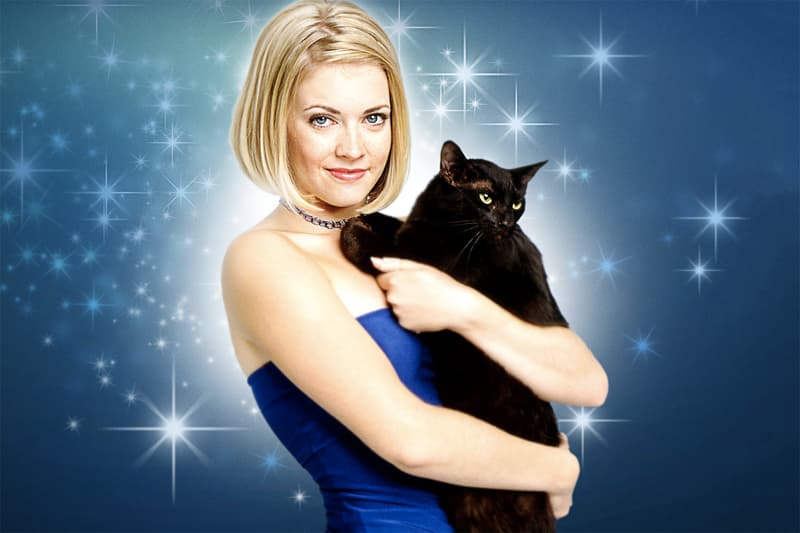 Culture
Why Are Millennials So Obsessed With 'Sabrina, the Teenage Witch?'
Everything you need to know about the pop culture phenomenon.
Why Are Millennials So Obsessed With 'Sabrina, the Teenage Witch?'
Everything you need to know about the pop culture phenomenon.
Before we start, I have a disclaimer: I'm a self- described Sabrina, The Teenage Witch super-fan. I watched the series with more dedication than I probably gave my education growing up and I still dip in and out of it through fuzzy YouTube uploads to this day. As a pre-teen, I collected a monthly magazine called Sabrina's Secrets that had made-up tales from Westbridge, snarky tidbits from Salem, quizzes and advice on boys and life and school. I refrained from using mascara for years because I read in there that Melissa Joan Hart thought it was bad for your lashes. Instead, I wore heaps of streaked colored mascara in my hair, because it came as a free gift with the mag, alongside glittery eyeshadows, lip gloss and stick-on-gems that you collected in a sparkly purple toolbox that came with the first issue. In fact, I still have every issue, piled neatly in my parent's attic. I read all the entire book series, completed every janky PC game, I even "named" my car Salem.
I also know I'm not the only one with the obsession; many of my friends still quote the show frequently and share relatable memes of Salem back and forth constantly, 22 years after it first aired. But before we can fully understand the cultural significance of Sabrina and millennials' never-ending devotion to this pop-culture icon, we have to delve back to where it all started. Join me, as we step into the Other Realm to dissect the history of Sabrina, The Teenage Witch.
It All Started With a Comic
While most of us associate Sabrina with Melissa Joan Hart and the unparalleled, nostalgia-inducing TV series of the late '90s, the magical gal herself has been around since the 1960s, when she was first introduced into the Archie Comics universe as a side character. In 1971, Sabrina broke out with her very own comic series titled, you guessed it, Sabrina, The Teenage Witch, which ran until 1983. Due to the unprecedented fanbase for this little teen witch, she also got her own animated series in the '70s which was a pretty big deal.
Fast Times at Westbridge High
After a brief break, Sabrina was resurrected in the format we know her best; Sabrina Spellman the lovable awkward teenager who discovers her half-mortal, half-witch status – as well as her magical powers – on her 16th birthday. The live-action series brought some of our most loved characters to life on screen; the adorable Harvey Kinkle, aunts Hilda and Zelda, the Quizmaster and of course, the sassy Salem Saberhagen – your not-so-friendly neighbourhood warlock cursed to spend eternity in the body of a black cat. It explored Sabrina navigating through her high school years in a Massachusetts suburb, balancing typical teen issues with trying to conceal her secret powers and oddball family.
We loyally watched as she earned her witches license, overcame a debilitating, hereditary pancake addiction (one of my personal fave episodes), outsmarted Brad the witch-hunter, got dumped, went to college and eventually, as she called off her wedding to run off with her first true love, Harvey. Y'know, just regular teenage stuff. After seven seasons full of celebrity appearances (Britney Spears! RuPaul! Avril Lavigne! JERRY SPRINGER!), two spin-off movies, books, magazines, PC games and countless other merch that we consumed greedily and endlessly, Sabrina Spellman as we knew and loved her was dead.
The Animated Years
Following the success, the character was turned into a cartoon once more, this time in Sabrina: The Animated Series, where Melissa Joan Hart voiced aunts Hilda and Zelda and her younger sister, Emily Hart, provided the vocals for Sabrina. Alongside this, another, more contemporary comic was released, as was a manga-inspired version. Sabrina also made a guest-appearance as a character who befriends the core Archie comics gang; Archie Andrews, Betty Cooper, Veronica Lodge and Jughead Jones who you may know from Riverdale fame. Which leads us perfectly on to…
The Chilling Adventures of Sabrina
The modern reboot follows on from the 2014 comic book of the same name and is the highly-anticipated companion series to Netflix's hit show, Riverdale. As the name suggests, this show is a much darker take on the story of our beloved teen sorceress, with the premise being that Sabrina (Kiernan Shipka), who of course discovers her powers on her sixteenth birthday, must choose between embracing witchcraft or staying firmly in the human realm with her friends and naturally, her love interest Harvey (Ross Lynch).
It's not quite as simple as it sounds however, as Netflix has shared it will focus on "Sabrina wrestling to reconcile her dual nature — half-witch, half-mortal — while standing against the evil forces that threaten her, her family and the daylight world humans inhabit." OG Sabrina, Melissa Joan Hart has already likened the new series to being this generation's Buffy the Vampire Slayer, but with the series dropping on October 26, we'll have to wait and judge that for ourselves.
A Lifelong Friendship
So, now we know the history, the question still remains. Why exactly are millennials so reluctant to let go of their nostalgic stronghold on Sabrina Spellman? I guess there's a reason we can all resonate with her. The original show satisfies our flippant personalities and need for instant gratification; I mean, outfit changes and fast food at the click of a finger? Count me in. And who amongst us has never wished they could disappear into another realm via an unassuming, old-timey wardrobe (it's the witchy version of wanting the ground to swallow you whole after any embarrassing incidents, right?).
Throw in a smartass talking cat, loving aunts, the power to conjure up endless pancakes (and likewise, to erase any bad Tinder dates) and it was pretty much a show built with millennials in mind, before anyone even knew what millennials were. Sabrina, The Teenage Witch appealed to our youthful optimism. It was escapism, oddball humour and pure magic in its purest form.
2018 however is a darker time for all of us. We've aged (sigh) and by default are no longer as youthful, or as optimistic. For many of us, our political and economical climates aren't exactly in the most reassuring state and we don't need a quirky, accident-prone teen heroine anymore, we need a badass witch who's going to stand up strong and battle evil – not just a fake boyfriend made of dough.
Sabrina's evolved alongside both us and the shifting, often tumultuous times, but most importantly she's always been there – for the past 47 years and counting – and what we need now more than ever is someone who's reliable (and the magic powers don't hurt, either).
Share this article