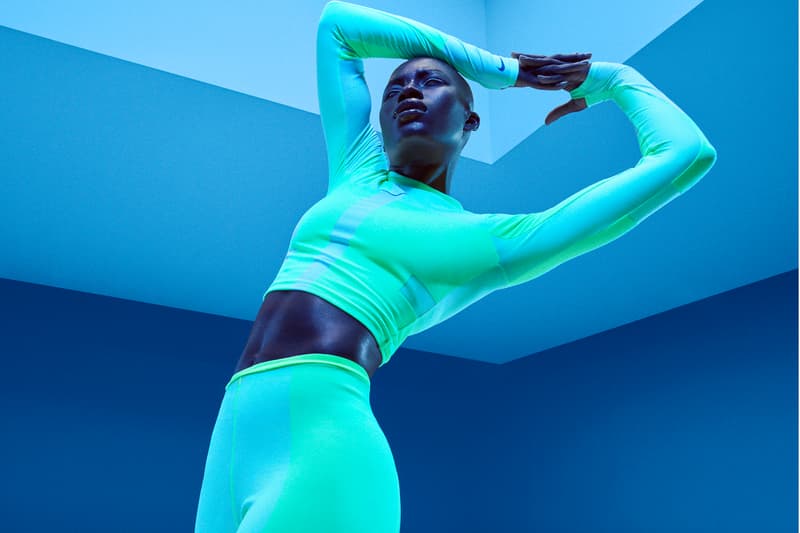 Fashion
Nike Design Director Jessica Lomax on the Rise of Athleisure in Fashion
Take a look at the vibrant Spring 2019 Tech Pack, too.
Nike Design Director Jessica Lomax on the Rise of Athleisure in Fashion
Take a look at the vibrant Spring 2019 Tech Pack, too.
The line between sportswear and fashion has arguably never been as blurred as it is right now, and Nike's Tech Pack range has a longstanding history of fusing fashion with function. Since Swoosh debuted the futuristic line that blends performance-wear with innovative fabrics, technology and high-fashion appeal in 2007, it's become one of the most impressive offerings in its roster, season upon season.
Spring 2019 is no different; the Nike design team used new waffle knit and woven fabrics throughout the range, materials that have been developed with years of research and body motion and mapping analysis. It all sounds highly technical and very clever, which it is, but it's also incredibly fashion-forward. These pieces look just as cool styled as part of a trend-led 'fit as they do worn all together during a workout session, and that's no easy achievement.
We caught up with Nike Sportswear Design Director, Jessica Lomax, to find out more about the upcoming Tech Pack and the rise of athleisure within the fashion industry – read on for more, and don't forget to revisit our BTS look at Mini Swoosh and OBD's reinterpretation of iconic Tech Pack pieces.
Your background is very fashion-led, having worked at brands like Aquascutum and Hussein Chalayan. How have you adapted those high fashion aesthetics and techniques to working within sports performance and lifestyle wear?

Actually, I think it's really good to have a background like this. At Hussein Chalayan we did a lot of things with technology, it just brings a unique way of doing it and i think the combination of the two for me is the most interesting. When you're mixing really intricate pattern work or traditional tailoring with future tech and sport function, the combination is really exciting. I think as diverse a background as you can have, the more exciting a product can become.
What are your thoughts on the crossover between performance-wear and fashion and the idea of athleisure being a trend on the whole?
I think some of the aesthetic of what's happening now is very much now. But I think the whole concept and ethos of dressing like that is the future. Everyone's world's and lives and habits are changing. With globalization and being able to travel more and jobs becoming more flexible and less traditional, I think it will just keep evolving and people will have these hybrid lives and I think this mashup of fashion and sport will continue.
You've lived and worked in some very different cities like London, Portland and New York. How have each of those inspired or changed the way you approach design?

I think each of those places has such a different vibe. Of course, as a designer, you're constantly inspired by your city and your surroundings – those vibes are going to rub off on you, right? I feel like in London it was all about running around everywhere, doing all these different things, meeting all these different people, travelling around Europe so I was really inspired by that. Moving to Portland, it's a very different scene there. It's very outdoorsy, there's lots of nature and that really inspired me to disconnect from the world and digital life and find moments of quiet.
Now, with moving to New York, it's more similar to London but it's also completely different. I feel like athleisure is so prominent there; you'll go into a high-fashion store and there will be girls there wearing leggings straight from a workout. It's really very normal to wear your workout clothes everywhere; the consumers are very different.
Could you talk us through more of the concept behind the Spring 2019 Tech Pack?
The main concept was that we wanted to create a collection for the person that's doing multiple things, who's multi-dimensional, multi-faceted. It was really about mixing sportswear, running and training all together. So you have the perfect tights that you can run in, or do yoga, or take a plane journey, or go to a meeting – whatever it is. We really wanted to create from the base layers, you'll have your bra and legging and built it up throughout the day with the tank top, the long-sleeve, the jacket – you can build it up throughout the day.
You also run a record label alongside your husband, so that's another creative outlet for you; what did you have on your playlist when working on this collection?
We design these collections years out, so we actually designed this collection two years ago so I have to think back to then! A lot of what we do on our record label is avant-garde and experimental so there's much more electronic and experimental new sounds. So it's not just traditional instruments but it might be field recordings that are mixed; basically creating sound art, that's usually what I'm listening to when I'm working on a futuristic pack.
---
Share this article