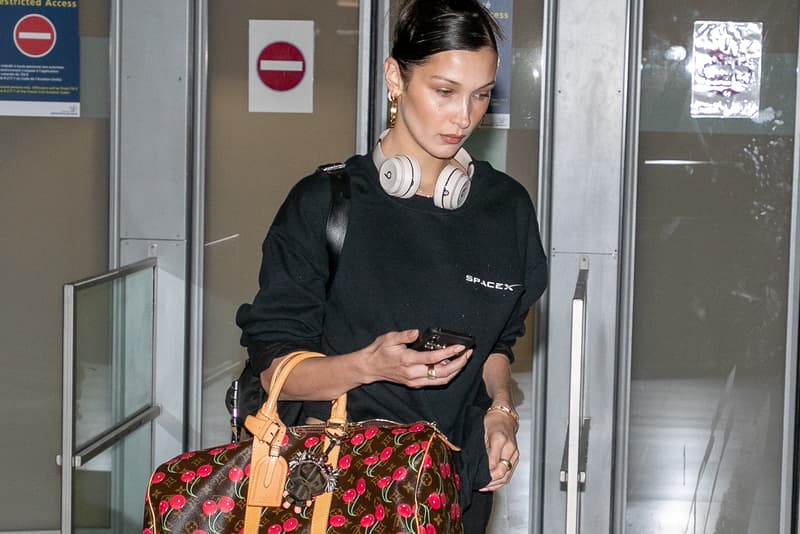 Culture
We Asked Our Editors What Their Travel Essentials Are – Here's What They Said
Must-haves for every vacation, work trip and beyond.
We Asked Our Editors What Their Travel Essentials Are – Here's What They Said
Must-haves for every vacation, work trip and beyond.
Vacations. Work trips. Traveling is an essential and inevitable part of our editors' yearly routines. Whether it be a quick weekend trip during "Fashion Month," or a well-deserved week-long getaway to a beach resort, traveling is a necessary aspect of both business and leisure. Since it is such an inescapable part of our lives, we recently asked our editors what their travel essentials are – what are the items that are absolutely crucial to bring with you on each and every trip? From beauty essentials such as an array of facial mists from the likes of Glossier and Tatcha, to accessories that neutralize boredom such as Amazon's Kindle Fire, there is something for every need in our roundup.
Read on below to see our editors' lists of must-have travel essentials.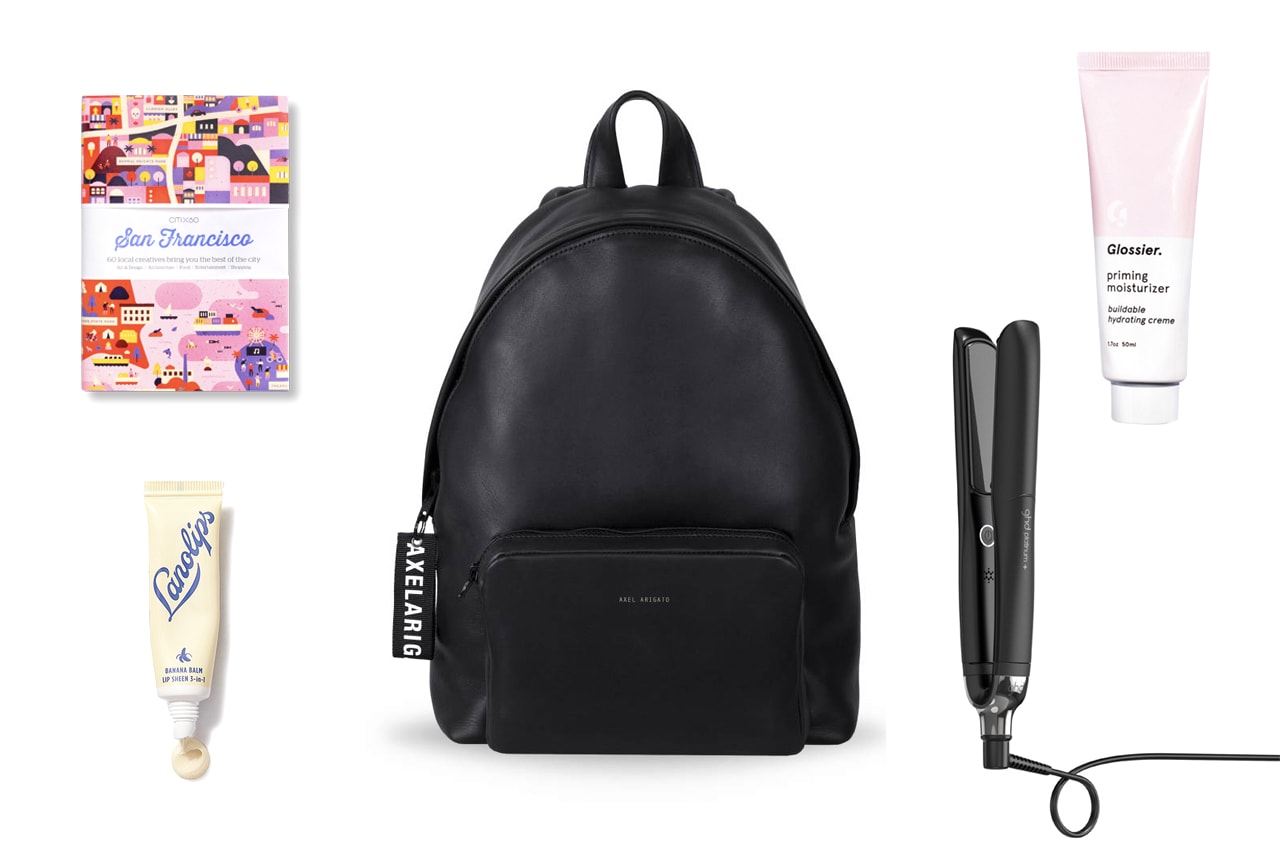 1. Lanolips Banana Balm

One thing I always have on my person, regardless of the length of the journey is lip balm. I generally fluctuate between Glossier's Balm Dot Com and Lanolips Banana Balm ($14 USD), which is currently in my (pink Glossier, obv) makeup pouch. What I love about this product is that it's hydrating and moisturizing without being sticky and it also adds a subtle, natural shine. Besides, the banana flavour is delicious.
2. Glossier Priming Moisturizer

My skin has always generally been a little on the dry side, and that's only exacerbated by things like flights and tiredness – both of which conveniently go hand in hand with travelling. What's essential for me to keep my skin feeling smooth and hydrated on the go is a moisturizer that's light and easy to apply like Glossier's Priming Moisturizer ($22 USD). The gentle formula minimizes both pores and redness, resulting in an even – and dewy-fresh – looking face. I use this under makeup everyday, and alone when I'm making long journeys and would rather go barefaced.
3. Axel Arigato Leather Backpack
When it comes to navigating through airports swiftly, practicality is key so a backpack is always my bag of choice. I love the mini size of Axel Arigato's leather backpack ($480 USD) because it's got plenty of space to hold cosmetics, snacks and a book or two and the outer pocket is ideal for stashing travel documents – no more "where did I put my passport" panic! I also love how luxe it feels thanks to the matte leather finish, gold branding and oversized zipper pull.
I'm obsessed with pre-planning the cool hotspots I want to check out whilst on vacation, meticulously adding them to my Google Maps, but I try and steer clear of traditional tourist traps when possible. I love picking up a CITIx60 City Guide ($12 USD) for whatever place I'm visiting because the books are curated by creatives local to the area, so you know you're in for an authentic and offbeat experience every time. It's also beautifully designed and pocket sized, and also has some space at the back for notes which I very much appreciate.
5. ghd Platinum + Black Styler
Yes, I am one of those infuriating people who can't spend even one overnight stay without my flat irons. I've been loyal to ghd since I was probably about 16 years old, but their newly-released ghd PLATINUM+ BLACK STYLER ($250 USD) is a game changer. Not only is the design sleeker than ever (and easy to pack), the SMART styler technology adapts to your hair and adjusts heat accordingly, so the results are totally personalized to you. Genuinely, my hair has never looked better, or felt healthier, despite daily straightening.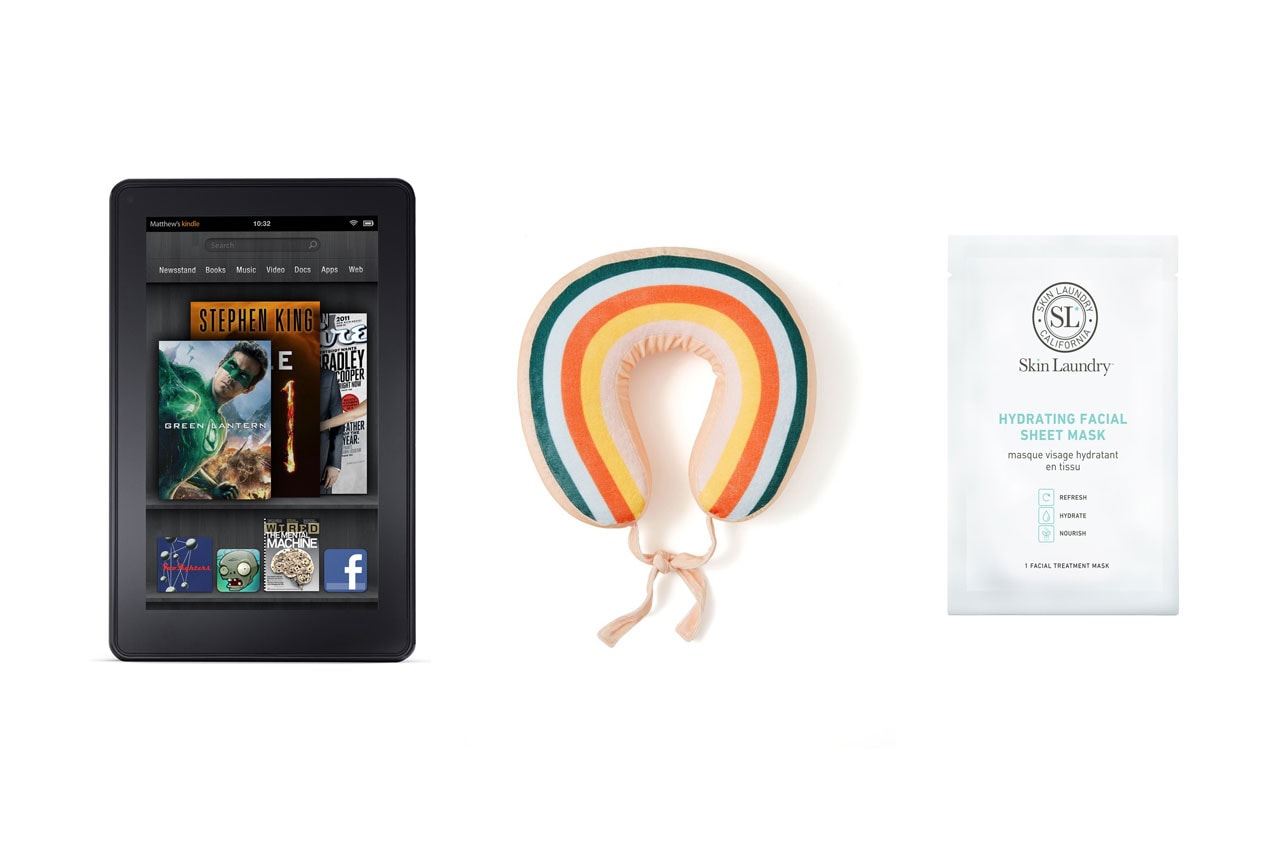 1. ban.do Paradiso Neck Pillow

Whether it be by bus, plane or train I do not go anywhere without my comfy neck pillow. This $20 USD item makes traveling infinitely more comfortable and I can always catch up on sleep wherever I am. Layovers and waiting periods are no bother for me because I can read or knock out without a care in the world. The striped pattern on this option really stands out so I can easily spot it in a pile of clothes. I don't know where I'd be without it.
2. Skin Laundry Hydrating Facial Sheet Mask

Planes are my long-time enemy. I don't mind the close quarters or even the turbulence but the recycled air punishes my skin every time. I almost always break out after taking a flight no matter the duration. The cause is a mix of the germy cabin and the general filth of a public airport. I always take a hydrating sheet mask with me into battle against the elements. My current favorite is from Skin Laundry ($10 USD) and my skin absolutely loves it. I put it on right after cleansing my face post-flight to avoid any skincare mishaps.
3. Amazon Kindle Fire

Amazon's Kindle Fire ($50 USD) is my oldest and most reliable travel item. It has traveled with me from Paris to Accra holding all of my current reads and favorites shows. What I appreciate most about it is the ability for me to switch from a captivating read to an episode of House of Cards. This item is lightweight and just the right size to shove into nearly any pocket on my carry-on or suitcase. I am never bored while waiting for a flight to take off because of its many functions. I can even download copies of my favorite magazines and newspaper so that I'm caught up on the latest by arrival.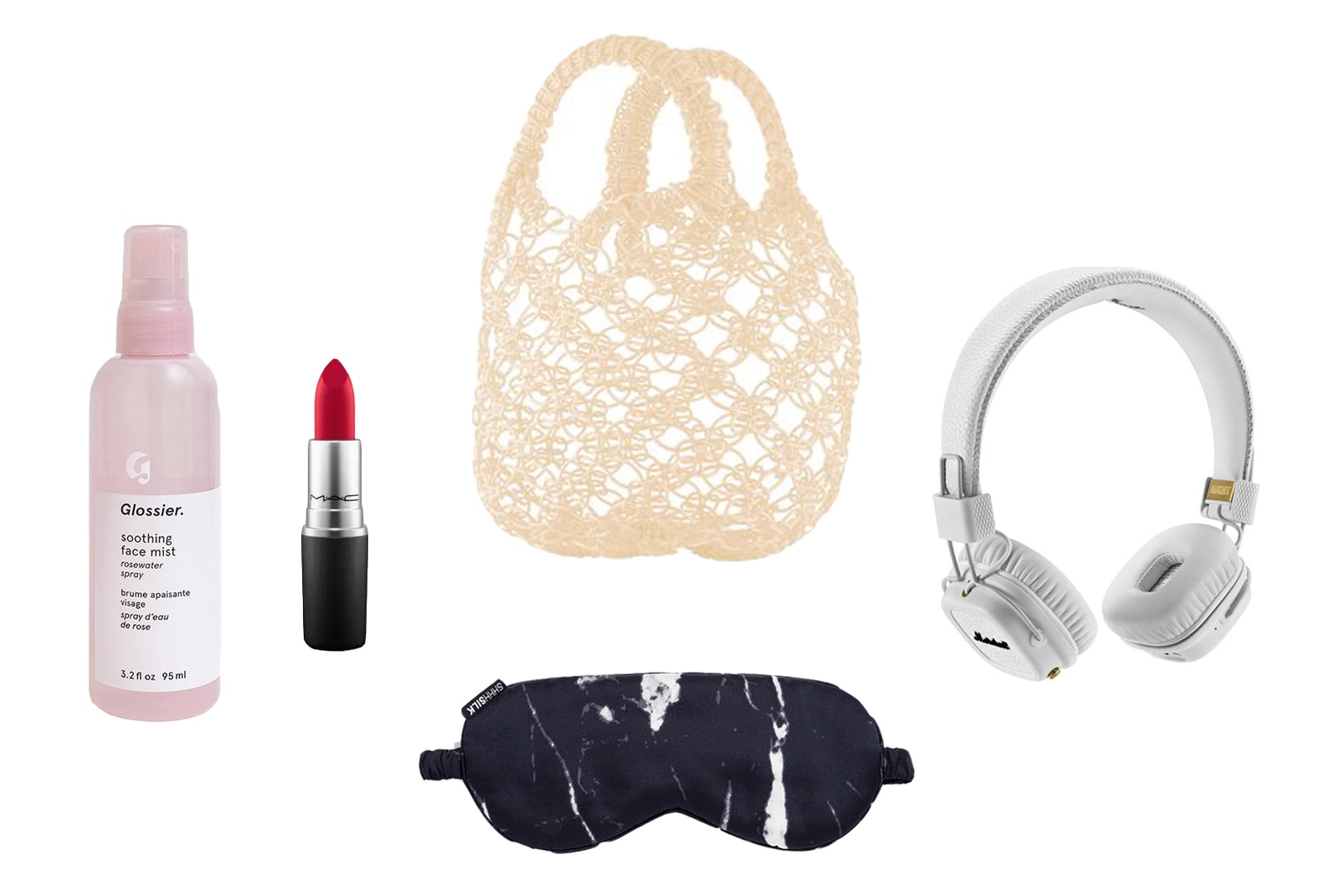 1. Glossier Soothing Face Mist

I packed Glossier's reformulated Soothing Face Mist ($15 USD) product for a weekend trip back in October and was extremely happy with bringing it along. To be transparent I found myself spraying the mist on my neck for a quick refresher throughout the day and before heading out with friends. I enjoy how the spray isn't overwhelming and how the rosewater relaxes me. Now even for quick weekend trips, I'll definitely be bringing this along in my toiletry bag.
2. Shh Black Marble Silk Sleep Mask

Shh's Black Marble Silk Sleep Mask ($45 USD) is ideal for me since I have a fro. At times it's hard to find accessories that don't feel awkward when my hair isn't in twists, bantu knots or braids. I also love how soft and light the silk is, it's pretty relaxing and honestly helps me sleep on regular nights. It's helpful that the mask also completely blacks out fluorescent and bright lights.
3. Marshall II Headphones

I haven't left the house without my Marshall Major II Wireless On-Ear Headphones since I first got them. I'm obsessed with the sound quality and the fact that they block out the annoying static noise on flights. They're also great for quick bus trips which can get a bit noisy. The BlueTooth pairing is also quite easy to use and matches perfectly with desktops and cell phones. These headphones which price out at $75 USD can even be packed into one of my favorite mini-bags.
4. Tuza Cesta Handwoven Bag "Bone"

Every major trip I've taken this year hasn't been complete without this handmade piece, TUZA's Cesta Handwoven Bag. Since I'm really into emerging designers, I didn't mind shelling out $85 USD on it. The whimsical tone, "Bone" is ideal for pairing with anything whether you like all-black outfits or are more into color like me. It's also lightweight and fits into my large travel tote which is perfect for me since I'm not an overpacker.
5. MAC Retro Matte Lipstick Ruby Woo

If I don't have my MAC Retro Matte Lipstick in "Ruby Woo" when I'm traveling I honestly go crazy. I discovered this hue years ago during my college days when I was really into bold lipstick colors. I honestly think this tone is universally flattering on all skin tones. When used with a great lip primer, this lipstick which is $18.50 USD can last for about almost an entire day. I love that the cherry red shade doesn't get washed out on my skin and it pairs well with pink eyeshadow and gold eyeshadow (my staples).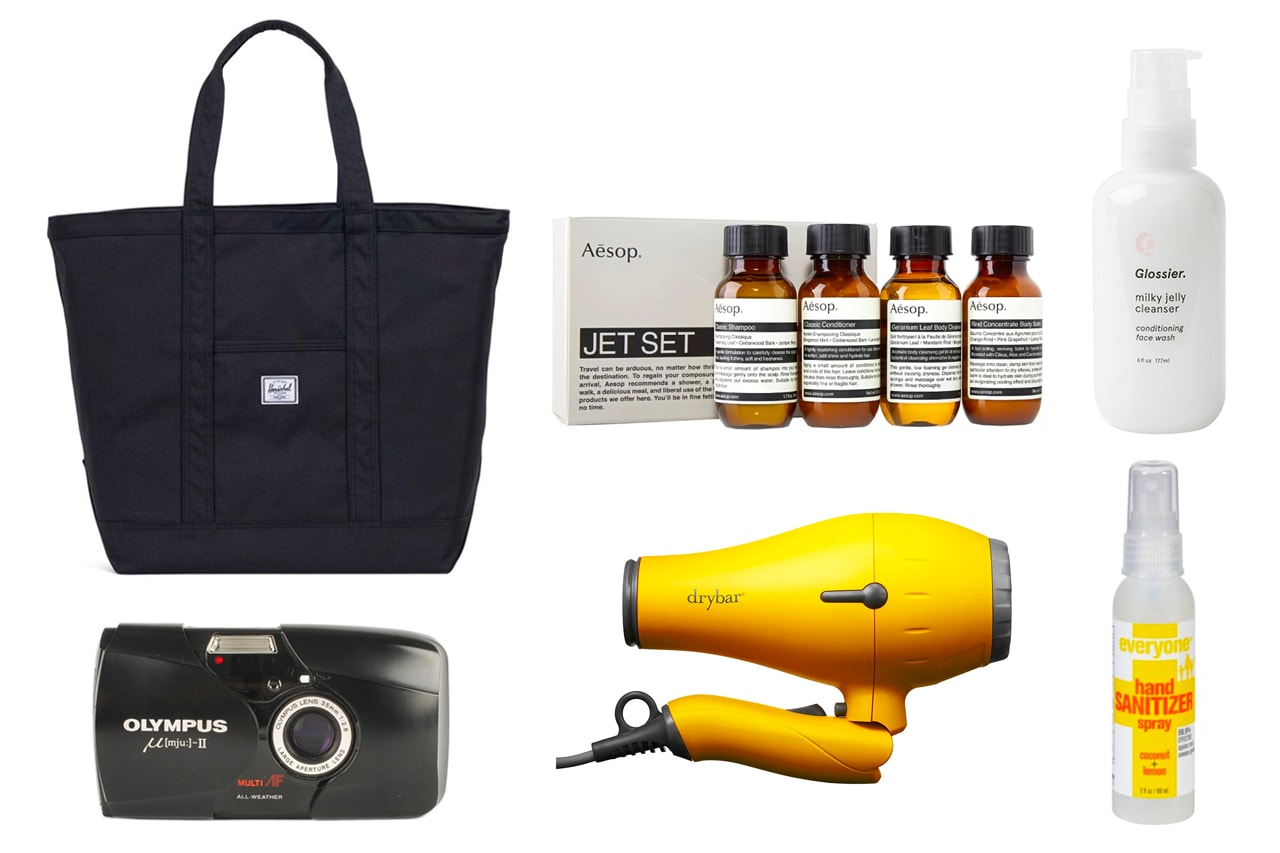 1. Herschel Supply Bamfield Tote

While I also rely heavily on my Bigger Carry-On from AWAY, I'd switch up for Herschel Supply's Bamfield tote bag ($64.99 USD) whenever I go on shorter, weekend trips. Mine comes in black, which makes it low-key and less susceptible to stains and scratches that come with travelling around. The mid-volume bag offers ample space to store everything I would need to pack for a two-day getaway. I also appreciate that the carryall is designed with a zippered closure that keeps all my belongings intact.
2. Glossier Milky Jelly Cleanser Mini

I see travelling as an excuse to test out mini-sized beauty products and samples that I've accumulated in my skincare cabinet over time. While I typically use Shu Uemura's Anti-Oxi+ Skin Refining Cleansing Oil to remove makeup at home, I've been bringing Glossier's mini Milky Jelly Cleanser ($9 USD) with me on my recent trips. Known for its gentle, creamy gel formula, the product does a great job in removing light makeup. I can't say I'm not tempted to pick up its full size version.
3. Drybar Baby Buttercup Blow Dryer

I've waxed poetic about Drybar's Baby Buttercup Blow Dryer ($135 USD) in the past and I'm still loving the product to this day. The lightweight, foldable hair dryer really comes in handy when I'm travelling. Designed with what the brand describes as "ionic technology," which helps seal cuticles and reduces frizz, this product is great for maintaining the smoothness and healthy shine of my hair.
4. Aesop Jet Set Kit

I received Aesop's Jet Set Kit ($37 USD) as a gift a while ago and I've been carrying it with me on every trip I've made ever since. Packed with four travel-sized bathroom products — including shampoo, conditioner, body cleanser and body lotion — the essential set feels (and smells) incredibly luxurious, making every shower away from home a treat-yo-self moment.
5. Everyone Hand Sanitizer Spray

While working on set at a photoshoot, I discovered Everyone's Hand Sanitizer Spray ($17.99 USD for six bottles) through a makeup artist. I was initially attracted by the fragrant lemon and coconut-y scent of the spray and even thought it was some kind of face mist. I'm a little bit of a germophobe when it comes to flying on airplanes, so a hand sanitizer is definitely something that I'd keep in my carry-on. The fact that this particular product smells amazing (instead of smelling like alcohol) gives me incentive to use it regularly.
6. Olympus Stylus Epic

These days, we're all used to documenting our everyday life on our phones, but there's something about capturing moments of your travels on a film camera that makes it more personal. My go-to is the Olympus Stylus Epic. Designed with features like autofocus, auto exposure and a built flash, this point-and-shoot analog camera is easy to use even for photography beginners. On sites like eBay, you'll be able to find variations of the camera selling at different price points.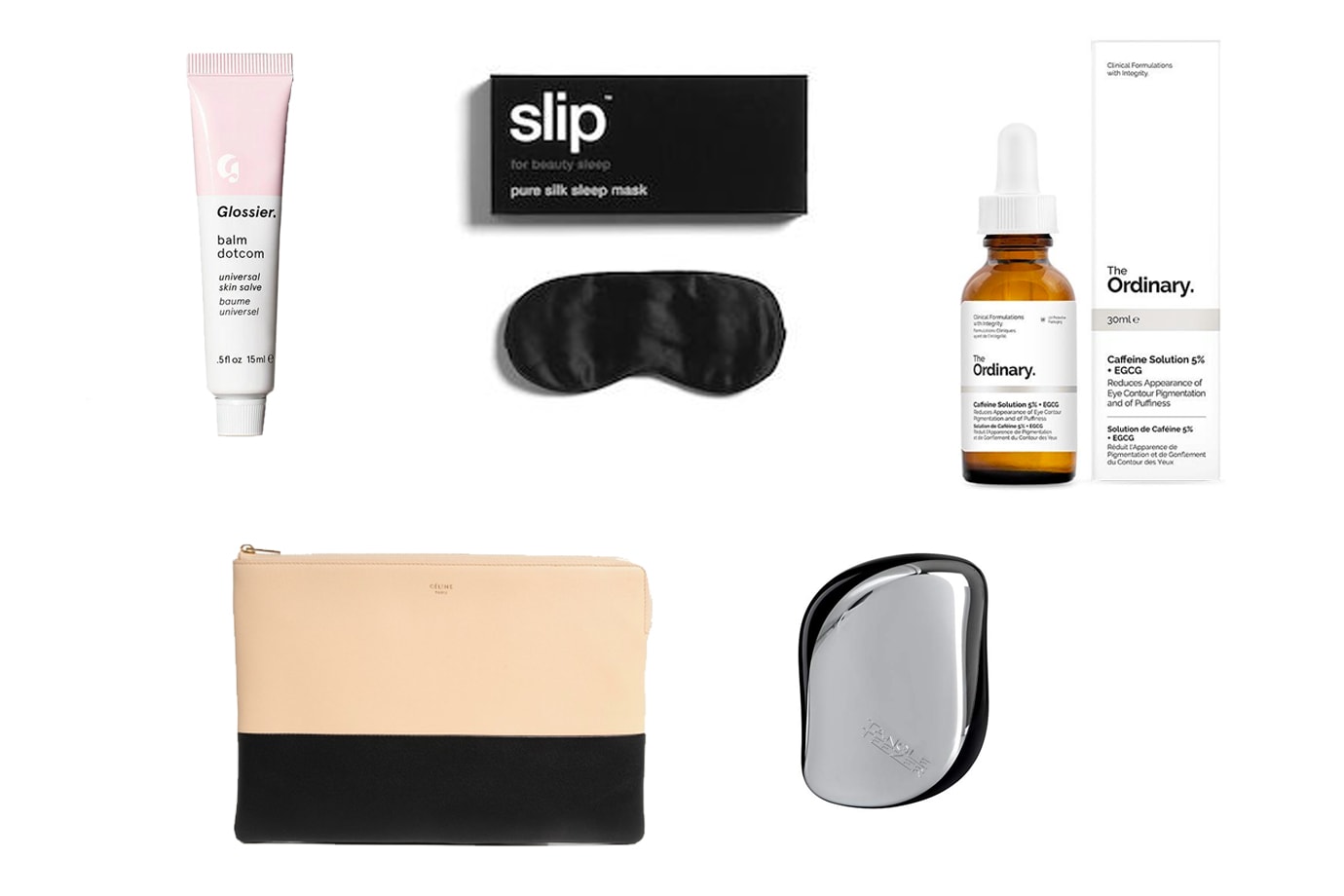 1. The Ordinary Caffeine Solution
I'm often on long-haul flights, and I have a tendency of not being able to get a good sleep on the plane. Needless to say, I always land feeling and looking like a zombie and it wasn't until I came across The Ordinary's Caffeine Solution that I realised I could at least make myself look awake after 10+ hours in the air. The product is easy to apply and is really light, meaning that it won't leave a sticky finish. The best trick is to apply a bit of the serum pre-flight, and then do another round shortly before landing. At $10.70 USD, this quick-fix is my holy grail for jet-setting.
2. SLIP Silk Eye Mask

I'm not exaggerating when I say that this eye-mask changed my life. I first got it as a gift not long ago, and didn't think I'd be able to use it much, but boy was I wrong. This has been my trusted travel companion for the past few months, and it has helped me get a few hours of shut-eye on my flights. I always find it incredibly difficult to fall asleep while the airplane cabin is still lit, and with this mask I can sleep wherever, whenever. For good sleep, $50 USD is a cheap price to pay.
3. Glossier Balm Dot Com

Everyone knows that airplanes really dry out your skin, and I always find my lips to be chapped beyond repair after a couple of hours on deck. I've probably tried over a hundred different lip balms in my days, and the first one I've re-purchased is Glossier's Balm Dot Com. I've always got a tube ready for use, and when I travel I also use the salve for my cuticles and any other dry spots I may have. Perfect for day-to-day use, the $12 USD balm is a life-saver.
4. Celine Leather Pouch

If you, like me, are beyond messy – you'll want to cop a pouch to keep all your essentials safe in. I splurged on a Celine number a few years ago, and since it has been my most important travel tip. Having a place to keep your wallet, passport, plane tickets and earphones is super helpful, especially when you catch yourself rushing to get on your flight. And because it is Celine, I always manage to look chic even when I'm sipping on my Starbucks iced latte in a full tracksuit at 3 AM.
5. Tangle Teezer Compact Styler

I get severe bed head, and after sitting on a plane for a few hours my hair looks more like a bird's nest than anything else. I purchased Tangle Teezer's travel-friendly compact brush, and it has been the perfect way to tame my wild strands after a flight. The size of the brush also makes it incredibly easy to carry with you at all times – whether you're on a plane or not. You can find this life-saver for £12.50 GBP (approximately $16 USD).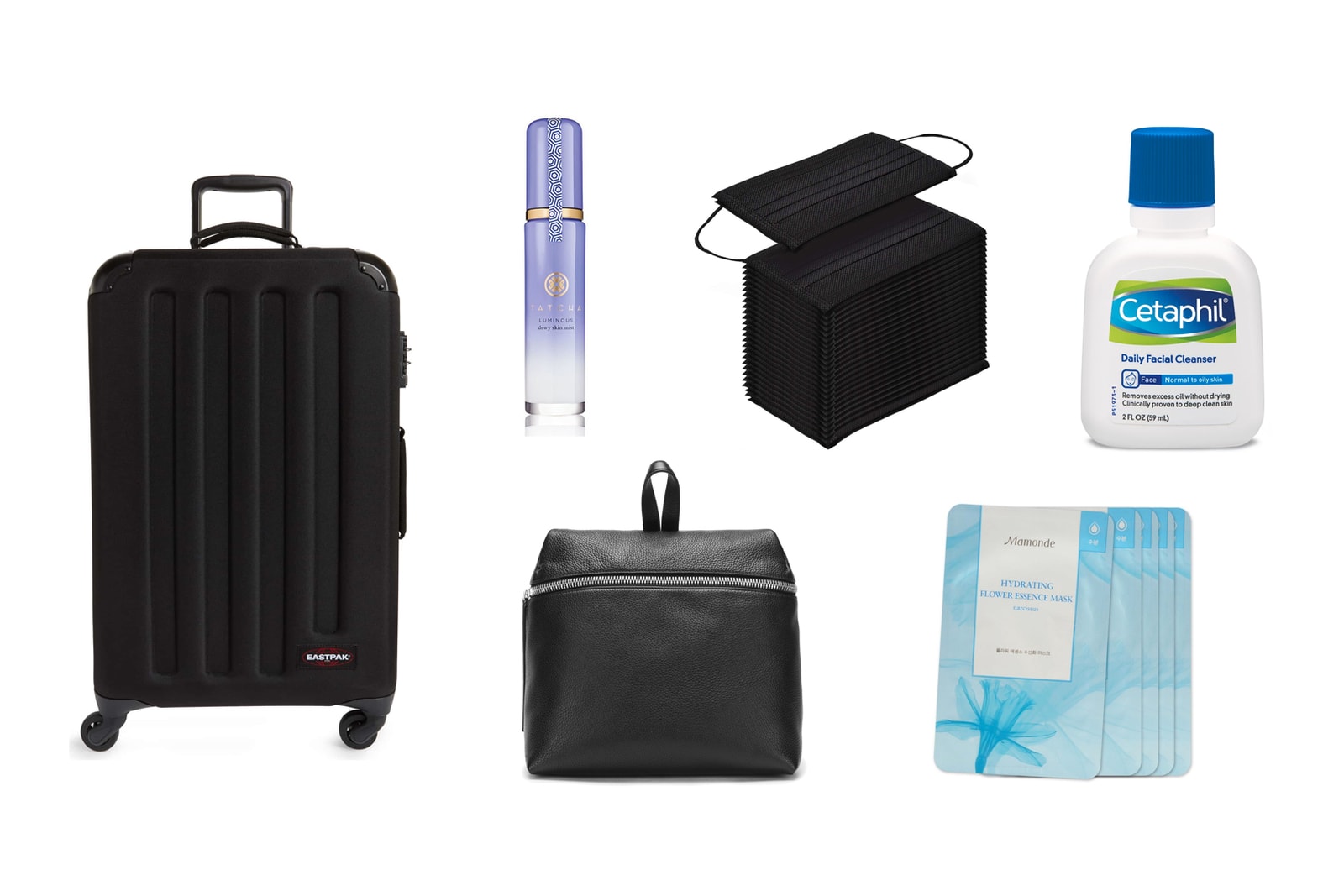 1. Eastpak Tranzshell 27-Inch Wheeled Suitcase

For any short weekend or work trips, this Eastpak suitcase ($195 USD) is the perfect size. Constructed with a unique padded tech fabrication, the texture is unlike anything I've seen before and makes the suitcase instantly recognizable on the baggage claim carousel. Along with its free-spinning wheels and zipped closures on both sides of storage for the interior, this travel companion is perfect for the modern woman on-the-go. Not to mention, the sleek black exterior perfectly matches my typical all-black look.
2. Tatcha Luminous Dewy Skin Mist

As you've probably heard, an airplane cabin is incredibly dry and can cause some less than ideal effects on your skin. Having a go-to face mist is an essential for any trip and this offering from Tatcha ($48 USD) is definitely my favorite. Unlike other mists I've tried, Tatcha's variation (which smells amazing, by the way) has an incredibly fine and silky mist that leaves your face moist, not wet. The mist is also great at setting makeup, so it is a hard-working addition to your beauty routine as well.
3. Travel Size Cetaphil Facial Cleanser

If you're a loyal Cetaphil user like me, your skincare routine just doesn't feel complete without a good ol' daily Cetaphil cleanse. For me, I actually use Cetaphil twice a day (once in the morning, and another as the final step in makeup removal), so I always make sure to pack a travel mini ($2.97 USD) with me on every trip.
4. KARA Black Backpack

I've had my Black Backpack ($525 USD) from KARA for about five years now and it still remains to be one of my favorite bags to date. Especially as a vacation and airport essential, it's the perfect size to store all of my travel goodies. Did I also mention that it looks chic as heck? I also take the zipper pouch from my KARA Stowaway bag and use it to store my passport for easier access within the backpack.
5. Disposable Dust Filter Masks

Although these don't tend to be as popular in the West, filter masks are immensely common in the East – Hong Kong included, of course. I love bringing them onto planes with me because it puts me at ease when I think about the fact that I'm trapped in a flying metal box with distant coughs heard from all areas of the aircraft throughout the flight. I like buying mine in black because if you're going to be a outright germaphobe, you might as well look sleek. You can shop a pack of 100 masks for $10.99 USD from Amazon.
6. Mamonde Sheet Mask

Back to that dry air factor on the plane, I always make sure to bring a couple of sheet masks with me everytime I take a flight. Making sure to restore the moisture in my complexion that I've lost from the cabin, sheet masks are a great way to reinvigorate and re-balance your skin. Mamonde offers several options for sheet masks – my suggestions for travel-friendly ones are the "Hibiscus Deep Moisturizing" and "Narcissus Hydrating" options, retailing at $2 USD per mask.
---
Share this article