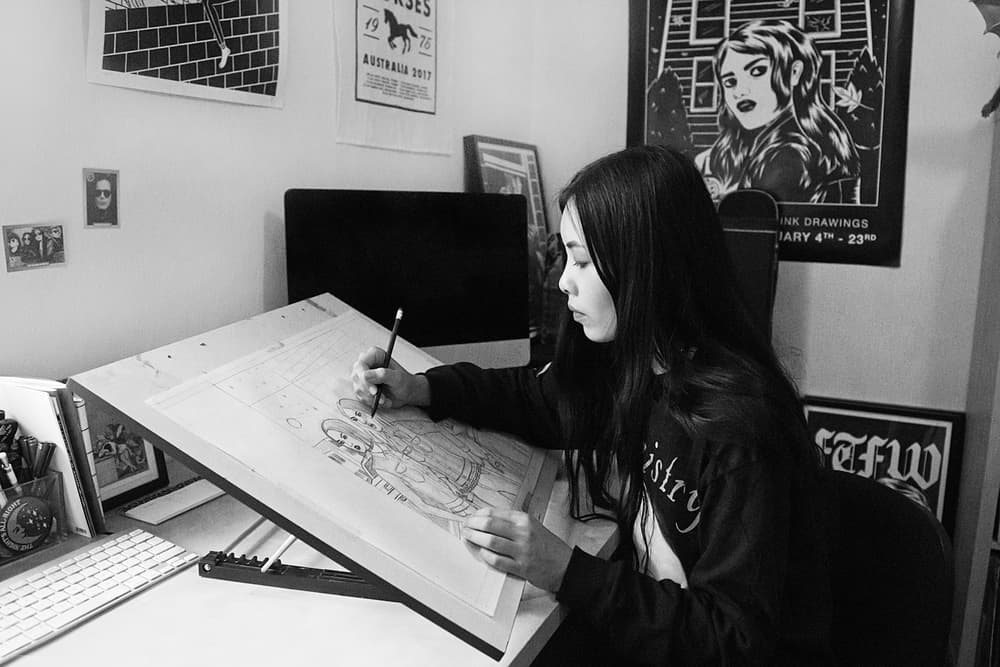 1 of 2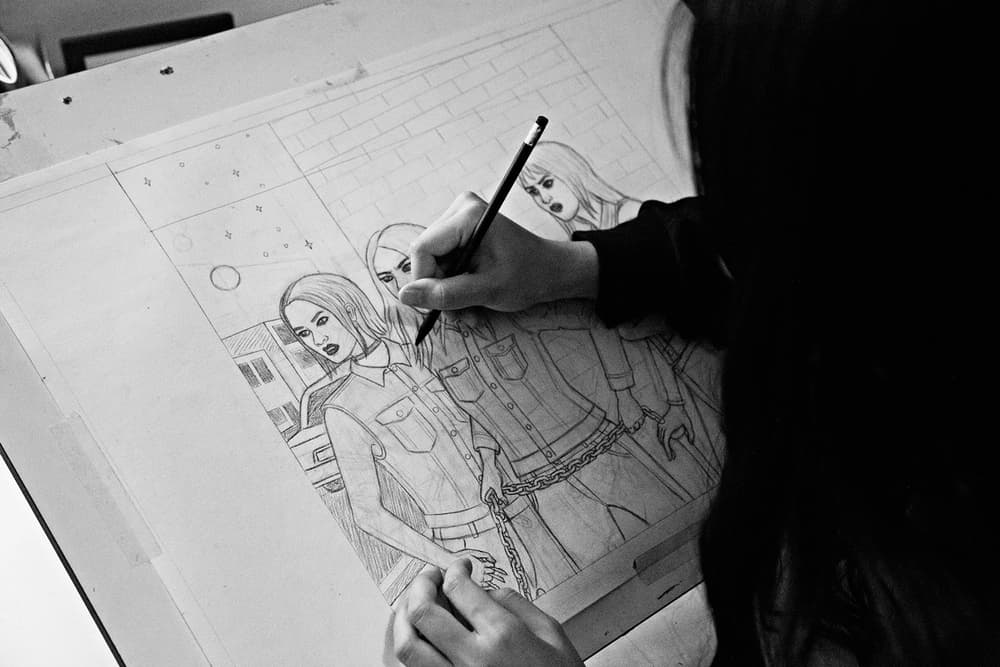 2 of 2
Art
Inside Artist Stellar Leuna's Witchy, Black and White Universe
Meet the Australian illustrator behind some of Prada's SS18 creations.
Inside Artist Stellar Leuna's Witchy, Black and White Universe
Meet the Australian illustrator behind some of Prada's SS18 creations.
For those who have an interest in fashion, you might have come across Stellar Leuna's drawings without you even realizing it. Based in Sydney, Australia, the artist was tapped by Prada as one of its collaborators for the brand's Spring/Summer 2018 collection. From graphic-heavy handbags to comic-inspired walls that covered the venue, Stellar's wickedly beautiful work was introduced to a global audience on the Milan runway. And we, too, were instantly hypnotized by her art.
Before the Prada opportunity came about, Stellar had already established herself as a creative with a unique vision — one that involves witches, devilish characters and a lot of cool girls. Some seem to be sad and terrified, others appear angry and rebellious. Dabbling in colors occasionally and working mostly with black ink, her captivating pictures often call to mind scenes from an Alfred Hitchcock horror movie, evoking nostalgia and a lingering sense of suspense.
During a recent visit to Stellar's studio, we spoke with the illustrator about her background, influences as well as her other artistic pursuits. Continue reading for our full conversation, and be sure to follow Stellar on Instagram to see more of her work.
The style of your art is heavily inspired by comics. Are you an avid comic reader yourself? What draws you to this particular aesthetic?
I go through phases with comics. Sometimes I read them a lot and then I like to take time away and also read non-fiction books and novels too. I've always been drawn to the simplicity of comic illustration because it's all just ink and flat colours. I think the reason it's appealing to me is the same reason I love watching movies so much. I just love having a visual component to storytelling.
Feminism seems to be a recurring theme in your work. How would you describe the women portrayed in your art?
Very angry.
There's always a storytelling element in your work, with a lot of your paintings resembling scenes from horror films. Would you say that's true?
Yes, that's something I consciously do as an artist. I love to pay homage to things that influence me in quite obvious ways.
Let's talk about your Spring/Summer 2018 gig with Prada. How did the project come about in the first place? What was the collaborative process like?
They just emailed me. I don't really know how they came about my work at all but the process was basically just emails back and forth for the collection pieces. For the animation, it was a lot more collaborative. The animator and agency were both based in London, so it was at times challenging. Basically I came up with an idea and drew every movement frame-by-frame which I would then pass on to the animator and the creative director, and we'd refine and refine. I'm really proud of the end product and animation was something I really wanted to delve into even before the project began, so having such a cool project to start the learning process with was awesome.
What is your favorite piece from the Prada collaboration? Did you pick up anything from the collection yourself?
Yep, I'm getting one of those black trench coats with my FATALE patch on the back.
The crossover between art and fashion has become more prominent than ever these days. What are your thoughts on that?
I love it and hope that it only brings me more cool opportunities like what I've been doing with Prada. I think it's really important to give emerging artists and small artists like myself big opportunities because often we are the ones who are the hungriest for opportunities and have the freshest ideas. When you combine tradition with innovation, society is just more interesting.
Moving on to your background — you're born in Hong Kong but grew up in Australia. In what ways does being Australian-Chinese influence your art?
I think a lot of my angst came from just constantly feeling like I didn't really belong anywhere especially as a child and in my teen years. When we first moved to Sydney and went to pre-school, I couldn't speak any English so my mum found this woman who was a Chinese translator to help us and make sure that we were adjusting well, and so we felt like we had a member of the family there to make us feel a little more at home. Throughout my early school years, I always felt a disconnect with my white friends. Even if they were loving and supportive, there was always this lingering feeling that I was different. When I discovered punk music, it was like I finally felt okay with being a weirdo. I learnt that fitting in wasn't really that important, but that self-acceptance and owning your weirdness is cool and okay. I think my art reflects a lot of those feelings.
What are some things and people that inspire you the most at the moment?
I've been watching the She-Ra animated series on Netflix lately. Every episode is the same plot but I love how naive the animation style is and the design of each of the characters. Animation is something i want to develop into my work this year so I've been "studying" different cartoons and techniques when I get the time. I also have always loved the films of Ralph Bakshi. He made the Lord of the Rings animated film and his style is amazing. He rotoscopes everything.
Apart from art, you've also been creating music with your heavy metal band, Potion. How do these two passions of yours interact with each other?
I've always wanted to play music but never found people compatible enough to do it with and that made me want to commit to playing an instrument. I think drawing images of women playing music helped scratch that itch. When I began drawing as a full-time job, I realized I needed a new hobby and music has become that. I like to keep the two relatively separate though, but being an artist is actually super advantageous when you have a band because you can do all the artwork yourself. Our guitarist and singer is a graphic designer, and our drummer is an animator and video guy, so we can pretty much make everything ourselves. I love being in a band where the members are all creatives outside of music and do creative things for a living.
What's next for Stellar Leuna? How do you wish to evolve and grow as an artist?
I want to develop animation skills and also work a little more with colour.
Photographer

Darren Luk/@everylastsecond
---
Share this article