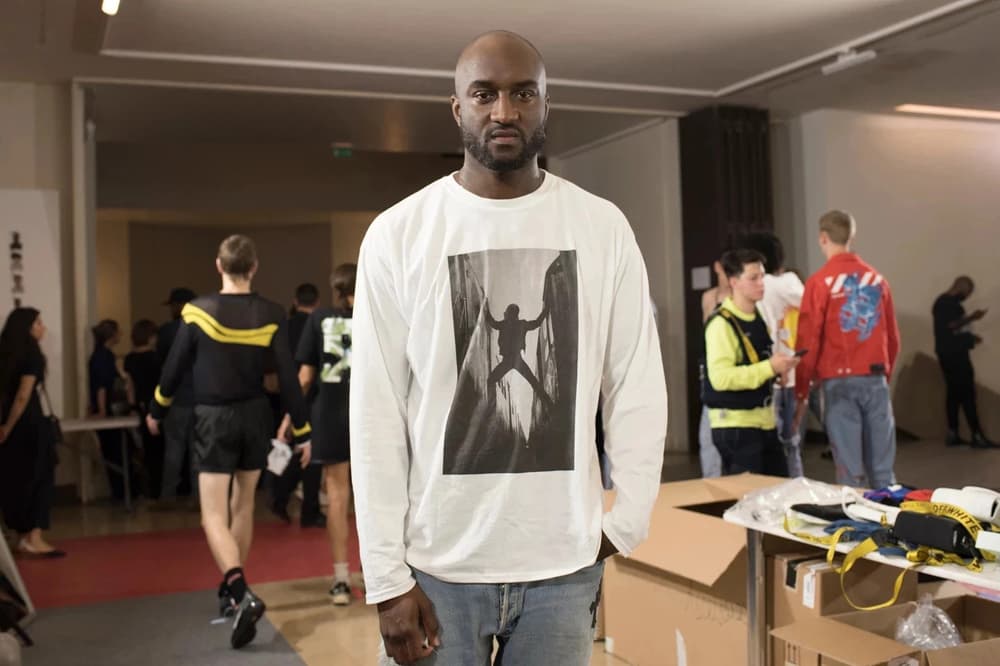 Fashion
Virgil Abloh Has Officially Entered the New Guard of Fashion Post-Louis Vuitton Show
A closer look at diversity, streetwear and the designer's creative journey.
Virgil Abloh Has Officially Entered the New Guard of Fashion Post-Louis Vuitton Show
A closer look at diversity, streetwear and the designer's creative journey.
"New guard" are two buzzy words that have been thrown around in regards to the designers, personalities and stars who have risen up the ranks within the fashion industry. If you looked up these two words in the dictionary, I'm 100-percent sure you'd see Virgil Abloh's name.
On Thursday, the Off-White™ creator and designer presented his first Louis Vuitton collection at Paris Fashion Week Men's after his recent appointment as the brand's menswear artistic director. Back in March, the news was fresh on the tongues of critics and fans, alike.
To be clear, this moment was a notable triumph for the black community here in the United States and abroad, as Abloh is Ghanian-American. But, if we're going to acknowledge Abloh, then we must also acknowledge Ozwald Boateng. Boateng was appointed creative director of Givenchy Homme back in 2003 and served through 2007. According to the New York Times, during this period of time in 2006, Virgil and his close friend Kanye West interned at Fendi together.
In August 2009, Abloh, who had studied at the Illinois Institute of Technology started RSVP Gallery in Chicago alongside Don C. Both individuals are close friends of Kanye and the store quickly blew up. The high-end boutique became a staple in streetwear with its conceptual interior design and exclusive drops. Fast forward to 2012 and Abloh dropped his first legitimate clothing collection — Pyrex Vision. The pieces which were astronomically priced featured large typography on basics like plaid shirts, tees and more.
Following up on the success of Pyrex Vision, in the early summer of 2014, Off-White™'s first collection made its debut in Milan. His streetwear inclinations were evident in the Spring 2015 range and Vogue candidly called the designer a "multitalented ambassador of youth culture." Remarkably, this testament is still true to this day as millennials and Generation Z flock to cop the designs presently. Abloh's rise to fame was inevitable. At some point, the reigns of fashion would be infiltrated by an individual from the outside. Louis Vuitton SS19 Men's runway show speaks loudly for the designer's journey over the past decade.
The celebrity-filled presentation was more than just a show, to those who have had their eyes on him for years. Of course, Kanye was there alongside Kim Kardashian, Kylie Jenner and Travis Scott. Fashion students were also invited to the show, which was undeniably an admirable gesture.
As the social media rollout ensued, it became quite apparent that Abloh and Christine Centenera who served as the show's consultant and stylist casted a shocking plethora of models of color. In fact in the past 14 Off-White™ womenswear collections, he has chosen predominately white models. In his first two women-centric collections, SS15 and FW15 there were no models of color featured. In contrast, for his Louis Vuitton SS19 menswear collection, out of 56 looks, the majority of the models were men of color. This was an interesting decision. Did the designer choose to place his womenswear designs on white bodies in the beginning to appease critics, editors and key decision makers in the industry?
Nevertheless, it was refreshing to witness diversity on a multi-colored runway in Paris. On Instagram, Abloh shared a post pointing to the meaning behind the show notes left on each seat. The notes consisted of maps featuring a world diagram showcasing each model's birthplace, and the birthplace of their parents. The caption reads: "essential to my show concept is a global view on diversity linked to the travel dna of the brand."
The spectacle unsurprisingly included fusions of pop culture. Since Abloh exists at the center of streetwear, fashion and youth culture, it came as no surprise that actual creatives were casted, including Kid Cudi, Playboi Carti and A$AP Nast. The emotional embrace showcased at the end of the collection between the designer and Kanye West was a pivotal moment for many. In total, the SS19 collection spoke to Abloh's love for precise designs, exquisite colors and slick detailing. His journey has been an eventful one to follow, and one that truly sticks true to the diversity sentiment he shared with his guests and fans alike.
Share this article