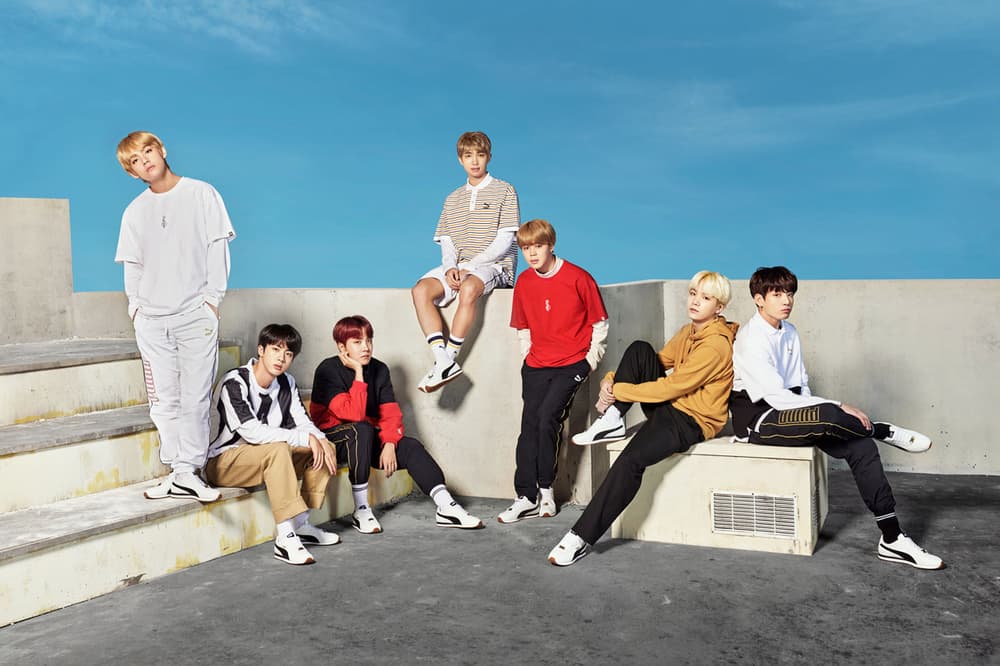 Music
The Top 9 K-Pop Groups You Should Know Right Now
Featuring BTS, NCT 127, Red Velvet, BLACKPINK and more.
The Top 9 K-Pop Groups You Should Know Right Now
Featuring BTS, NCT 127, Red Velvet, BLACKPINK and more.
K-pop is steadily on the rise stateside. Last year was one of the biggest year for the genre here in the United States. The ultra-talented groups who are dominating the Billboard charts are making quite a splash in the competitive music industry at the moment. In this roundup, we've handpicked nine of the biggest K-pop groups you should know.
Here enters BTS, one of today's most popular groups hailing from South Korea. Last year, the boy band was named by Time magazine as one of the most influential people on the Internet. Earlier this year, the video for "DNA" became the most-viewed YouTube video by a K-pop group of all time. All these instances point to the growing phenomenon that's happening worldwide.
Keep reading below for the top K-pop groups of-the-moment.
BTS
Also known as the Bangtan Boys, the seven-member Korean group (V, Suga, J-Hope, Jungkook, Jin, Jimin and RM) formed in 2012 made their American television debut last year at the 2017 Billboard Music Awards. During this appearance, the group won the "Top Social Artist" award pointing to its swift global ascendance. The most recent release from the group is the album, Love Yourself: Tear.
BLACKPINK
YG Entertainment's K-pop girl group BLACKPINK sprung to life back in 2016. The bilingual members (Lisa, Jennie Kim, Jisoo and Rosé) are known for singing and rapping in Korean and English which has created a sweet fusion of hip-hop and pop. Last month, Billboard reported that the quartet's single "DDU-DU DDU-DU" from their sophomore EP SQUARE UP was streamed over 12 million times in the U.S. alone.
EXO
SM Entertainment's boy band EXO first launched back in 2012. The nine-member group (Suho, Baekhyun, Chanyeol, D.O., Kai, Sehun, Xiumin, Lay and Chen) is known for embodying the following genres: pop, hip hop and R&B. Notably, the band's latest album COUNTDOWN featured an energetic track "Electric Kiss" which was their first Japanese single.
Red Velvet
SM's South Korean quintet Red Velvet has risen in notoriety stateside thanks to hit singles and albums. Irene, Seulgi, Wendy, Joy and Yeri debuted as a group back in 2014. Known for their energetic, seasonal hits, Red Velvet has successfully dominated the Billboard charts numerous times. Their latest release, Summer Magic – Summer Mini Album earned them their best U.S. sales week ever. The EP debuted at No. 3 on both Billboard's World Albums and Heatseekers Albums chart.
Big Bang
YG's supergroup Big Bang originally established back in 2007. Since its debut, the five-person group (G-Dragon, T.O.P, Taeyang, Daesung and Seungri) has been one of the most visible K-pop acts. Its fusion of genres is what the quintet is most known for. Additionally, Big Bang is known for being the first Korean band to play stateside arenas. The group's last single before the members begun their mandatory military service was "Flower Road." The bandmates have promised to regroup once each member fulfills their service. Notably, Big Bang has been on the Billboard 200 chart for Alive and MADE.
Oh!GG
SM's original group Girls' Generation was originally formed back in 2007. The girl group's original lineup featured Taeyeon, Sunny, Tiffany, Hyoyeon, Yuri, Sooyoung, YoonA, Seohyun and Jessica, who left the act back in 2014. Earlier this year, Seohyun, Sooyoung and Tiffany left the label two months after celebrating their tenth anniversary. The large group rose to fame in 2009 after its single "Gee" became a hit. Throughout its successful reign, the group, known for its soft sound saw two albums appear on the Billboard 200 chart. Notably, the altered lineup dubbed Oh!GG featuring Sunny, Taeyeon, YoonA, Yuri and Hyoyeon recently debuted a new single, "Lil' Touch."
iKON
Formed in 2015 by YG, the seven-member boy band (Ju-ne, Yunhyeong, Jinhwan, B.I, Donghyuk, Chanwoo and Bobby) released their second LP Return earlier this year. The group's album debuted as No. 4 on the World Albums chart back in February. Their breezy sound is prevalent on the project's lead single, "Love Scenario." Fast forward to the first week of August earlier this year, iKON's single, "Killing Me" was ranked the top-selling K-pop song in America for an entire week.
TWICE
JYP Entertainment's nine-member girl group TWICE (Nayeon, Jeongyeon, Momo, Sana, Jihyo, Mina, Dahyun, Chaeyoung, and Tzuyu) debuted back in 2015. The band originally formed on a reality television show titled Sixteen. The group's debut EP, The Story Begins, reached No. 15 on Billboard's World Albums chart. Notably, TWICE's music is coined as "color pop" and inspired by hip hop and jazz. BDZ is its latest album.
NCT 127
SM's NCT 127 recently announced the addition of another artist to the group (Taeyong, Taeil, Johnny, Yuta, Doyoung, Jaehyun, Winwin, Mark, Haechan and Jungwoo). Alongside the announcement of a new member, an upcoming full-length album Regular-Irregular is set to launch on October 12. This release will follow NCT 2018 Empathy which dropped earlier this year. The Seoul group hails from five different countries. Notably, NCT 127's May compilation Chain landed the No. 2 spot on Japan's Oricon weekly album chart.
---
Share this article