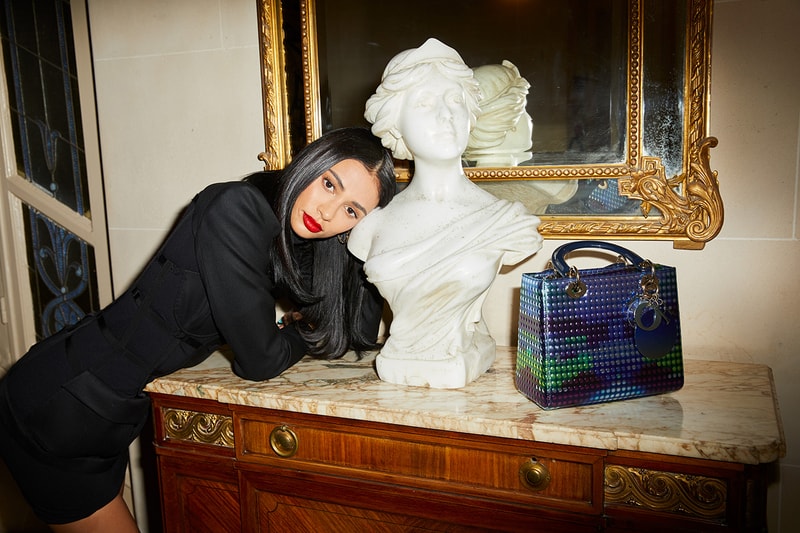 Beauty
Follow Kristen Noel Crawley as She Gets Ready for Dior Men's FW19 Show
From Dior Makeup to KNC Beauty, take a look at her Fashion Week beauty essentials.
Follow Kristen Noel Crawley as She Gets Ready for Dior Men's FW19 Show
From Dior Makeup to KNC Beauty, take a look at her Fashion Week beauty essentials.
There are very few people who traverses between the worlds of beauty and fashion so effortlessly like Kristen Noel Crawley does. Besides helping popularize lip masks stateside, the KNC Beauty founder never slacks when it comes to showing up at Fashion Week front rows with photo-worthy looks. Between managing her skincare line and traveling around the world for some of the industry's biggest shows and fêtes, not to mention being a mother of two, Crawley somehow always looks camera-ready with a natural glow and dare-to-experiment makeup.
As she's getting ready to attend Dior Men's Fall/Winter 2019 runway show, where the celebrated creative director Kim Jones presented his latest collection for the storied house, we caught up with Crawley to learn about her tried-and-tested regimen. In our conversation, the beauty mogul also touches upon the rapidly growing trend of men's makeup and skincare.
Read on for Kristen Noel Crawley's Fashion Week beauty essentials. While you're at it, take a backstage look at the Dior Men FW19 collection.
Kristen Noel Crawley's Beauty Essentials
KNC Beauty All-Natural Collagen-Infused Lip Mask: My KNC lip and eye masks are a staple. They keep me hydrated and refreshed.
Dior Forever Foundation: I often do my makeup myself during Fashion Week so I need a good foundation. Dior Forever is my go-to.
Kosås Color & Light Palette: Kosås' cream blush and highlighter compact is really convenient to carry around and the color is so pretty.
Buly comb: My customized hair comb from Buly fits in any purse perfectly.
Dior Addict Ultra-Gloss: My lip gloss from Dior makes my lips sparkle like no other.
Dior Sakura Fragrance: I'm wearing "Sakura" from Dior Parfums. It smells fresh and florally, and is one of my go-to favorites for everyday.
When traveling for an event, what are some things that you do before, during and after a flight to make sure your skin is at its best?
I always try to get a facial before and after traveling. During the flight, I'd pack some skincare essentials like cleanser, serum, eye masks and eye cream. I also practise lymphatic drainage massage so that I don't look puffy when I land.
Could you talk us through the makeup look you're wearing to the Dior Men show?
I decided to go with a bold red lip for the Dior show because I was wearing all-black. I love to either do a colorful lip or a striking eye.
A lot of people are saying that men's makeup and skincare are the next big beauty trend. As a beauty entrepreneur yourself, what are your thoughts on that?
I 100-percent agree! I've been saying it for a while and I can't wait to see some fun new brands catered to men's skincare needs.
What could you tell us about the next KNC Beauty product that you teased on Instagram late last year? 
It's a lip care product that will go hand and hand with the lip mask. The development process was long but I can't wait to release it. I hope that everyone loves it as much as I do.
Is makeup something that you'd like to develop for your brand in the future?
I definitely would love to have makeup in my line down the road, but for now I'm focusing on skincare.
Anyone who follows your Instagram would know that your nails are always on-point. Would you say that nail art plays a significant role in your personal style?
Totally! My nails are a reflection of my style — I love to match them to outfits and travel destinations. For example, I just had a really cute, sunset ombré with palm trees.
The same could be said about your sleek, shiny hair. What are your secrets to maintaining your tresses?
I am horrible at doing my own hair so I always have someone do it for me. My guy Rico is the best and he keeps my hair laid at all times.
What is a beauty innovation that you've tried recently that you're really impressed by? 
I really love my facial massager from Joanna Czech. It literally lifts your brows and cheekbones and keeps your skin healthy and refreshed-looking.
---
Share this article