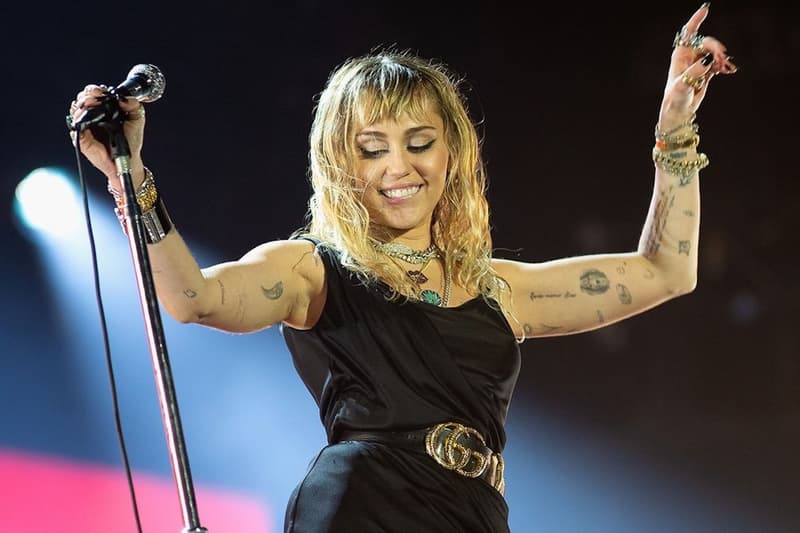 Music
Miley Cyrus' Upcoming 'She Is Miley Cyrus' Album Might Feature Cardi B & Shawn Mendes
The artist gives fans a sneak peek of the tentative tracklist.
Miley Cyrus' Upcoming 'She Is Miley Cyrus' Album Might Feature Cardi B & Shawn Mendes
The artist gives fans a sneak peek of the tentative tracklist.
Following her recent collaboration with Ariana Grande and Lana Del Rey, Miley Cyrus has been working hard to perfect a couple of new music projects these past couple of weeks. The singer is currently working on creating two more EPs to accompany her recent She Is Coming to form a complete album dubbed She Is Miley Cyrus. 
During Cyrus' Instagram Live session, she might have accidentally revealed two major artists she is planning on collaborating with: Cardi B and Shawn Mendes. According to MTV News, fans were given a sneak peek of a whiteboard with what appears to be a possible tracklist and a release date of November 23.
The 13-song list includes "Mother's Daughter" from She Is Coming, "Party Up The Street" and the RuPaul-assisted "Cattitude," as well as recent single "Slide Away." Some viewers were able to spot the song "Naked" featuring Cardi B, while Shawn Mendes may take part in "Playing With Fire."
While we wait for more details and confirmation to surface on Cyrus' upcoming EP, check out the possible tracklist for her next project below.
In other music-related news, Kanye West's new album Jesus Is King is now available for pre-order.
.@MileyCyrus shares a track list for a new project on Instagram Live! ?

• Sagitarius
• Mother's Daughter
• Slide Away
• Party up the Street
• American Dream
• Naked
• Golden G String
• Mary Jane
• Victoria
• Cattitude
• Bad Karma
• I Play With —
• Coldblood pic.twitter.com/veqiGmxi0Y

— Pop Crave (@PopCrave) October 21, 2019
Share this article