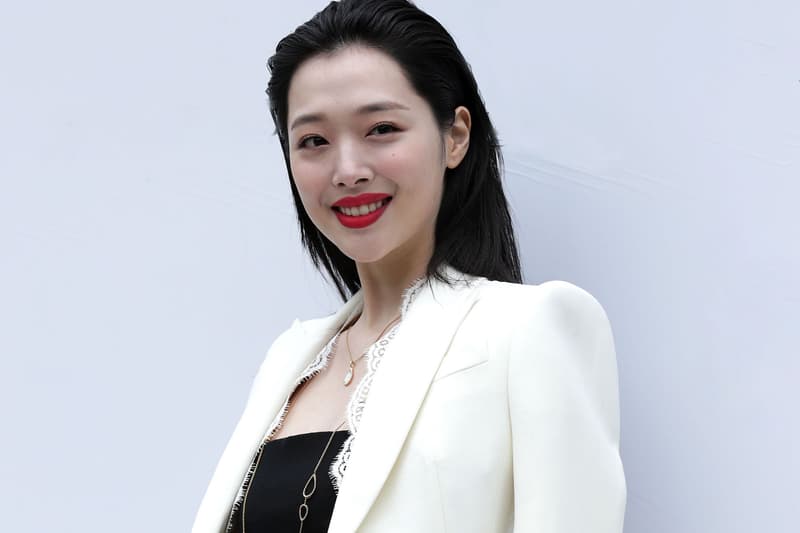 Culture
What Yet Another K-Pop Star's Death Tells Us About Social Media and Mental Health
Former f(x) member Sulli was recently found dead in her apartment.
What Yet Another K-Pop Star's Death Tells Us About Social Media and Mental Health
Former f(x) member Sulli was recently found dead in her apartment.
Fans and insiders of the K-pop industry are still in shock following Sulli's tragic death that happened on October 14. The former f(x) member was found dead in her home in Seongnam, a city near Seoul, and after performing an autopsy the police have ruled out the possibility of murder, with the majority of the public leaning towards suicide. 
The young star's funeral took place in Seoul for three days, with some of her closest friends like IU and former bandmates Krystal Jung and Victoria Song canceling their schedules to mourn her passing. Her ex-boyfriend and Dynamic Duo rapper Choiza took to Instagram for a short message to the late idol: "We spent some of the most beautiful moments of our lives together. I'm devastated to let you go, but will cherish all of the memories we have together. I miss you."
Making her television debut as a child actress in 2005, Sulli delved into the world of K-pop in 2009, joining SM Entertainment and its group f(x) with her fellow team members Amber, Krystal, Victoria and Luna with "LA chA TA." After leaving the group in 2015, she went back to focusing on her acting career, making a surprise appearance earlier this year in drama series Hotel del Luna with her best friend IU who played the main character, Jang Man Wol. Most recently, the late actress went back to music, making her solo debut with "Goblin."
The young star's death has certainly unleashed debate on the issue of mental health and cyberbullying. Sulli was commonly perceived as a celebrity with some of the most hate comments, as she regularly posted images of herself braless, which some find offensive in Korean society – responses included speculation that the star was doing it just for attention. The idol also received backlash when she would do Instagram Live sessions drunk.
"She looks like a fish and acts like an attention whore."

"Her only hit is not a song or drama series, but her Instagram feed."

"All she does is upload photos of herself braless. She was born to beg for attention."
Despite all of the hate and slut-shaming comments, Sulli was one of the very few celebrities who maintained an unapologetic attitude and stance on feminism. Being a woman in a relatively conservative society like Korea, she revealed that she wanted to break the norms surrounding women and what they can and cannot wear. "I went braless not because I wanted attention, but because that's what makes me feel comfortable. I also think that makes me look more beautiful and natural as a woman. To me, bras are accessories – I'll wear them if they fit my outfit, and won't if they don't," she explained on Night of Hate Comments, a TV show she had been hosting just before her death.
"When I went braless for the first time, there were all kinds of reactions. I could have just hidden from everyone, but the main reason I continued to upload these images was because I wanted to break the norm. I wanted to let people know that it's not that big of a deal after all."
She continued to voice her opinion throughout her career with her latest track "Goblin" as an attempt to open up conversations on mental health, and genuinely asking the public to accept people for who they are, rather than leaving hateful remarks because they are different.
While an equally serious issue in all parts of the world, South Korea is known to maintain one of the highest suicide rates in the world, with suicide being the number one cause of death in the country. As most K-pop and K-drama fans may already know, Sulli's death certainly is not the first to be associated with the issue of cyberbullying and mental health – two years ago, SHINee's Jonghyun was found dead with a suicide note mentioning he was "broken from inside" and suffering from depression. Earlier this year, former Kara member Goo Hara was sent to the hospital unconscious after attempting suicide and has been recovering since then. Back in June, Girls' Generation's Taeyeon shared her struggles with depression through her Instagram Stories, telling fans that she is "currently suffering from depression and taking meds to get better."
South Korea is relatively conservative when it comes to discussing mental health and depression – still to this day, a significant number of people look down upon attending therapy or visiting a psychiatrist – according to Ozy, "78 percent of elderly Koreans think being depressed means a person is weak." The same goes for feminism and sexuality – a professor of East Asian Studies at University College Cork in Ireland told PRI that while many female idols receive cosmetic surgery and wear provocative outfits, they are "still expected to adhere to outdated Confucian norms about sexual conduct in their private lives while men can do as they please." The conversation for both topics has since slowly been opening up as the general public is becoming more exposed to the issue with these unfortunate events.
Upon Sulli's death, more Korean celebrities have been calling attention to cyberbullying and mental health. Actor Yoo Ah-in took to Instagram to pay tribute to the late K-pop star with an emotional message. He finishes off his letter to her, where he describes her as an icon, with a message for all:
"I beg you to believe that nobody is wrong and that we're just different. We are all living the present to the best we can. Let's stop blaming each other, stop regretting our actions but rather reflect. Let's join our hands, open our hearts up and support each other."
This nation-wide buzz has led organizations like the Korea Entertainment Management Association, which SM Entertainment is also a part of, to reveal their plans to take strong actions against malicious commenters. Meanwhile, it has been reported that some members of the country's National Assembly will be proposing a bill, called the "Sulli Act," to create new laws protecting citizens from online abuse. The bill will be supported by around 200 celebrities who were also some of Sulli's close friends and colleagues and have suffered from cyberbullying themselves, along with 100 organizations including the Korean Government Employee's Union. The act will be officially proposed this coming December at the National Assembly, coinciding with the star's 49th-day memorial rite, a Buddhist ceremony commonly held in Korea for the deceased.
Banning malicious comments could aid in the prevention of cyberbullying, but will it be significant enough to stop tragic and devastating incidents like Sulli's death from happening again? After all, we live in an age where social media has taken over our lives and not much can be done to censor every single negative comment or mention out there. The change that Korea, and the rest of the world, needs is to open up a raw and honest conversation on accepting people for their differences, rather than viewing them as abnormal or wrong. Although it may take a while, all generations of the Korean society need to accept the fact that mental health is just as important as physical health – and we shouldn't be ashamed to receive help to get better.
Our deepest condolences are with Sulli's friends, family and fans. If you or someone you know may be struggling with suicidal thoughts, call the suicide prevention hotline available in your region.
USA: 800-273-8255
UK: 8457 90 90 90
South Korea: 1577-0199
Share this article