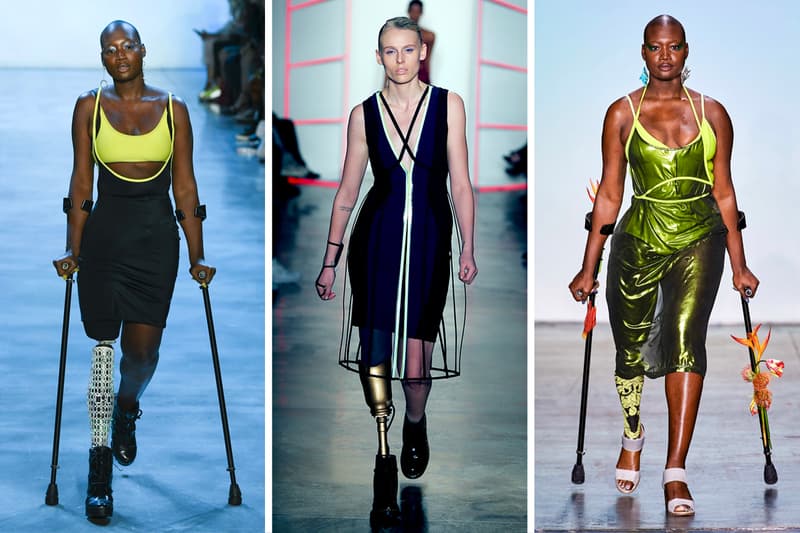 Fashion
Inclusivity and Adaptive Fashion Design Aren't Just Buzzwords
Meet the brands that are breaking into the uncharted territory of adaptive clothing.
Inclusivity and Adaptive Fashion Design Aren't Just Buzzwords
Meet the brands that are breaking into the uncharted territory of adaptive clothing.
You have most likely heard buzzwords such as "inclusivity," "diversity" or "adaptive design" within the fashion industry, especially within the last couple of years. In particular, there have been more and more conversations based around how to include people with disabilities in the fashion space. From FFORA and Chromat, to Tommy Hilfiger's Adaptive line, there are a few designers who are currently breaking into the uncharted territory of inclusive and adaptive design in an authentic way. What's important is that these designers do believe in the process of making inclusivity through adaptive clothing the norm and not just a temporary fad.
While these designers and brands launched themselves into the world of adaptive design for very different reasons, they all have one common denominator, which is a personal connection to at least one individual with a disability. From there, these designers have taken different approaches with the long-term goal of including a large demographic that has been overlooked in fashion design for many years previously.
Lucy Jones created FFORA after several years of research and development, beginning with her time at Parsons School of Design where she studied Fashion Design. After having a conversation with one of her family members who has cerebral palsy, it challenged Jones to think about the accessibility of her creations. This prompted Jones to begin reaching out to members of the disabled community to listen to their stories and hear their perspectives. Through the development phases, it turned out that many of the individuals felt that fashion did not cater to them, nor did they see themselves reflected in designs or even brand imagery. Alongside Joonas Kyöstilä, who serves as FFORA's Head of Industrial Design, Jones has been producing products with this demographic at the forefront of her mind instead of an afterthought.
For Jones, tackling the lack of adaptive wear in fashion sparked an awareness of other groups in society that may also be overlooked in the design process. "What's fascinating to me is that within each and every culture, there are a myriad of subcultures and sometimes tensions that run alongside them, but that's what makes the conversation and elevation so crucial," she explained. "It may sound obvious, but it's not as simple as placing people in buckets, it's about understanding a number of backgrounds, lifestyles, desires, needs, etc." Jones has been extremely thoughtful about this reality right from the inception of FFORA. The best moments that have stood out to her since launching her brand always revolve around the customers.
"We have been so humbled and overwhelmed by the emails and support we have seen. People sending us images of how they are using the products, sharing the word about the brand and sharing personal stories and insights and in general it feels like one massive collaboration. It has felt really organic and almost 'grassroots,' so we have been very pleased."
What's more is FFORA products are for everyone and are designed to withstand a rough and tumble, on-the-go lifestyle. Jones uses her Essentials bag in Hot Pink almost everyday.
Another pioneer of the adaptive design path is Tommy Hilfiger, who has produced an adaptive line for men, women and kids. Most recently, Hilfiger collaborated with Zendaya to create adaptive pieces that were featured in the brand's Fall/Winter 2019 collection. After a visit to Tommy Hilfiger's headquarters, we were able to see the details up close of what makes a garment adaptive. The brand showed us pieces from the adaptive collection beside pieces from the original collection, and we couldn't tell which was which. There were zippers that could be done up with one hand thanks to a magnet that zips up the garment for you, pants that had velcro placed along the sides of the leg to ensure ease of dressing, and strong magnetic buttons on shirts and jackets. With the goal of eventually producing garments that are merged into one category, instead of separating adaptive from non-adaptive, Hilfiger is setting new standards in fashion design.
Since starting her brand in 2010, Chromat's Becca McCharen-Tran has been challenging the rulebook of fashion over the past decade. She has always believed in designing products that genuinely reflect her values of inclusive beauty. In her recent decision to change focus from ready-to-wear to swimwear, her values ring true as she uses the collection to shake up society's perception of what the ideal body type is in a bikini. Taking the time and care to create swimsuits that was not only inclusive and empowering, but also producing something that people wanted to buy was vital to the business.
With the industry evolving towards more of a direct-to-consumer format, companies are being pushed to answer to their customers' needs and are being kept accountable through social media. The development of adaptive products can be a slow process, but necessarily so in order to ensure that every detail of an item is being carefully thought through. Achieving top quality items that include everyone in the end product is no easy feat. However, it is a worthwhile journey that many other brands can and should aspire to embark on. FFORA, Tommy Hilfiger and Chromat are some of the leaders in this realm, but inclusive voices are on the rise and it won't be stopping anytime soon — or ever for that matter.
Editor

Teresa Lam/Hypebae
---
Share this article