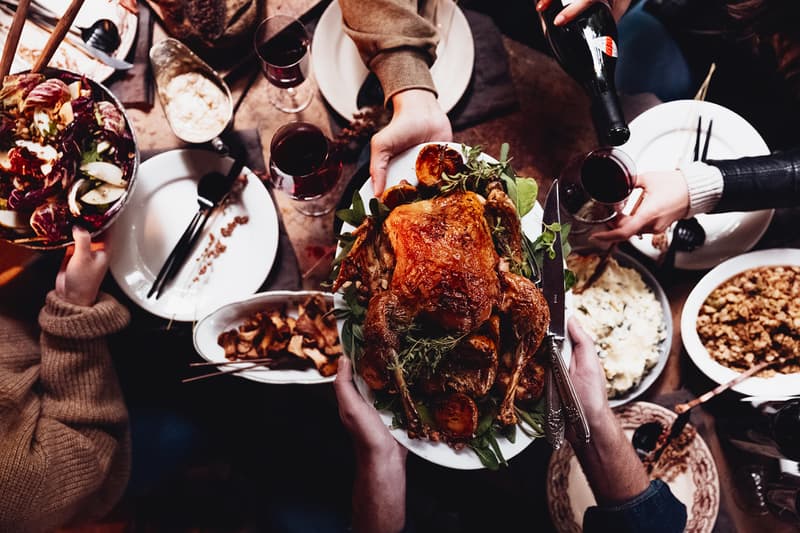 Here Are 13 Easy Christmas Recipes For You to Try at Home
'Tis the season.
One of the best parts of the holidays is indulging in more than five meals a day and not feeling guilty about it. Christmas is all about a good feast and if you're in charge of this year's dinner, we've gathered the easiest recipes for you to try at home ranging from savory to desserts.
From a classic chicken roast to a sweet, warm apple pie, scroll through our list below and pick out your favorite recipes for the ultimate holiday dinner. In case you missed it, here are 10 simple and healthy snacks to eat at work.
SAVORY
Fondue
Ingredients:
1 garlic clove, halved
1 pound Gruyère cheese, grated
1/2 pound Emmentaler cheese or other Swiss cheese, grated
1 cup dry white wine
1 tablespoon plus 1 teaspoon cornstarch
1 teaspoon fresh lemon juice
1 1/2 tablespoons kirsch
Freshly ground pepper
Freshly grated nutmeg
Instructions: Food and Wine
Toasted Rosemary Pecans
Ingredients:
4 cups pecan halves
4 tablespoons unsalted butter, melted
1 1/2 teaspoons salt
1 teaspoon dried rosemary, lightly crushed
1/2 teaspoon sugar
Instructions: Food and Wine
Roast Beef
Ingredients:
3 to 3 1/2 pounds of Boneless Rump Roast (pick an end cut with a layer of fat if you can)
1 tablespoon extra virgin olive oil
8-10 slivers of garlic (3 to 4 cloves, sliced in half or into thirds)
Salt and pepper
Gravy:
Red wine, water, and or beef stock
Cornstarch
Instructions: Simply Recipes
Roast Chicken
Ingredients:
One 2 to 3-pound farm-raised chicken
Kosher salt and freshly ground black pepper
2 teaspoons minced thyme (optional)
Unsalted butter Dijon mustard
Instructions: Epicurious
Mashed Potatoes
Ingredients:
4 pounds (12 medium) russet potatoes, peeled
1 1/4 cups hot milk (we used whole milk)
2 sticks (1 cup) unsalted butter at room temperature (not melted)
1 1/2 teaspoon sea salt, or to taste
1 tablespoon fresh parsley or chives, finely chopped for garnish
Instructions: Natasha's Kitchen
Mac & Cheese Casserole
Ingredients:
8 ounces elbow macaroni (uncooked; about 2 cups)
4 tablespoons butter
Kosher salt (to taste)
2 1/2 cups cheddar cheese (shredded, divided)
Black pepper (to taste)
2 large eggs
1/2 cup milk
Garnish: paprika
Instructions: The Spruce Eats
DESSERT
Pavlova
Ingredients:
4 egg whites
1 1/4 cups white sugar
1 teaspoon vanilla extract
1 teaspoon lemon juice
2 teaspoons cornstarch
1 pint heavy cream
6 kiwi, peeled and sliced
Instructions: All Recipes
Cinnamon Rolls
Ingredients:
Yeast:
1 cup milk warmed to the touch
1/4 cup melted butter
5 tablespoons granulated sugar
2 1/2 teaspoons quick-rise yeast (or look for instant or rapid-rise yeast)
Rolls:
1 large egg lightly whisked
3 1/2 cups all-purpose (or plain) flour
1/4 teaspoon salt
Cooking oil spray
Filling:
1/2 cup loosely packed brown sugar
2 tablespoons ground cinnamon
2 tablespoons butter melted
Icing:
4 ounce cream cheese room temperature
2 tablespoon melted butter
2 tablespoons milk
1 teaspoon pure vanilla extract
1 cup powdered sugar
Instructions: Cafe Delites
Banana Cream Cheesecake
Ingredients:
Cheesecake:
2 cups crushed chocolate sandwich cookies
1 tablespoon butter, melted
3 (8 ounce) packages fat-free cream cheese, softened
3/4 cup white sugar
3 eggs
1/2 cup mashed banana
1 teaspoon vanilla extract
Topping: 
2 1/2 cups cold milk
2 (3.4 ounce) packages instant vanilla pudding mix
1 cup fat-free frozen whipped topping, thawed
1 sliced banana, or more to taste
Instructions: All Recipes
Apple Pie
Ingredients:
Pie dough for top and bottom 9-inch pie, chilled (Flaky Pie Crust Recipe)
4 to 4 1/4 pounds baking apples (7 to 8 apples)
1/2 cup light or dark brown sugar
1/2 cup granulated sugar
1/4 teaspoon fine sea salt
1 teaspoon ground cinnamon
1/4 teaspoon ground ginger
1/4 teaspoon ground cardamom
1/4 teaspoon ground allspice
1/4 teaspoon freshly grated nutmeg
2 tablespoons cornstarch or use 4 tablespoons tapioca flour/starch
1 tablespoon butter
1 egg
Instructions: Inspired Taste
Brownies
Ingredients:
1 cup unsalted butter, melted and cooled
2 tablespoons vegetable oil
1 1/4 cups white sugar
1 cup packed light brown sugar
4 large eggs, at room temperature
1 tablespoon pure vanilla extract
3/4 teaspoon salt
1 cup all-purpose flour
1 cup good quality, unsweetened cocoa powder
7 ounce roughly chopped chocolate or large chocolate chips
Instructions: Cafe Delites
DRINKS
Mulled Wine
Ingredients:
1 bottle red wine
1 orange, sliced into rounds, plus more for garnish
6 whole cloves
3 cinnamon sticks, plus more for garnish
3 star anise
1/4 cup honey
1/2 cup brandy
Instructions: Delish
Hot Chocolate
Ingredients:
3 tablespoons cocoa powder
3 cups whole milk
6 ounces semisweet chocolate, finely chopped
3 tablespoons demerara or granulated sugar
Lightly sweetened whipped cream (for serving)
Instructions: Bon Appetit
---
Share this article