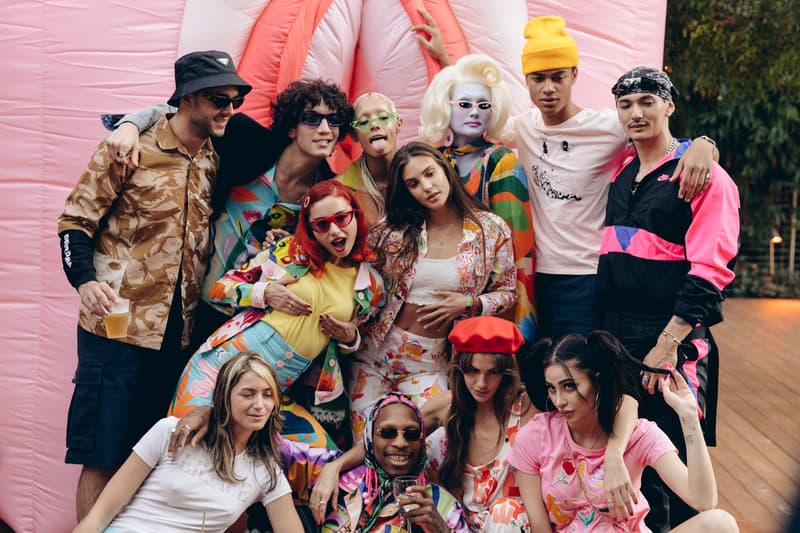 Fashion
Desigual Evocatively Blurred the Lines of Fashion, Art & Culture at Art Basel Miami Beach 2019
CMO Guillem Gallego also details how this plays into the rebrand.
Desigual Evocatively Blurred the Lines of Fashion, Art & Culture at Art Basel Miami Beach 2019
CMO Guillem Gallego also details how this plays into the rebrand.
According to Desigual's CMO Gulliem Gallego, the Barcelona-based fashion brand's namesake translates into English as "different." And during Art Basel Miami Beach 2019, this sentiment, reverberated throughout the city, as brands and entities sought to captivate throngs of onlookers converging in search of finding artistic novelty. The southernmost region of Florida produced a crowded playing field where many sought to authentically stand-out with grandeur displays. However, there is a fine-line to walk when breaking through the noise to avoid a feeling of being forced. It leaves many people wondering how to legitimately be "different?" For Desigual, it isn't a question of how, as the codes to be different and push boundaries have been at the core of its DNA since its founding.
In Miami, the inclinations of the brand's founders were recast with a modern perspective for a two-day spectacle. Keeping in mind the values of its origins, Desigual established an allusive dialogue through art, fashion and culture, set to extend the boundaries of the attendees' comfort zones by presenting the SS20 collection from Catalan-based multi-hyphenate artist Miranda Makaroff's at the Nautilus by Arlo hotel. The unapologetic exhibition was steeped in femininity and sexual liberation, underscored in her sustainably made garbs in collaboration with Desigual.
The manifestation of this connection was personified through an onsite inflatable vagina. Influencers, such as UGLYWORLDWIDE, and guests were ushered inside the larger than life genitalia. Inside was a sculpture depicting five women interwoven into each other in a performance of natural, sexual bliss — a reference to the true originator pleasure, Eve. Hovering just above the heads, the strikingly fabricated clothes — emblazoned with references towards sex positivity and ecstasy — appeared to have been excitingly thrown off, suspended in mid-air.
The conclusion of Desigual's Art Basel Miami Beach activations defied the typical perceptions of a runway performance with the "Love Different" show. Rather than having an assortment of models strut down the catwalk, Carlota Guerrero — an art director, photographer and a creative partner to Solange and Rosalia — curated a spell-binding exhibit. With the audience completely dressed in white, the space was filled with a rush of color as models, most notably Lourdes Leon, and dancers gallivanted across the floor. They wore flowy numbers featuring a rush of vivid hues and striking patterns that encompassed a floral and ancient appeal, similarly seen Mayan garbs. Each member of the group danced their way down to the set in a balance of power and softness. They arrived at a lithic structure where bodies partnered with each other in twos and threes. The dynamic result was a raw, sensual display of kissing and embracing of one another. Clothes were then striped by their kissing-counterparts with a certain slowness and attention to detail until they were naked. Finally, the models came together to entangle their limbs in an orgiastic form, seamlessly moving hands across one's own person and onto their peers around them. At the show's conclusion, the space erupted in an unequivocal acceptance and admiration for the presentation, just before DJ Black Madonna closed out the event.
Such moments from the brand are not isolated instances. This was all done with the intention of setting a new mission for the brand. Sitting down with HYPEBAE, Desigual CMO's, Gulliem Gallego, described how the week commenced the new way the brand would move in 2020 and beyond.
How was Art Basel Miami Beach decided upon as the location where Desigual would debut its rebrand and host the Carlota Guerrero-led fashion show?
Art Basel in Miami Beach is a very natural spot for Desigual to be. Desigual was born in Barcelona in 1984 by the combination of an artist and a designer who brought to life a proposition that was about diversity and creativity — and those were the intentions. For us, Barcelona and Miami are cities that represent that totally.
That's also part of this strategy — not going into fashion weeks, not doing catwalk shows. We want to take Desigual to Art Basel in Miami, we want to go to Design Week in Milano and we want to do Sonar in Barcelona — which is a massive music festival. We want to connect the brand to moments that are a little bit outside of fashion and that connect with culture, music and art. That's where we feel more comfortable as a brand, and that's why at the end of the day this week and Miami feel like a perfect fit for us.
What we're trying to do is get back to those values and understand them very well and communicate them very well, but in the code of today.
When reestablishing the label's presence, how are you maintaining Desigual's roots while connecting to new generations?
At the end of the day, we wanted to go back inside and try to understand who we were and what were the reasons that moved and created this brand. What we're trying to do is get back to those values and understand them very well and communicate them very well, but in the code of today. So, how can we connect with the new generations to what we see and what we feel? At the end of the day, it's through a lot of love and it's a lot of color and it's a lot of diversity and inclusivity.
Here we are showcasing a collaboration with Miranda Makaroff. She's a sex activist — that's the way that she describes herself — and we brought to life a collection that is based on her prints, which talk about this idea of open sex and open relationships. And for it, we've brought to life a massive vagina where inside you can find the prints and the collection.
Why is it important that the core of the brand be situated in values related to inclusivity and openness?
I think that's because that's the truth of the brand. From the beginning, this group of friends who started the brand was traveling between Barcelona and Ibiza. Spain was coming out of a massive dictatorship and it wasn't like a massively open moment for everybody. But, those were the hippie times where there was openness in terms of partying, sex and relationships. So those became the values of the brand. And I think what's special about this brand is that we don't depend on anybody else, like any big group or stakeholder. This is still a family-owned business and it's owned by the same person, so we were not afraid of showing who we are.
Imagine a world where we can all be ourselves: Completely free, special and [have] freedom of speech.
With everything from the rebrand to the collabs to the new clothing offerings, what is the core messaging you want consumers to walk away with?
We've just launched this [new] tagline for the brand, which is the message that is behind Desigual. Desigual, as a word, means "different." So, something that is not the same, in Spanish. And we've launched a new claim: "Love Different." For us, "Love Different" is about loving different people — diversity but also loving in different ways. So loving yourself, loving mothers and loving the world in a different way. That's the takeaway that we want.
Imagine a world where we can all be ourselves: Completely free, special and [have] freedom of speech. Hopefully [audiences] can take away that as a message with our products: collaborations with artists, [whose] completely open designs are very, very different from any mainstream brands; originally made and designed in Barcelona, by a group of very talented creatives; and [our] more sustainable pieces.
Social media presence can't be neglected by brands as of late, so what ways will Desigual continue to engage social platforms?
At the end of the day, social media IS the channel where our consumer lives and stays on more and more time of the day. We're trying to be disruptive on Instagram, showcasing a brand that is fun, colorful and has something to say. So working a lot with the messaging, working a lot with the content and trying to collaborate with artists to bring in that creative side.
Humbly said, we want to become a global icon.
What are the goals and what you're most excited for Desigual in 2020?
Our main goal for us in 2020 is to take Desigual to new spaces. Humbly said, we want to become a global icon. We want to make sure that this brand takes off and can be a proposition that anybody, anywhere in the world can fit in. It's going to be the year where we're going to invest more in communication, new products and collaborations to tap into new audiences in different places of the world.
The most exciting things are the collaborations with Miranda, and we're doing a collaboration that will be aligned to New York in December with a brand that makes all the clothing out of recycled plastic. They pick up bottles from the ocean and use them for fabrics. We've been collaborating with them and we're going to be creating a line of jackets, bags and shoes made out of the fabric.
So sustainability is in mind, too?
Absolutely. Sustainability is the focus on this collaboration, in particular and with this brand. Sustainability is a must for fashion brands now, and, at Desigual, we are very conscious of this as we strive to be a more sustainable brand.
Check out images from Desigual's activations at Art Basel Miami Beach above and stay tuned to Desigual's website to find out what the brand has in store.
---
Share this article