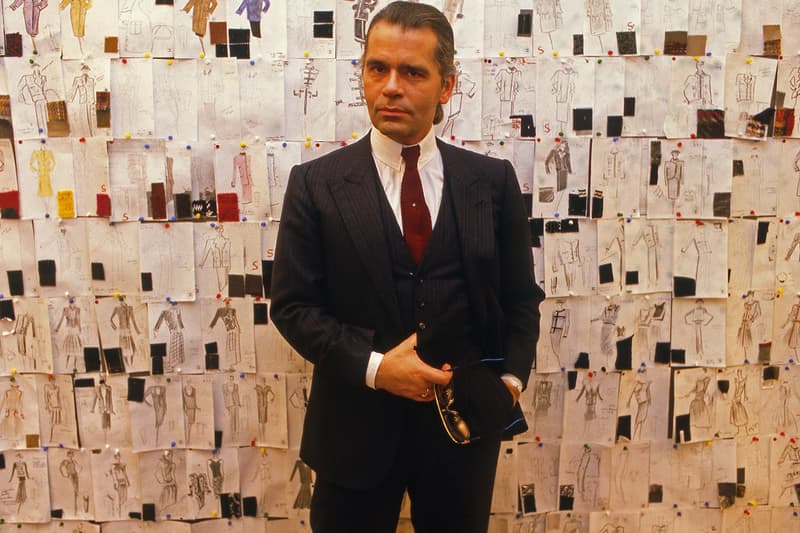 Fashion
A Look Back at the Inimitable Legacy of Karl Lagerfeld
The iconic designer has passed away but his work will influence the fashion industry forever.
A Look Back at the Inimitable Legacy of Karl Lagerfeld
The iconic designer has passed away but his work will influence the fashion industry forever.
Yesterday, news broke that legendary designer Karl Lagerfeld had passed away age 85. Known mostly for his impressive tenure as creative director at Chanel, Lagerfeld was one of the the most innovative, iconic and seemingly everlasting visionaries in the fashion world. Acclaimed not only as a fashion designer but also as a costume designer and prominent photographer who shot magazine covers and advertising campaigns for some of the world's biggest brands, his work has had an enduring impact on many and to honor his legacy, we're taking a look back at his life and many accomplishments over the years.
Born as Karl Otto Lagerfeldt (he later amended the spelling of his surname) in Germany in the 1930s, Lagerfeld moved to Paris age 14 and got his start in 1954 after winning the renowned Secrétariat International de la Laine (now known as the Woolmark Prize) for a sketch of a coat. This nabbed him a job as the assistant to Pierre Balmain, one of the biggest designers at the time; following this, he went on to work at Jean Patou and later, Chloé.
It wasn't until 1965 however that he began one of the tenures for which he is best know, at Italian house Fendi where he retained his position for over a staggering five decades. He worked closely with the Fendi sisters throughout his career and together they transformed the brand into the luxury powerhouse it is today. He also launched his namesake line in 1984, a year after he took the reins as creative director at Chanel – the position he will forever be best known and celebrated for.
At the time, Chanel was a suffering brand; it had basically been stagnating since the death of Coco Chanel a decade earlier. Although there was much concern that Lagerfeld, a designer who had previously dismissed the need for the craft of Haute Couture, would be a good fit for a brand, critics were silenced when he presented his first couture collection for fall 1983.
With each year since, Lagerfeld continued to amuse, delight and inspire the fashion industry and enthusiasts alike with his couture and ready-to-wear spectacles that saw him transform the Grand Palais into everything from a Chanel-branded supermarket, a recreation of the Eiffel Tower and an all-white undersea scene to the unforgettable arctic adventure in fall/winter 2010 which featured a literal 265-tonne iceberg, imported from Scandinavia.
In his later years, Lagerfeld had the mammoth task of designing fifteen collections every year, for three incredibly different houses – Chanel, Fendi and of course, his eponymous brand. You'd think with an undertaking this large, his creativity would surely falter but year upon year, Lagerfeld blessed us with aspirational, dramatic and beautiful collections and shows that substantiated exactly why he was a widely-proclaimed genius and so completely deserving of his unofficial title as the "Kaiser of fashion."
As well as celebrating its heritage, Lagerfeld was a major force in driving the industry forward. He was a notable early adopter of collaborations; he kick-started H&M's limited-edition designer collabs back in 2004. Following that, he partnered with Faber-Castell, Vans, Diet Coke, PUMA and more. He even got his beloved cat Choupette in on the action; the kitty landed her own branded products with Shu Uemura and her likeness created by toy manufacturer Steiff.
His distinct aesthetic, with his mostly black wardrobe, penchant for sunglasses and iconic 18th century-esque white ponytail, as well as his often snippy remarks, helped cement his status as a bona fide pop culture icon. He wasn't without his issues however; he was regarded as a "nemesis" and frequent target of PETA due to his continued use of fur and his comments on size and sexual harrassment in the fashion sphere were the center of much controversy and reinforced many negative stereotypes of the fashion industry.
These elements have largely been eclipsed by his work, which itself of course will remain his greatest legacy; with a career that spanned over seventy years, Lagerfeld was without a doubt one of the greatest and most acclaimed design talents of his generation.
Alongside his remarkable contribution to fashion, we'll fondly remember him for his love of Diet Coke (it was reportedly all he drank, consuming up to 10 cans per day), the fact he claimed to have lost 200 lbs simply to "wear suits by Hedi Slimane" and his frankly insane collection of 300 iPods. As someone who defined the fashion landscape for such a long time, it's almost hard to imagine the world without him in it however his passing marks a shift towards a new era for Chanel, and it will be interesting to see how the brand adapts and progresses with a new creative director at the helm.
While there have yet been no formal announcements about his final FW19 show, scheduled for March 5 during Paris Fashion Week, it's clear that an air of deep sadness will entrench the city as the fashion industry descend upon it this season.
"I do not want to be a reality in the lives of others," Lagerfeld once famously said, "I want to be like an apparition, that appears and then disappears." While he may have disappeared from the physical realm it goes without saying his indisputable genius and legacy will continue to inspire creatives in decades, even centuries, to come and live on through them forever.
---
Share this article