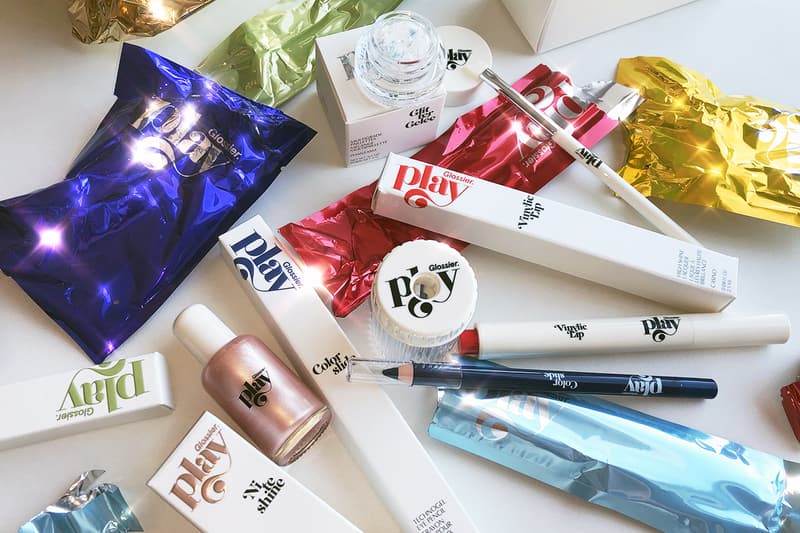 Beauty
What I Like And Don't Like About Glossier Play Products
An honest review on the new color cosmetics brand by Glossier.
What I Like And Don't Like About Glossier Play Products
An honest review on the new color cosmetics brand by Glossier.
Like many loyal customers of Glossier, I was pleasantly surprised when the beauty brand announced a new offshoot called Glossier Play in late February. Diverting from the dewy, no-makeup makeup aesthetic that the cosmetics company is often associated with, Glossier Play is dubbed a new line of "dialed-up beauty extras," with a bundle of four makeup items launching as its hero products: the Colorslide technogel eye pencil, the Vinylic Lip high shine lacquer, the Niteshine highlighter concentrate and the Glitter Gelée multigrade paillettes.
With a chic launch campaign fronted by a group of dancing models, including Troye Sivan who's done up with nighttime-appropriate, glittery blue eyelids, the new brand certainly feels exciting — but does the on-point branding automatically make Glossier Play products must-haves in our makeup routine? I tested out the entire range to find out if it's worth the hype.
WHAT IS IT: A gel eyeliner that promises to be crease-proof, smudge-proof and last up to 12 hours.
PRICE: $15 USD
REVIEW: The shade that I tried out is the deep indigo "Adult Swim." I'm typically not that adventurous when it comes to eyeliner, and this dark blue color serves as a great alternative to the black and brown options in my makeup bag. It isn't as in-your-face as cobalt blue but is definitely noticeable at a close distance.
While I do like the smooth texture of the eye pencil and how easily it glides onto the skin, I have to say that the formula isn't as pigmented as I've imagined. Contrary to the brand's "highly pigmented" description, it takes layering on top of previous strokes about five times until the blue doesn't look faded or smudgy. When compared to my go-to Marc Jacobs Highliner ($25 USD) and Urban Decay 24/7 Glide-On Eye Pencil ($22 USD), the color payoff of Colorslide does appear weaker.
As for the product's lasting power, I only experienced very minimal smudges after over 12-hour wear, so that's quite impressive. And for that reason, I'm tempted to pick up one of the bolder and brighter hues from the 14-shade range to see if I'd like the pigmentation better.
WHAT IS IT: A lip lacquer with a high-shine finish.
PRICE: $16 USD
REVIEW: The Vinylic Lip has to be my favorite product from the Glossier Play line so far. While I tend to find lip lacquers messy and hard to apply evenly, this click-pen-style lipstick makes the job easy and fuss-free, thanks to its sponge tip applicator. I personally prefer this design over a doe-foot applicator as its shape really helps tracing the lip line. To avoid excess product from oozing out, refrain from clicking aggressively however satisfying it may feel – you should be able to yield just the perfect amount of product to work with after two to four clicks.
This lip vinyl is available in six different shades. In particular, the "Casino" shade I wore is a statement-making orange hue that's ideal for spring and summer. Upon application, it looks as if you have topped a lip color with a gloss. And the lipstick actually feels creamy and moisturizing, too. The scent of the Vinylic Lip, despite not really highlighted by the brand, is quite nice as well. There's a subtle fruity smell to it which I find enjoyable.
One thing to note, however, is that the lippie does transfer quite a bit after a few sips of drinks, as with many other lip lacquers. The high-shine, glossy look may not last throughout the day, but you can still expect to see a an even layer of color on your lips.
WHAT IS IT: A buildable liquid highlighter that creates a foil-like finish.
PRICE: $20 USD
REVIEW: When I first saw the "Pale Pearl" shade of Niteshine, the first thing that came to my mind was how much it resembles Benefit's High Beam liquid highlighter ($26 USD) in terms of its packaging and satiny pink color. Instead of a nail polish-like brush, Glossier Play's highlighter concentrate comes with a chubby doe-foot applicator, which I'm not a big fan of as it keeps getting stuck at the neck of the bottle.
The formula itself isn't as likeable as Glossier's cult-loved Haloscope either. While the brand describes Niteshine as a "high-impact" highlighter, the shade looks almost too washed out on my medium-pale skin tone. A few hours in and the glow on my cheekbones was nearly non-existent.
Could this just be a wrong shade for me? I went on Glossier's web store hoping to check out photos of Niteshine on a number of different skin tones, only to find out that there's only imagery of one model wearing the product. Hopefully the brand will work on adding more on-model shots and swatch images to the website, as it's frankly quite difficult to tell what the shades actually look like for online consumers.
WHAT IS IT: A glitter gel made with multi-dimensional paillettes that claims to last up to 12 hours.
PRICE: $14 USD
REVIEW: I wore "Phantasm" on my eyelids on its own the other day, and received so many compliments from friends and strangers alike. The gel-based product is extremely easy to apply, especially with the help of the brand's Detailer silicone precision tool. Admittedly, the light-reflecting, holographic glitter pieces make it seem as if you've put in a lot of effort when it actually takes no time to achieve the playful eye look. The gel didn't irritate my skin, and the sparkly specks did stay put for the whole day and didn't accidentally fall into my eyes.
The problem with Glitter Gelée, as many have pointed out on social media, is that the glitter isn't biodegradable — it's made of pieces of microplastics. In the product instructions, Glossier Play suggests that customers remove the gel with a cotton pad and cleanser instead of washing it off directly with water to avoid getting the glitter into the waterways. I gave that a try and I must say it's a cumbersome task. Even though I've only got the slightest amount of product applied, it took minutes before I was able to get every single piece of fine glitter off of my face — it was dispersed all over my face as I was attempting to remove my makeup. I could imagine someone getting impatient with that or missing pieces of paillettes on their face before they proceed to shower. With that in mind, I wouldn't recommend the product unless it's updated with a more sustainable formula.
Final Thoughts
Products aside, one thing that kept me wondering about Glossier Play is the amount of packaging being used in the line. I've always loved Glossier's pink, bubblewrap pouches for their potential to be repurposed, whether as a travel makeup bag or a pencil case. On the contrary, the new brand seems to be employing more packaging than actually necessary.
Every single product in the lineup — even the Blade eyeliner sharpener – is placed inside a candy-colored, metallic foil packaging within a box. Sure, the rainbowy hues may be photogenic but it also seems to be a little wasteful, even to someone like myself who's usually a sucker for cute packaging. In addition to developing more effective and environmentally-friendly formulas and offering more useful information about the products on its website, the brand might wish to fine-tune its packaging methods as it continues to expand.
---
Share this article