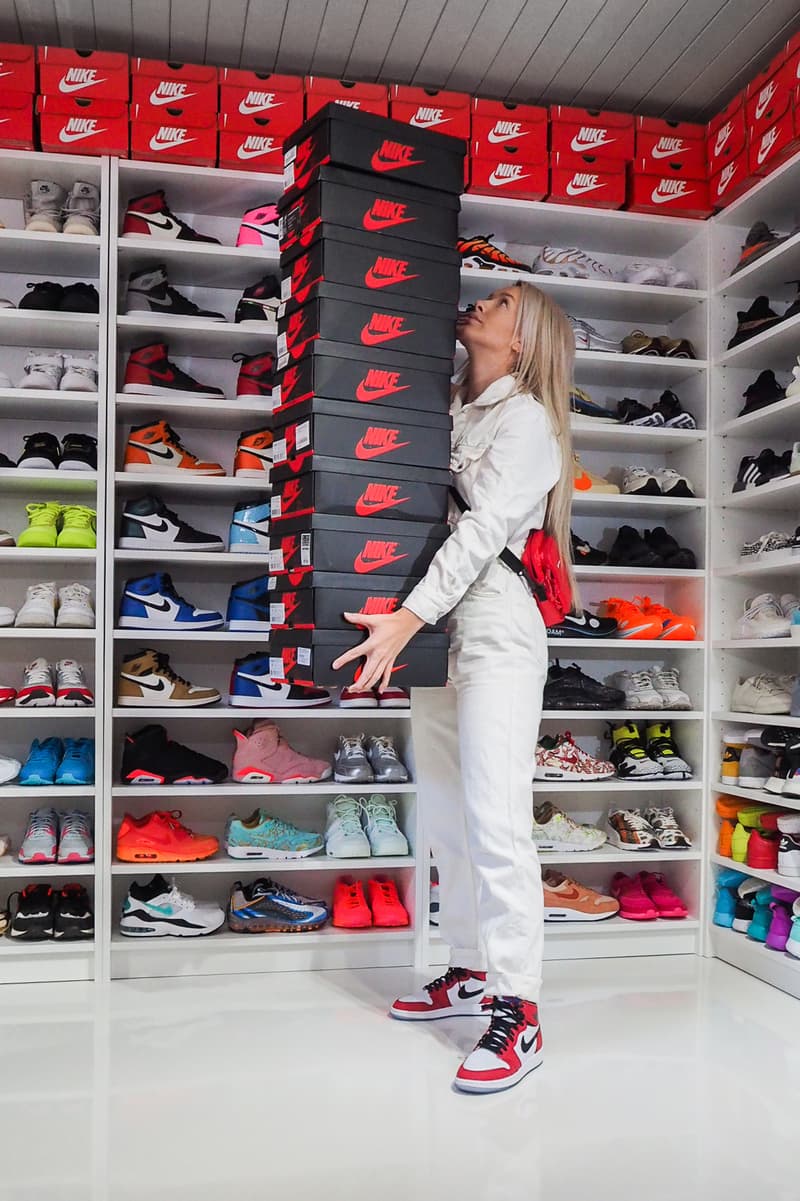 1 of 2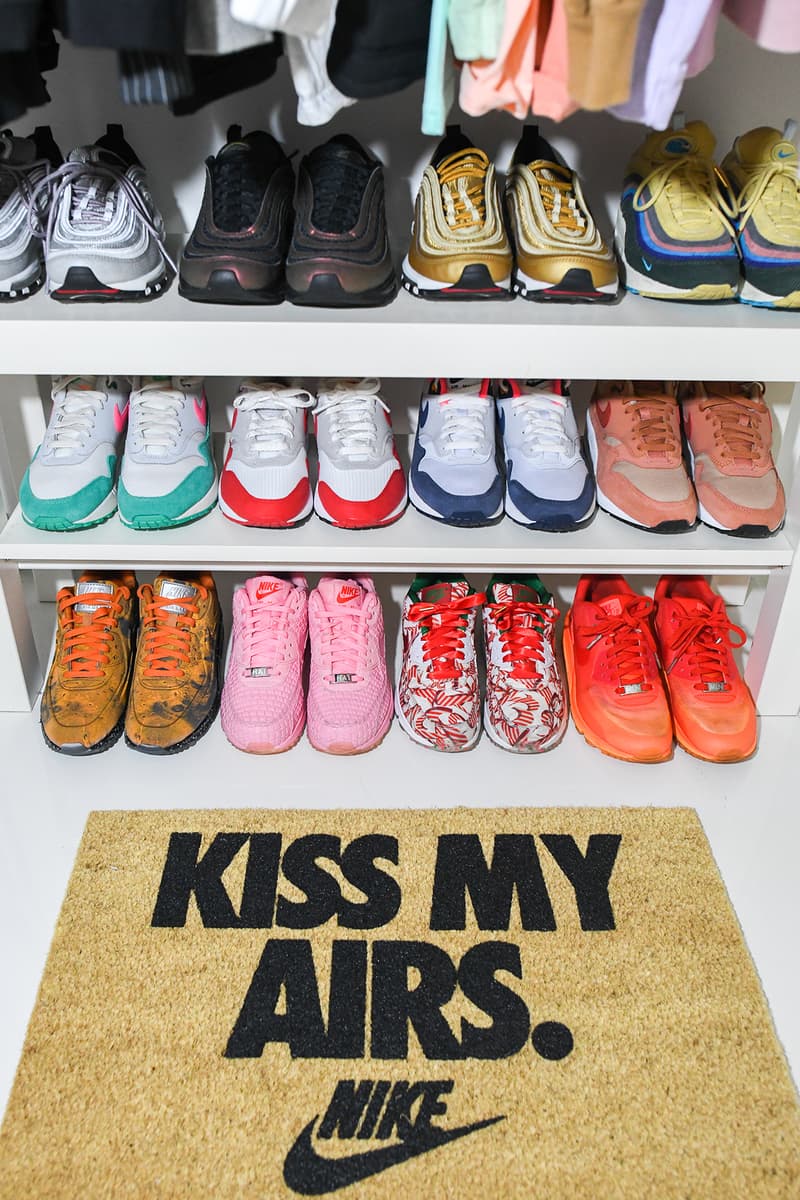 2 of 2
Footwear
Baes With Kicks: Hanna Helsø
Based in Norway, she has one of the largest sneaker collections in the country.
Baes With Kicks: Hanna Helsø
Based in Norway, she has one of the largest sneaker collections in the country.
In a faraway town in Norway called Stjørdal, there lives a dedicated sneaker collector who has accumulated a treasure trove of some of the most iconic trainer silhouettes and colorways ever. With over 200 pairs of kicks from Nike, Converse and Reebok, Hanna Helsø's footwear closet is envy-inducing, but living in a remote municipality that is an eight-hour drive away from the country's capital makes shopping for coveted sneakers a feat of its own.
In the latest installment of our Baes With Kicks series, Helsø details how social media and the the equally sneaker-obsessed friends that she has made online have helped build her impressive collection of Air Max sneakers, Air Jordans and more. In our interview, she also touches upon the shortcomings of sports brands when it comes to being inclusive of female consumers, as well as what the future of sneakers for women should look like.
Name: Hanna Helsø
City: Stjørdal, Norway
Occupation: I am currently studying psychology and working with children that have behavioral issues. I also work part-time at an ice cream shop.
Your sneaker collection is literally massive. How many pairs do you currently own?
I haven't done a count in quite some time, so I usually go with around 200, but that number could easily be somewhere in the 225 range.
Since when have you developed an obsession with sneaker culture and how has it become one of your biggest passions?
I developed an obsession with sneaker culture around the age of 16. That was around the time I moved out on my own and began to see how crazy the culture is. Living in Norway, it is very difficult to obtain rare and popular shoes, so the hunt for them was very intriguing to me. The Air Max 90 and Converse always caught my eye in the city I was living in.
From there, I began using social media and Internet to research and learn about all the various models and colorways, along with some of the history behind sneakers. I was interested in seeing if I could find more colorways that I didn't see in person. From that point on, it has been a daily routine [for me] to find out more and more about sneakers and the culture that surrounds them. It remains a passion until this day because I enjoy the community that the sneaker culture has created. It is something positive that brings people together no matter where you are from or what you look like.
What are your top three favorite sneakers of all time? 
1. Air Jordan 1 Retro High "Satin Shattered Backboard."
Jordan 1 is my favorite Retro model and these came in women's sizing, so the quality was very good. The use of satin is different and something I don't see too often.
2. Nike Air Force 1 Low "Fantastic 4 Invisible Woman."
I love Air Force 1 because they are such a classic and important shoe to sneaker culture. These in particular are very unique because they are see-through. Also, the colors are some of my favorites.
3. Nike Air Max 1/97 "Sean Wotherspoon."
I don't know where to begin, the Sean Wotherspoon's are one of the most unique shoes in my collection. The combination of an Air Max 97 upper on an Air Max 1 midsole was never done before until this shoe. What I love most about this shoe is Sean's color selection and the use of corduroy throughout the entire upper. My favorite part of the shoe is the small details, such as the interchangeable patches, velour insole and denim heel tab.
As one of the most-followed sneaker collectors in Norway, what would you say is the best sneaker boutique in the country?
Unlike other European countries, there isn't many options for sneaker shopping in Norway, but there are three stores worth mentioning. YME Universe and Stress are both located in Oslo and Pharma in Bergen.
For silhouettes that are highly sought-after and limited in quantity, how do you usually go about tracking them down?
As I have mentioned, it can be very difficult to obtain highly sought-after shoes especially because I am an eight-hour drive from the capital, Oslo. Also, the stores I have mentioned above doesn't always receive the rarest sneakers. For instance, none of them have received any of the Off-White™ x Nike collaborations. I have made many friends in the sneaker community throughout Europe and we often help each other obtain hard-to-find shoes, either by copping or trading.
Instagram and Facebook have made this a lot easier to accomplish in the past few years. I am also traveling very frequently so if I am able to cop in-store, I will try that as well. Often the easiest way for me is to enter as many raffles online, cross my fingers and try my luck. My mom often helps with this method by entering and increasing my chances of winning.
The "Scandi 2.0" sense of style is taking the fashion world by storm. Would you say that sneakers play a major role in this style movement?
I actually had to research what "Scandi 2.0" style is since I am used to the Scandinavian style being simple and minimalistic. I found it interesting that it is best described as a mixing of bold colors and mismatching of prints. I'm not sure if sneakers are playing a major role in this style movement or if "Scandi 2.0" is playing a role in sneaker [culture]. In recent years we have seen an overwhelming number of shoes using a variety of colors we normally wouldn't see together. For instance, the Air Max 97/1 Sean Wotherspoon is a sneaker that used some interesting color combinations along with a material not often used on sneakers, corduroy.
I think sneakers are the staple piece to any style because they are often the first thing people look at and recently it has become more acceptable to wear shoes that don't match the rest of the outfit. Sneakers themselves have become so iconic and culturally important that I think they have an impact on many new fashion trends in one way or another.
How do you keep your holy grail sneakers fresh and clean?
I wear all my sneakers and I think everyone else should too, but always take care of them by cleaning with products like Crep Protect wipes or Reshoevn8r.
Women's sneaker sales have increased significantly over the past few years. What are some things that brands can do to further cater to the female consumer?
I have definitely noticed the increase in women who're interested in sneaker culture, and have thousands of women who reach out to me on Instagram seeking information or just showing their appreciation for the content I provide. There are currently many issues I see in the way sneaker companies try to reach their female consumer base. My biggest disappointment with brands like Nike and Jordan is the lack of collaborations and rare sneakers that come in women's sizing.
In today's fashion culture, a men's shoe is also sought-after and worn by women. And when shoes such as the upcoming Air Jordan 1 x Travis Scott only release in Men's sizes 7-13, it's frustrating to many women. Oftentimes we are only left with a grade school sizing option and unfortunately the quality of them is much worse than Men's.
Another problem is the lack of collaborations for women, but Aleali May has really helped with that issue, at least for Jordan Brand. Something brands can do is to bring more women like Aleali to the design table because they are in the streets with real sneakerheads and know what women want.
---
Share this article