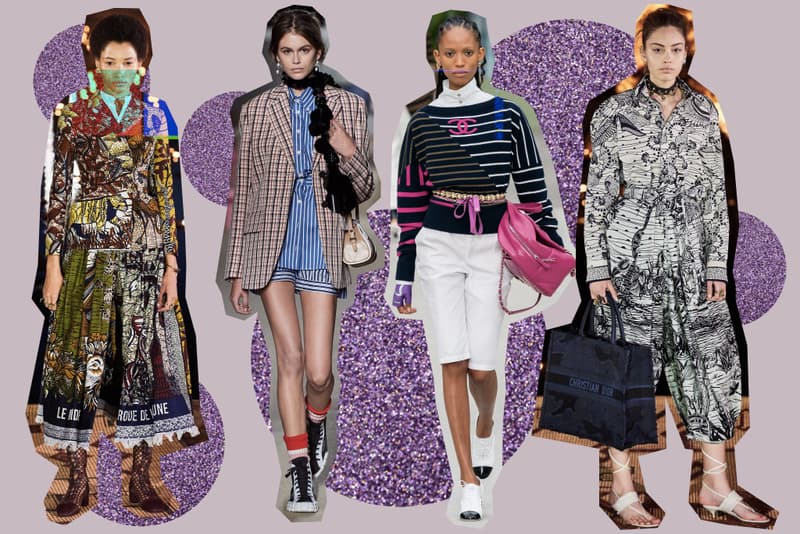 All the Best Collections From Resort 2020
Gucci, Chanel, Prada, Dior, Fendi and more.
Resort 2020 has just wrapped up, with brands like Dior, Chanel and Prada showcasing their collections everywhere from Marrakech to New York. Also known as "Cruise" or "Holiday," the Resort season refers to a mid-season segment that acts as an in-between of Spring/Summer and Fall/Winter collections.
After seeing a strong fashion month in February and March, labels brought all their best looks to the runway and managed to capture our attention with extravagant gowns, exclusive and intricate prints and materials, retro references and more. We're taking a look at shows from houses like Prada, Fendi, Dior, Gucci and Chanel, who brought extravagant Resort 2020 collections to the table through both runway shows as well as presentations.
Keep reading on below to see all the collections you can't miss.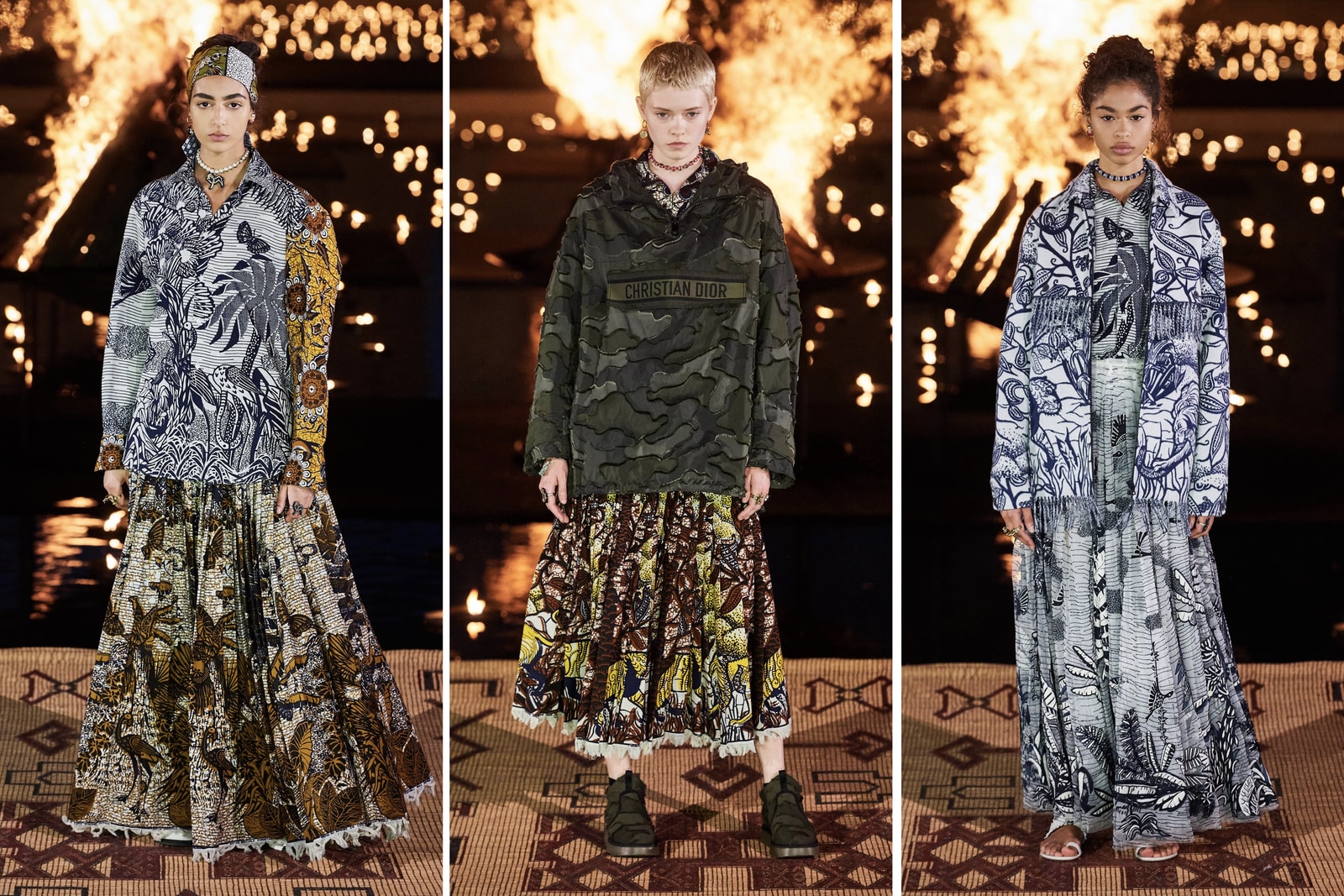 Dior kicked off the Resort 2020 season in Marrakech, paying homage to Christian Dior's time at YSL in the 1960s. Taking inspiration from a coat designed for the Moroccan glamour, Maria Grazia Chuiri showcased a collection filled with patterns, prints and textures.
Maria Grazia also tapped an atelier called Uniwax, which produces African wax prints on cotton in the Ivory Coast. As Vogue explains, the prints are "double-faced, gloriously and intentionally imperfect, labor intensive, narrative, and expressive," and captures the incredible jungle and flora of North Africa. The designer turned the prints and graphics into bold gowns, long skirts and layered pieces, combining Dior's feminine silhouette and touch with the bold fabrics. In addition to working with Uniwax, the fashion house also tapped into a Moroccan women's textile and ceramics association called Sumano, which created a handful of woven pieces for the collection as well as three other collaborators with roots in the African continent.
Of course we also saw new iterations of the iconic Dior Saddle Bag as well as the popular "Christian Dior" embroidered Book Tote, adding to the lineup of sought-after accessories from the house. All-in-all, the collection was a strong projection of Maria Grazia's feminist vision, highlighting female creatives across Africa and doing so by merging culture with Dior's French luxury aesthetic.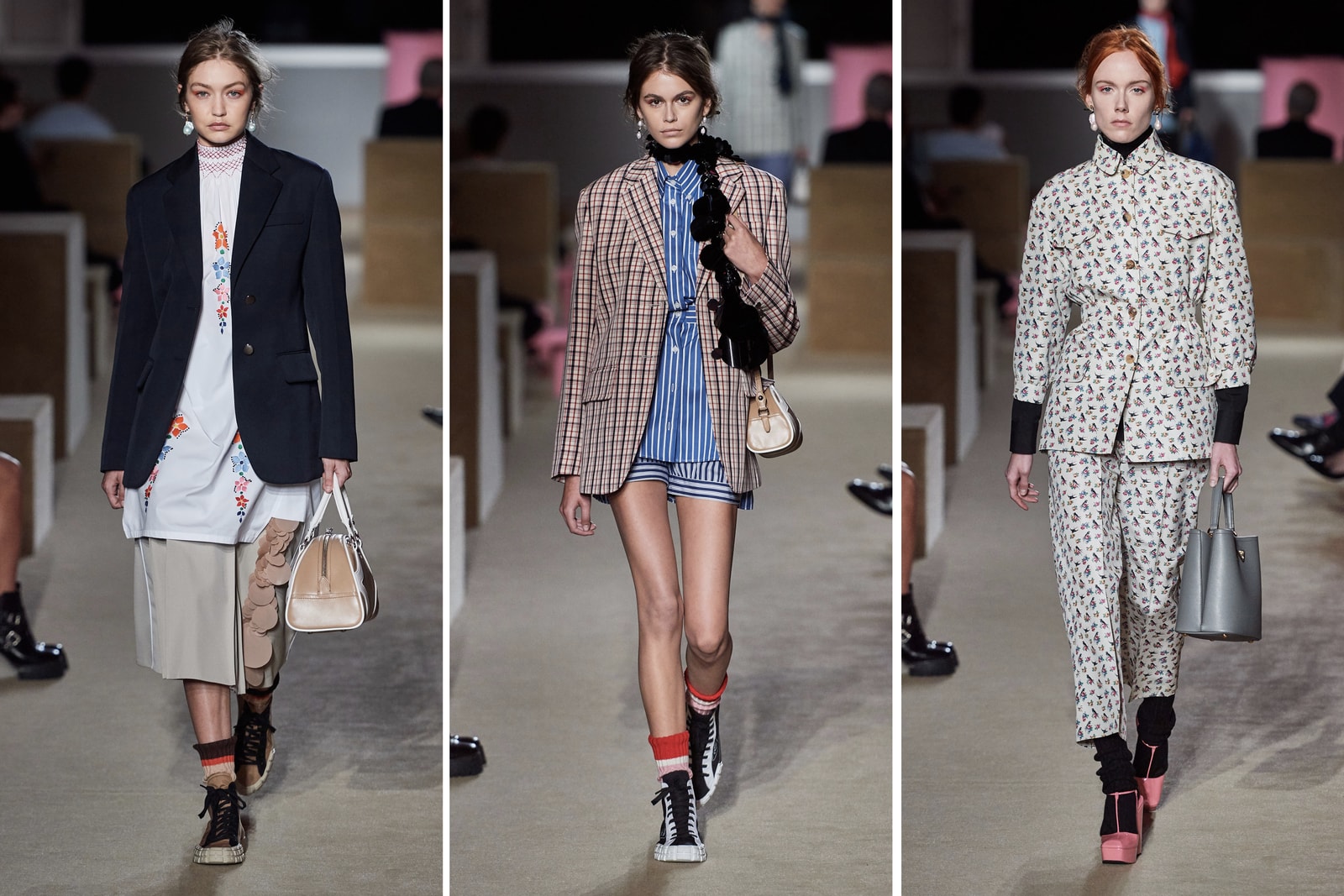 Prada took to New York to showcase its Resort 2020 collection, where Miuccia Prada decided to go back to basics and ditch glitz and glamour for simple yet effective designs.
The collection took a focus on cotton, which was made into everything from button-downs to calico-print jackets, and featured Prada's signature feminine silhouette contrasted with high-top lace-up sneakers in different colors and styles. Miuccia also put emphasis on "Power Dressing," debuting bold two-piece sets with perfectly tailored blazers and trousers for all the boss ladies out there. As Miuccia put it, "It's simplicity as a protest against too much. I'm sensitive to the political situation; it affects me."
As always Prada displayed a vast array of color, and experimented with layering, prints-on-prints and intricate graphics to create dimension and depth. Towards the end of the show, Prada brought its signature extravagant yet girl-ish pieces down the runway, capturing a youthful energy from the heritage brand.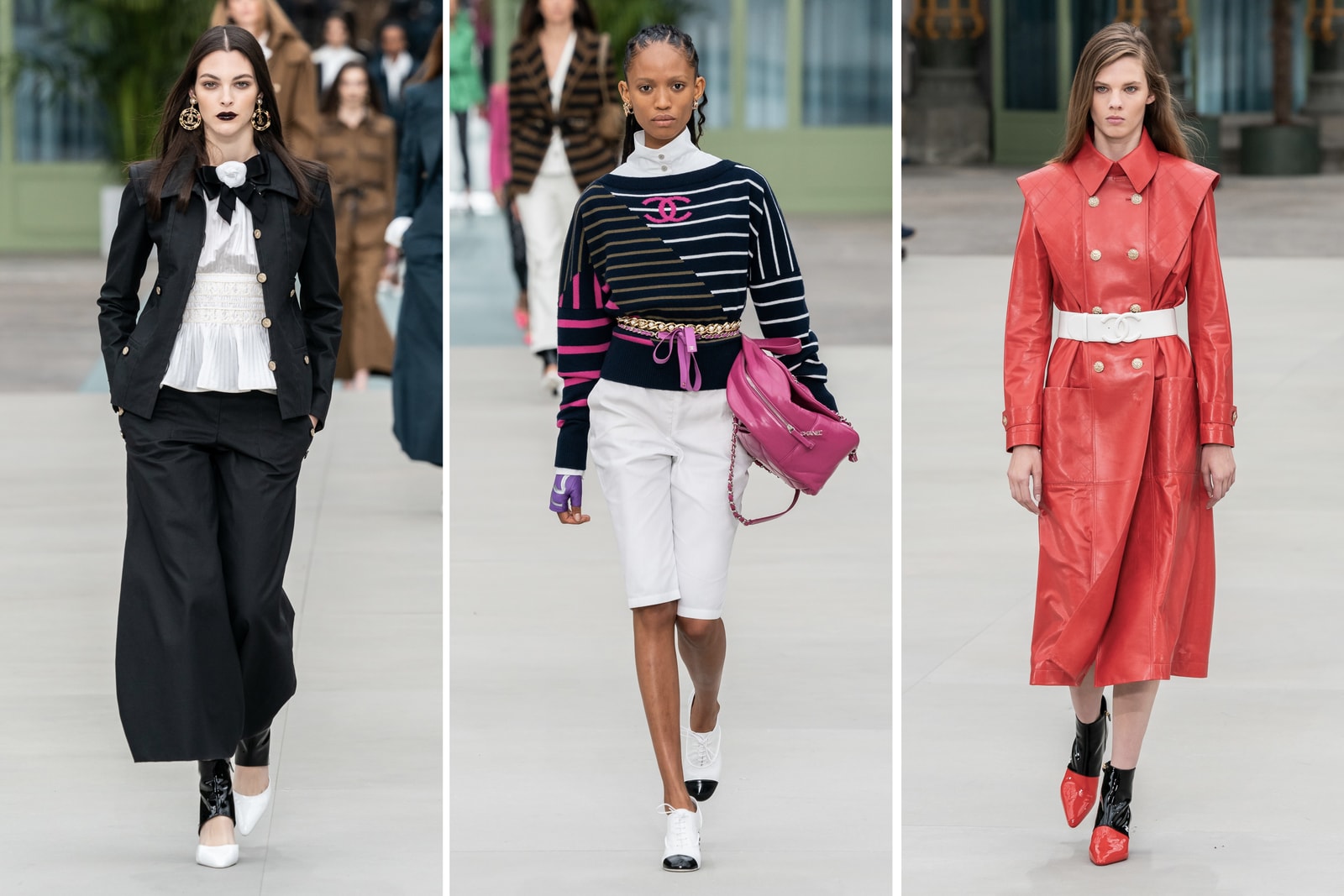 Marking the label's first collection since the passing of Karl Lagerfeld earlier this year, Virginie Viard presented her first solo range for the fashion house. Presented at Paris' Grand Palais, the venue was turned into a train station where the theme of "Travel" shone through.
Presenting a collection not far from Lagerfeld's vision for the house, Viard took references from the house's vast history with retro prints, bold materials like patent leather and tweed, as well as many iterations of the iconic interlocking C logo. The range included feminine silhouettes as well as playful and masculine suits, balancing Chanel's luxury heritage with modern influences. The show featured a total of 80 looks which started off with an earthy color palette which later drifted into a section of bold color blocking, layered gowns and floral dresses.
A strong debut from Virgine Viard to say the least, carrying on the legacy of the fashion house while inserting her own personal touch and new vision for the heritage brand.
Pierpaolo Piccioli focused on juxtaposition for his Resort collection. Shown in New York City, the range was previously photographed in Rome's Orto Botanico, capturing the serenity of nature contrasting against his vibrant and modern creations. Creating pieces suited for everyday wear, Piccioli said ""Pre-collections have to be about a wardrobe," adding that he's crafted the collection to be timeless and easy to wear.
We saw everything from monochrome looks in purple and red, to knee-high suede boots, graphic dresses and luxury accessories in the label's Resort 2020 range. Ideal for the elegant and modern woman, the collection showcased Valentino's heritage whilst emphasizing Pierpaolo Piccioli's eye for detail and exceptional tailoring.
For Resort 2020, Gucci debuted a collection that could only be described as a pattern extravaganza. Alessandro Michele showed a range of vibrant and bold prints and colors, combined with traditional silhouettes and modern cuts in true Gucci fashion, focusing on layering and creating an eye-catching aesthetic that couldn't go unnoticed. Continuously influenced and inspired by different decades and centuries, Michele took inspiration from history as well as our modern day culture, debuting pieces printed with "My body, My Choice" as well as a dress sporting a uterus print at front. "Women have to be respected… They should be free to choose what they want," said Michele about his Resort 2020 collection.
Gucci has previously donated $500,000 USD to the March for Our Lives movement, and has endorsed activism through its various ventures. The Resort collection marks the first time Alessandro Michele has made his position very public and explicit on the runway, taking a clear stance against reproductive injustice.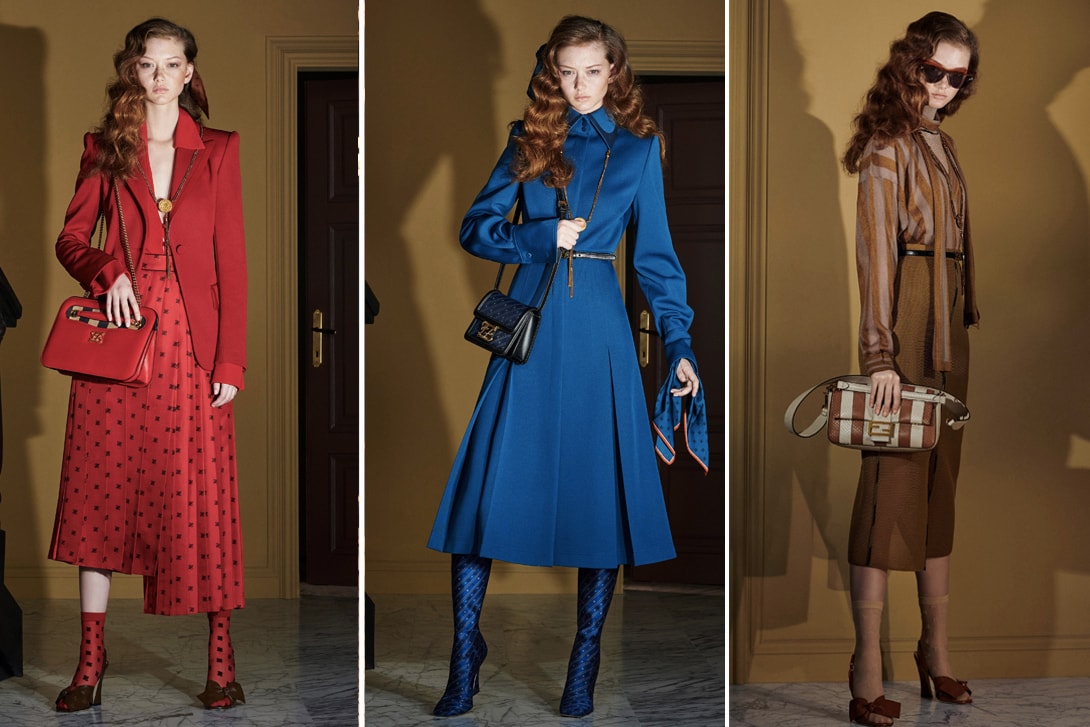 The Resort 2020 collection marks the first range designed without the late Karl Lagerfeld. Silvia Venturini Fendi, who had been working next to Lagerfeld for her entire career, took inspiration from John Cassavetes's '80s thriller Gloria which starred actress Gena Rowlands. The collection focuses on her recognizable aesthetic which combines feminine silhouettes with eye-catching colors and materials, all while maintaining Fendi's luxury heritage aesthetic. We also see the house's iconic Baguette Bag in an over-sized design in new hues and iterations, combined with accessories like belts, pumps and jewelry.
Karl Lagerfeld is dearly missed at the fashion house, but Silvia Venturini Fendi has managed to carry on his legacy in this collection, and will continue driving Fendi forwards following his passing.
Clare Waight Keller took on harsh lines and masculine silhouettes for her Resort 2020 collection. Featuring structured blazers, coats and suits, the range sports dark tones like black and grey accented by bright hues like pink, red and green throughout. Combining a playful and vibrant approach with a serious and tailored aesthetic creates an eye-catching collection, which shows Keller's unmatchable eye for detail and her unique way of creating silhouettes.
In addition to the apparel, the Resort 2020 collection also featured a selection of statement boots as well as heels, bags and leather accessories. Playing with signature silhouettes as well as new, modern designs, the range perfectly balances Givenchy's strong heritage with Keller's elegant designs.
Share this article