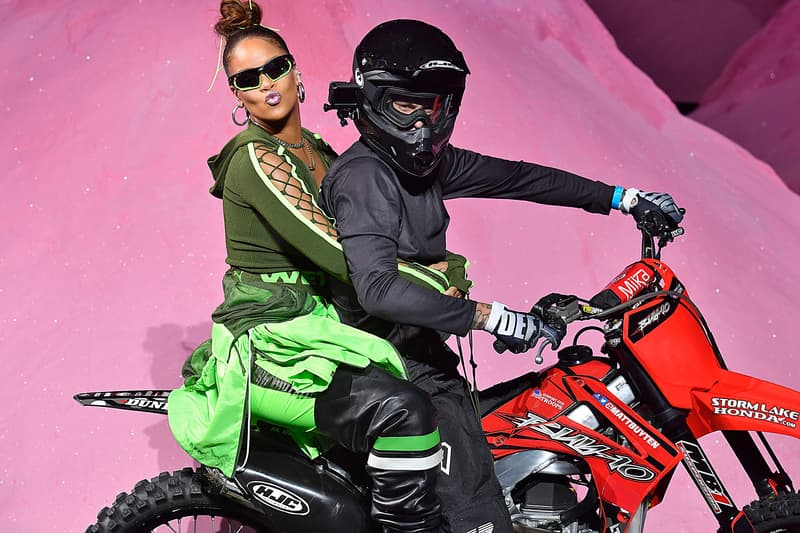 Fashion
What LVMH's Launch of Rihanna's Fenty Maison Means for the Future of the Fashion Industry
It's a historic move for the luxury conglomerate – and it could shake up fashion as we know it.
What LVMH's Launch of Rihanna's Fenty Maison Means for the Future of the Fashion Industry
It's a historic move for the luxury conglomerate – and it could shake up fashion as we know it.
Rumours that LVMH was set to back a luxury fashion brand with Rihanna had been swirling for a while before the French conglomerate announced the launch of the Fenty Maison last week. Although details on exactly what we're likely to see from this partnership are still scarce, it's safe to say Bad Gal fans and fashion insiders are anticipating this will usher in a new era for the industry.
An unprecedented move from LVMH, the world's largest luxury group that's become synonymous with heritage brands such as Louis Vuitton, Dior, Fendi, Givenchy and Celine. Notably, it's also the first new house the group has launched since Christian Lacroix in 1987 – and the first led by a celebrity with no formal fashion design training. While Virgil Abloh's appointment at Louis Vuitton was momentous as he's only the third black designer to ever head up a Parisian luxury house, Rihanna's latest role is a step toward breaking the concrete ceiling. There has never before been a woman of color at the helm of a European luxury house in the roughly 182 years since the first one (Hermès) was created – despite evidence that black women and their spending power sets "trends in mainstream consumerism" and within wider pop culture.

Whether LVMH is cleverly trying to capture and convert the Gen Z market or shake up the way consumers perceive luxury brands remains to be seen. Either way there's no denying that the group knows that where Rihanna goes, money follows. LVMH has first-hand experience of this phenomenon; Fenty Beauty is owned by Kendo Holdings, a subsidiary of LVMH.
Rihanna has long been heralded as a style icon for her eclectic fashion sense, as well as for the iconic looks created for her by creative collaborators Mel Ottenberg and Jahleel Weaver. This led to – as it often does with many celebrities – a wealth of partnerships in the fashion realm with the likes of Stance and PUMA. However RiRi soon struck out on her own, using her power to implement remarkable changes, with shade-inclusive makeup from Fenty Beauty and size-inclusive lingerie at Savage X Fenty.
At a time when brands like Virgil Abloh's Off-White™ are under-fire for a largely un-diverse workforce, it's likely Rihanna's own creative team won't quite face the same problems. In fact the official statement Chairman of LVMH, Bernard Arnault shared "To support Rihanna to start up the Fenty Maison, we have built a talented and multicultural team supported by the Group resources." While this is undoubtedly a very Rihanna move, it's also important to highlight the significance of diversity within the workplace at luxury houses and the fact that LVMH are placing a spotlight on this when labels like Gucci and Prada have recently faced backlash for certain offensive designs.
As luxury brands struggle to retain their relevance with a growing generation of consumers who are far more discerning than those who came before, this marks a prime opportunity for reinvention. As Yoon Ahn of AMBUSH put it on Twitter, this groundbreaking launch is "symbolic of a seismic shift in how we view, sustain, and rewrite the canons of European prestige and history." While the creative directors of some houses, like Alessandro Michele and Hedi Slimane have also become celebrities in their own right, you can't dismiss the brand awareness and purchasing power that goes hand in hand with Rihanna's 70 million –and counting – Instagram followers. At the time of publishing, the official Fenty Maison Instagram account has already amassed 238k followers, without having shared a single post. 
There has, understandably, been some backlash across social media that Rihanna's been handed the golden keys to a luxury Parisian house due to her celebrity status alone, when emerging fashion designers struggle for years and rarely reach that level in the industry. With Arnualt's statement above, and Rihanna's affinity for supporting young designers, rather than seeing this as an opportunity snatched away from deserving designers, it's more likely the Fenty Maison could act as a global springboard for their talent.
Rihanna launching Fenty w/ LVMH is symbolic of a seismic shift in how we view, sustain, and rewrite the canons of European prestige and history. We must understan the need to embrace new, global definitions of what constitutes prestige, history, and luxury ?

— YOON (@YOON_AMBUSH) May 11, 2019
Fenty Maison's grand unveiling is slated to be in Paris on May 22 – in less than two weeks – confirming that the collection has already been in the works for quite some time. Interestingly, it also means it will be released outside of the traditional fashion week schedule, perhaps an indicator that LVMH's other houses may be poised to follow suit and shun the fashion calendar.
As per LVMH's statement, the offering will include "ready-to-wear, shoes and accessories," although as shopping trends have long indicated, it will be the sectors of small leather goods, footwear and accessories that will determine how lucrative this brand will be. Alongside fragrances and cosmetics, which Rihanna has a proven track record in shifting massive units of, these more affordable entry-points to the Fenty Maison will help to ensnare both Rihanna's existing fan base and the young luxury consumer and as such, are pivotal to the brand's success. Rihanna's work with PUMA is widely credited with helping the German sportswear brand exceed revenue estimates as well as reinvigorating its womenswear offering, the growth of which overtook all other categories.
This partnership could also spark a change in celebrity-related fashion endeavours as we know them. While collaborations and capsule collections with larger fashion brands are commonplace, if Fenty Maison proves a commercial success, it could open the floodgates to more celebrity-helmed luxury labels.
Where once, the appeal of high-end fashion was focused solely on craftsmanship and the desirability that exists alongside seemingly unattainable goods, consumer trends right now favor influence over everything else. Luxury houses need guaranteed sales rather than specialized design acumen to not only continue to survive, but thrive. And what better way to increase relevance – and revenue – than by betting on a winner like Rihanna?
Share this article