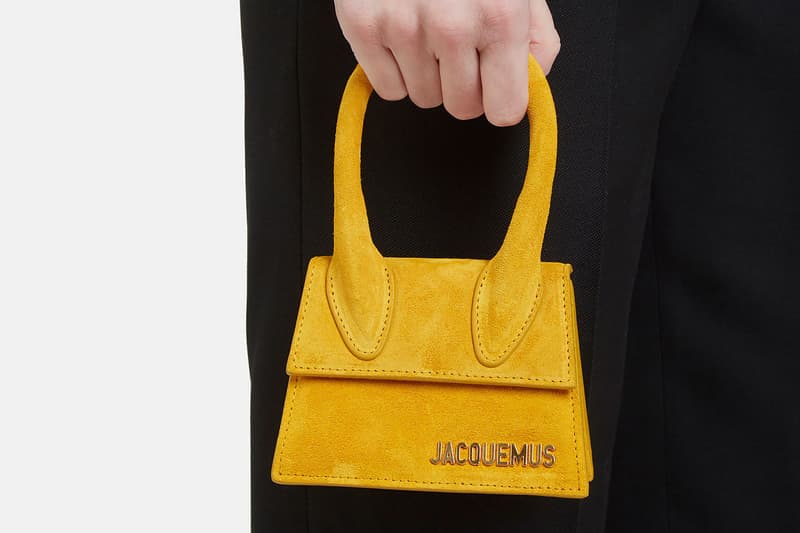 Fashion
10 Years of Jacquemus: How "La Bomba" and a Tiny Bag Changed Things For the French Brand Forever
Still, some things remain constant for Simon Porte Jacquemus.
10 Years of Jacquemus: How "La Bomba" and a Tiny Bag Changed Things For the French Brand Forever
Still, some things remain constant for Simon Porte Jacquemus.
2017 was a definitive year in fashion history, a time when the lines between streetwear and the seemingly untouchable luxury world began to blur. Kim Jones, then Artistic Director of Louis Vuitton's men's division, helped usher in a new era in the industry when he presented a logo-laden Supreme collaboration that attracted long queues of shoppers and hopeful resellers around the world. In the same year, Demna Gvasalia's Balenciaga popularized the trend of chunky sneakers with the frequently sold-out Triple-S, while Virgil Abloh's Off-White™ continued to move up the ranks with a growing presence in the fashion circuit.
While many brands hurriedly released heavily branded hoodies with matching sweatpants in hopes of appealing to millennial and Gen Z customers, in September of that same year, Simon Porte Jacquemus quietly dropped his explosive collection, "La Bomba."
Staged at the Musée Picasso in Paris, the French designer's infamous Spring/Summer 2018 show was arguably what brought Jacquemus to the forefront of fashion. Sun-kissed models walked down the runway in earth-tone shirts and beautifully twisted mini dresses, with straps casually slipping off one shoulder and sultry splits slashed to the thighs. Critics and reporters sang the praises of the collection — some described the vacation-friendly range as a departure from Jacquemus' previous work that's typically made up of whimsical, structural silhouettes and geometric shapes.
In the months following the magnificent show, Porte Jacquemus' well-loved accessories line reached cult status, as his itty-bitty bags became the new favorite arm candy of A-list celebrities including Emily Ratajkowski, Kim Kardashian, Kendall Jenner and Rihanna. "I know exactly who you are, and so do my pockets," said Rihanna when she recently met the designer himself in Paris.
The mainstream ascension of the French brand didn't stop there. Jacquemus' next few collections were just as well-received, if not buzzier, than its impressive "La Bomba" range. The brand's tiniest handbag yet, called Le Mini Chiquito, swiftly launched 1,000 memes when it made its debut at Paris Fashion Week FW19. All jokes aside, Jacquemus has been steadily gaining commercial success, and has attracted some of the world's biggest e-tailers and department stores from Net-a-Porter to Nordstrom. As fashion's new darling, the designer has even launched a menswear line in 2018 and in the following year, opened his own eatery, Café Citron, at Galeries Lafayette Champs-Élysées.
"La Bomba" is often thought of as the turning point for Porte Jacquemus' career, but to understand what led up to this phenomenal collection, one must look back at the beginnings of his brand. As its fanbase continues to grow, what some of Jacquemus' customers may not realize is that it isn't a new brand that has emerged out of nowhere. The sought-after label is celebrating its 10-year anniversary in 2019 and, rather than shifting its direction, it's by staying true to the brand's ethos that allowed Jacquemus to rise to fashion stardom in recent years.
Originally from Brame-Jean, a small town in southern France, Porte Jacquemus launched his brand in 2009, when he was 19 years old. That was a year after the young designer moved to Paris in the wake of his mother's untimely death. "When I was 18, my mother passed away from an accident at just 42 years old. I was in shock and had to rebuild myself," he explained in an interview with Marie Claire. "I realized life could stop at any moment." Three years into establishing Jacquemus, him and his brand were already on the official Paris Fashion Week schedule.
The legacy of Pote Jacquemus' mother lives on through the brand. To start with, the designer named his label after the maiden name of his late mother. She has also been the brand's muse since day one. "My mother was very warm, and also a bit childish in the way she would wear big pantaloon trousers or granny dresses," he told AnOther.
Throughout the past decade, the designer has time and again dedicated his collections to his mother. His Resort 2016 range was titled after her name, Valérie, and was filled with asymmetrical tops, oversized shirts and suit jackets that he imagined she'd wear. "La Bomba," too, was an ode to his mother. From the headbands to the effortlessly sexy dresses, to the statement earrings inspired by the door handles of her house, the whole collection evoked memories of the designer's childhood.
Despite being based in Paris (the brand recently moved into its new headquarters in the fashion capital), Porte Jacquemus has always drawn inspiration from his hometown and the idyllic south of France. The Jacquemus girl isn't to compete with the bourgeois women of Hedi Slimane's CELINE or the mademoiselles of Chanel. Much like Valérie, she doesn't care about being French-chic, and she is perfectly happy being herself. This notion of naiveté is reflected through the designer's extensive use of off-kilter shapes and haphazardly-cut but fashionable garments. His minuscule handbags, ball-heeled mules, larger-than-life chapeaux and a full suit attached with blooming daisies are examples of what the brand is all about — it's fun, romantic, and as the self-taught designer has repeatedly suggested, free.
4 of 5
Some attributed Porte Jacquemus' fondness for these eccentric design cues to his time working at the COMME des GARÇONS store in Paris (for financing Jacquemus in its early stages), as well as influences of his hero, couturier Christian Lacroix. And while childlike playfulness has very much been a core part of the brand's DNA, there's undeniably a newfound sense of maturity permeating through Jacquemus' collections in the past few years. Since receiving the Special Jury Prize at the prestigious LVMH Prize in 2015, Porte Jacquemus' collections felt like a prelude to "La Bomba." Randomly placed shapes on dresses and outerwear have taken new form as statement jewelry and desirable bags, while off-beat silhouettes have been tailored to be more wearable, sophisticated and flattering on the body.
Jacquemus' success came at a time when many brands in the industry were busy reinventing themselves by becoming what is so-called streetwear-friendly. By sticking to and refining what he does best, however, Porte Jacquemus was able to create timeless womenswear designs that offered some kind of escape from the new norm in fashion. The designer put it best in his Dazed profile, "Jacquemus is not about nightlife and clubbing and things like that, it's more about fruit and vegetables and rolling in the grass."
In honor of its 10-year milestone, Jacquemus will be presenting its first co-ed show in Provence, south of France, on June 24. While we're uncertain about the possibility of a purse smaller than the last, one thing's for sure: the collection will be the culmination of a decade of love, smiles and most importantly, family.
Share this article